4 Unique Christmas Gift Ideas That Your Spouse Will Love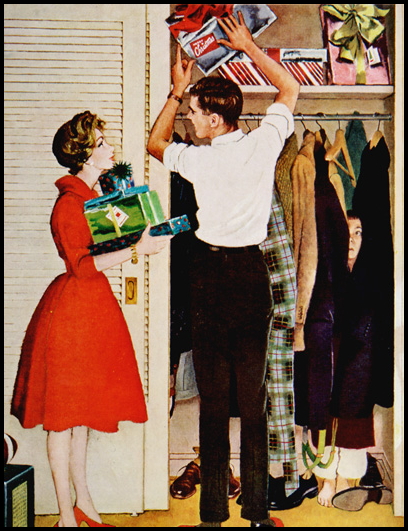 Christmas is right around the corner… are you ready for it? It's been said that Christmas is the most wonderful time of the year, and it truly is for most people but with it being the most wonderful time of the year, it can also be the most stressful time of the year as well.
So what is it about this jolly time of year that stresses people out so much? For some people, it's the traffic; for others, it's the increased crime rates.
According to criminaljusticeschoolinfo.com, most burglaries happen during the holiday season because burglars blend in more with all the holiday shoppers and don't look as suspicious walking around parking lots when looking for cars to break into…
those are definitely valid reasons to be stressed around the holiday season but can you guess the number one reason why people get so stressed around the holidays? If you guessed gifts, then you're exactly right!
Giving gifts to family and friends is the most stressful part of Christmas. Although giving gifts isn't what Christmas is about, by far, but it is a tradition that people all over the world have adopted in celebrating Christmas.
For younger kids, it's pretty easy to find gifts that they'll love. For most kids, especially in this day and age, anything video game or smartphone related will put a big smile on their face.., typically.
But when it comes to figuring out what to get your spouse for Christmas… it can be a little more difficult than you thought.
How Do You Figure Out What to Get Your Spouse?
This is the million-dollar question, right? Well, in order to figure out what to get your spouse, you first need to sit down and think about, and even jot down everything you know about them.
You don't literally have to jot down EVERYTHING you know about them… you just need to reflect on the things they like, their hobbies and interests, things they've never done before, and even solutions to problems their facing.
When you consider these things, it will take you out of the category of "typical gifts for your spouse and catapult you into the category of unique gifts to get your spouse.
You can always get your wife their favorite perfume or buy your husband a nice necktie but this year, why not wow him or her?
Below are some of the most unique gifts you can get your spouse for Christmas that they will absolutely love.
1. Tickets to See Their Favorite Artist in Concert
Whether your spouse loves country music or jazz music, taking them to see them live at a concert will have them floored. Maybe you see how their face lights up whenever they see their favorite artist on TV or you can hear them in the shower singing their favorite song…
giving them the gift of being able to see them in-person will be an unforgettable experience for them and a guarantee that they will scream when they open their gift on Christmas day.
The key to making this a great gift-giving experience is to print out the tickets so they'll have something to open versus having the tickets online.
To make the concert a real concert experience, you should also book a hotel room for the night as well, even if the concert is in the
town you live in… it'll just be a great date night experience.
So you'll want to print out the concert tickets and the room reservation and put it in a big box, so your spouse will think it's something else.
2. The Gift of a Perfect Smile
We all have imperfections that we're not proud of and for lots of people, it's their smile. Whether it's teeth whitening, braces, or porcelain veneers, gifting your spouse with a gift like that will not only make their Christmas the best one ever, but it will also change their life.
Why? Because you're not only gifting them by paying for the service… you're gifting them with a newfound confidence.
Certain cosmetic dentistry procedures can definitely get expensive but it's totally worth it when you can give your spouse the gift of a new smile. You just have to find affordable cosmetic dentists that will give your spouse the smile they've always wanted without breaking the bank.
3. New Luggage That's Symbolic For a Vacation
Maybe it's been a while since you and your spouse have gone on a vacation. Between work and the kids, your schedules are jam-packed, leaving little time for you two to enjoy each other as a couple… Sometimes all you need is a little alone time to put the romance back in your marriage.
The great thing about this particular gift is that it doesn't necessarily have to be an extravagant piece of luggage; the main thing is to put your tickets in the new luggage because that's the most expensive part of the gift.
Print off your plane tickets or tickets to your cruise and place them in the luggage. When they open the luggage, they'll be floored.
4. Personalized Custom-Made Gifts
These days, people LOVE personalized items. Personalized items are things that are custom to you. Whether it's a robe with your initials on it or a coffee mug with a quote your spouse always says, that particular gift is made custom to them and nothing can replace it.
Gifts that couples get personalized for their spouse include:
● Robes
● Tote bags
● Watches
● Aprons
● Blankets
● Cups/glasses/coffee mugs
You, of course, can get anything personalized, you just have to find the right person or company who can do that for you. The Gift of Giving
Whether it's the holiday season or not, when it comes to getting your spouse a gift, you always want it to be something nice where they can tell lots of thought went into it.
But with Christmas being right around the corner, it's a great idea to go on and start shopping and planning now. The only issue you'll have is figuring out where to hide your Christmas gifts! Happy Holidays!