Awesome Gift Ideas for the Hard to Shop For
I have recently discovered an awesome site called UncommonGoods, and they are an an independently-owned business, we have the freedom to support causes we believe in and to impact the world in a positive way. With every purchase you make, we're proud to donate $1 to the non-profit of your choice. Since they started the Better to Give program 12 years ago, they have donated over $1Million to charities around the world! PRETTY Impressed.
If you, "like me", have someone in your life or family that is hard to shop for, has everything, or again is simply put "hard to shop for" then UncommonGoods is the site to shop and see.
I spent a very long time online a few days ago scanning their fun and unique site, and I have to admit I got in a chuckle or two while scanning. It is full of awesome gift ideas, for the man, woman, chef, and even child and baby in your life. Plus I just adore how unique their gifts are, truly, nothing you would typically see shopping your normal everyday stores. Which means you are bound to be gifting something that your receiver has never seen, and will surely love.
Below I am sharing just some of the awesome very "UncommonGoods" gift ideas… sure to please everyone young and old.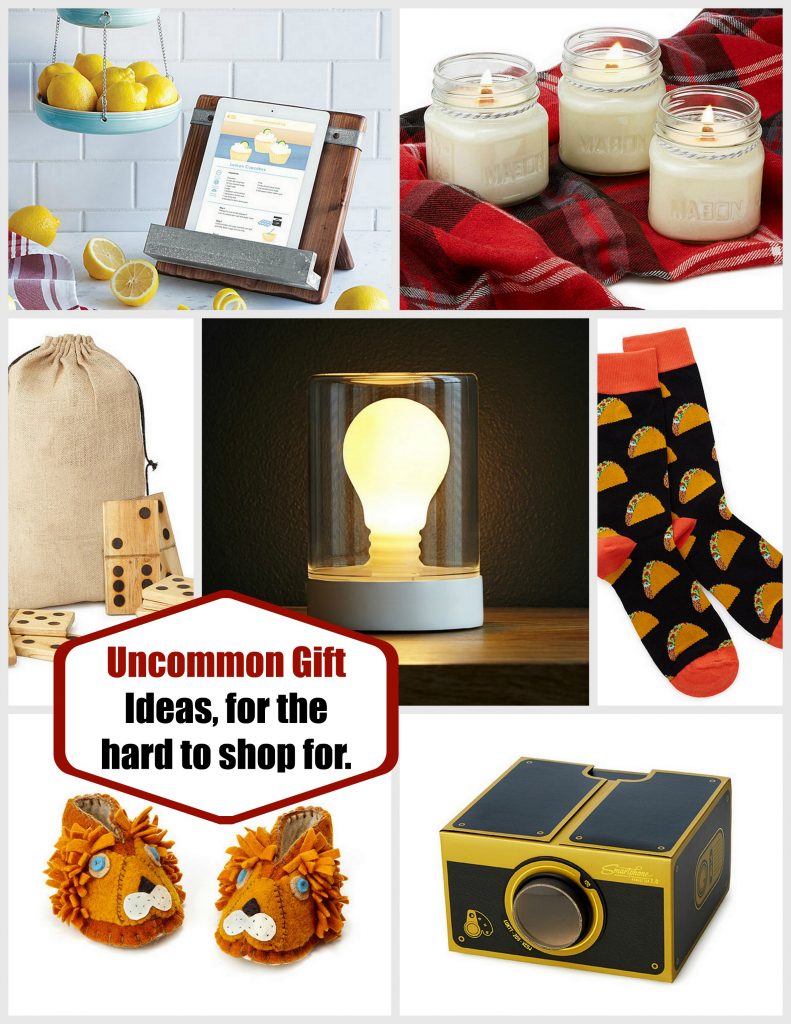 Organic Cotton Veggie Teethers
Personalized Birch Bark Necklace
Wood Spotted Wellies Garden Ducks
Reclaimed Wood Cookbood Holder
Have I peeked your interest yet? see how unique these gift ideas are?… even the socks?, I mean' I've never laid eyes on "TACO SOCKS". Men'or not, I'd wear them. Wink. Wink. I hope today's post helps you this holiday season, when shopping for very original, unique, or uncommon gifts.
Thanks for visiting,
jen