Checklists for Choosing Ideal Furniture Sets for the Bedroom and Dining Room
Checklists for Choosing Ideal Furniture Sets for the Bedroom and Dining Room
I love decorating a space and making it my own. I feel like each time you do it, you make your home more and more your own. That said, it can be a tad daunting and overwhelming too. So today's post has some lists to help make it easier. Quality furniture is always one of the key focal points in any interior design scheme. Therefore, any skilled designer should be familiar with the various kinds of furniture pieces and how they can be incorporated into arrangements that will make the most out of a living space both appearance-wise and in terms of functionality and comfort. If you're looking for ways to be more crafty and innovative in your furniture selections, consider learning more about bedroom and dining room sets:
Tips for Choosing a Dining Room Set
Without an elegant set of table and chairs, the dining room itself becomes indistinguishable from a small den. Whether you go with a long rectangular table that seats 10, or a small dinette that can accommodate a party of 4, choosing a dining set is a mandatory selection that has to be made in any civilized home. Here are some questions to ponder when making your choice:
 How big does the table need to be? Should it be expandable?
 How many chairs do we need?
 What kind of materials would best match the room's environment?
 Should the chairs be lightweight to prevent scratching on hardwood floors?
 How will I position the set into the existing design of the room?
 What additional components (i.e. – china cabinets, sideboards, hutches, buffets, stools, benches credenza cabinets, carts/serving trays) do I want to include?
With the above questions in mind, a bit of shopping around should lead you to an ideal dining room set every time. A common mistake people make when furnishing a dining room is vercrowding the space with too many components, so be sure to keep space in mind and use exact measurements before committing to a set.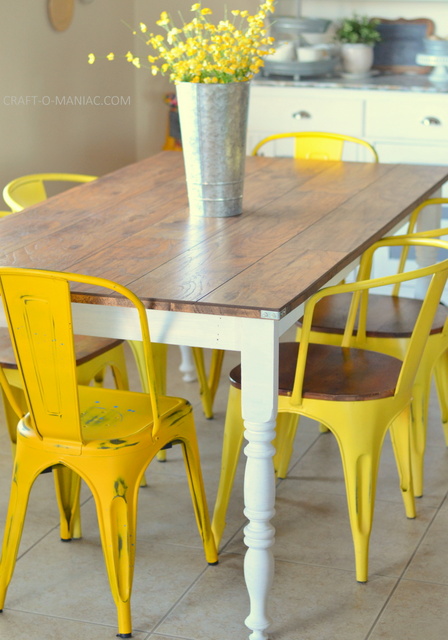 image source here
Tips for Choosing a Bedroom Set
When choosing the right furniture set for a bedroom, aesthetic preference and comfort should be the highest design priorities. After all, the bedroom is supposed to be a personal sanctuary that is conducive to rest and relaxation. Here are some questions to ask yourself when choosing a bedroom set:
 What size bed do I need?
 What kind of bed (i.e. – canopy 4-poster, loft bed, sofa bed, water bed, platform bed, etc.) would look best in the room?
 What additional components (i.e. – dressers, nightstands, wardrobe cabinets, armoires, mirrors, vanity cabinets, chests, dressing tables, laundry hampers) do I want to include?
 How will I position the set in the room? Above all, from a design standpoint it's best to make sure you're using pieces from an integrated set so that the materials and colors adhere to a theme. A good example would be the all-wood sets from Amish Furniture Factory. Matching your furniture sets with the materials, colors, and design features of the surrounding room will ensure that all of the pieces come together to create a unified design. The simple act of matching your sets to the room they will be placed in can make a relativity inexpensive item look like luxury due to the synergistic effect that a well-balanced theme can create.
image source here
Thanks for stoppinb by friends.
jen