Bring Back the Kid in You with Deep Fried PB&J Sandwiches
Um' Yes' -Bring Back the Kid in You with Deep Fried PB&J Sandwiches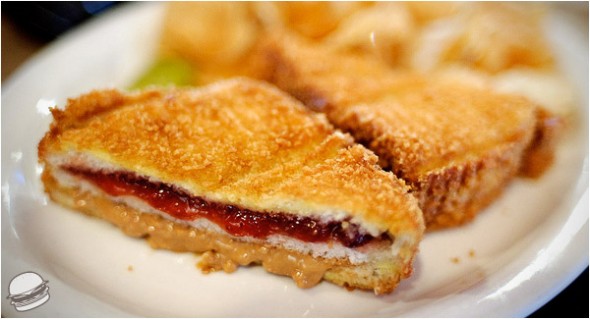 Image Courtesy of thatsnerdalicious.com
Have you ever wished there was a time machine, which you could get into and travel back to your good old, childhood days?
While that forever remains a fantasy, there is an excellent way to remember your childhood by having deep fried peanut butter and jelly sandwiches. This is every kid's favorite food that will definitely remind you of your childhood and help you forgot some of those later year benders. Here you'll learn how to prepare some delicious PB&J Sandwiches.
What's Need
Peanut Oil – for deep-frying

½ loaf best-quality bread

½ cup peanut butter

2 ¼ cups banana chips

½ cup strawberry jam; or any flavor

1 cup all-purpose flour

1 teaspoon baking-powder

¼ cup granulated sugar

1 teaspoon kosher salt

1 teaspoon vanilla extract

½ – ¾ cup milk
Ingredients for White Chocolate Ganache (optional)
¼ cup heavy ice cream

1 cup white chocolate chips
What to Do
Preparing the White Chocolate Ganache
Place your white chocolate in a heat-proof bowl, before nesting the bowl in a saucepan above simmering water. The bowl should not touch the water. Heat the chocolate until it melts, stirring gently with a spatula from time to time to help the melting along.
Minimize the heat to low once the chocolate has completely melted. Change to a whisk and gently add the ice cream, whisking continually until fully blended. Ease the pan from the heat before scraping the ganache into a heat-proof bowl, then cover with aluminum foil; ensures that food remains warm.
Making the Deep Fried Peanut Butter and Jelly
Pour sufficient oil in a deep-fryer or any deep pot, and the heat to 165°C. Cut your loaf of bread into 8 slices to make 4 PB&J sandwiches. Don't overload your sandwiches with too much peanut butter and jelly. You can add some banana chips before closing each sandwich.
Then whisk together the all-purpose flour, baking powder, salt, and sugar. Add vanilla and ½ cup milk and whip until you get a smooth batter. If need be, you can add more milk to make a dippable consistency.
Make sure the oil is hot and your sandwiches are tightly closed. Then, dip one sandwich at a time into the batter, turning it gently to fully coat it. Lift the sandwich from the batter, letting the excess batter to drip back in the bowl.
Use tongs to hold your sandwich tightly on one end, then submerge it half way into the oil and fry for about 15 seconds. Then release it into the oil for it to float. Fry your sandwich until golden brown on all sides; about 2 minutes per side.
If the sandwich does not turn brown over the recommended time, you can increase the oil temperature to around 177°C. Then transfer the deep-fried PB&J sandwich to a brown paper bag or paper towels to drain.
Lastly, serve the warm PB&J sandwiches, with your early prepared white chocolate ganache on the side for dipping. This great food makes an exceptional dessert as well for guests particularly if you add a couple scoops of your favorite ice cream and have a good cheap champagne, or dessert wine to compliment the deep fried PB&J sandwiches.
If you have never had PB&J made this way, then you are missing out on some really great food. This method is not only about the deep-frying, but also serves to explore a whole new world of deliciousness, thanks to the crunchy banana chips and white chocolate ganache for dipping. With the deep-fried PB&J sandwiches, you are sure to bring back the kid in you.