Today on COM it is all about these Five Steps to Achieving Modern Decor! Boom!
Modern home décor gets its appeal from a deliberately simple style. Furnishings, artwork, and color palette are limited, sometimes minimal, to create a look that feels uncluttered and functional. To achieve a modern look that is also warm and comfortable requires some planning. If you favor clean lines in your home, here are five basic principles that will help you achieve that style.
Keep It Simple
Modern décor is based on simplicity. More is less when you're going for simple lines, so choose furnishings that are trim and neat, without decorative flourishes. Choose only what you need to be comfortable so your space can remain as uncluttered as possible. Many modern looks feature neutral colors. Neutrals are anything but boring. Light brown, gray, and blue are colors that are calming, warm, and modern all at the same time. In addition, neutrals can make your rooms look more spacious, and if at some point you want to redecorate, they're very versatile.
Focal Point
Every modern room needs a focal point. If you've chosen furnishings with simple lines and a limited color palette, you can create an area of interest with one great piece of art or a grouping of several smaller pieces of art. Modern pieces can be either colorful or continue with your neutral scheme. If most of your furniture has clean, straight lines, choose a piece of art that stands in contrast to that. For instance, a metal wall sculpture that incorporates the curving, organic shapes found in nature is a perfect choice to tie in with your décor while adding visual interest.
Form Meets Function
With minimal furnishings, it's important that the pieces you choose are also functional. Lest this sound a little too spare, functional items can also be attractive. There's nothing more functional than a dining table or a lighting fixture, yet they also have the potential to be among the most attractive items in your home.
Technological Advantage
Keep your high-tech gadgets streamlined. Mount your television on the wall, and keep wires hidden as much as possible to keep the area visually clean. If you have a home office, incorporate your computer into your design. You may want to plan built-in storage to keep less attractive gadgets tucked away.
Space to Breathe
A hallmark of modern décor is a feeling of open space. Whenever possible, allow for room around your furniture for an open look. You can create the illusion of space by choosing simple window coverings, light-colored walls, and monochromatic furniture.
If you love modern decor, remember that clean lines and uncluttered spaces along with one great, visual focal point are the key to achieving this amazing look.
Can this wall and space be more amazing!?! Image source Here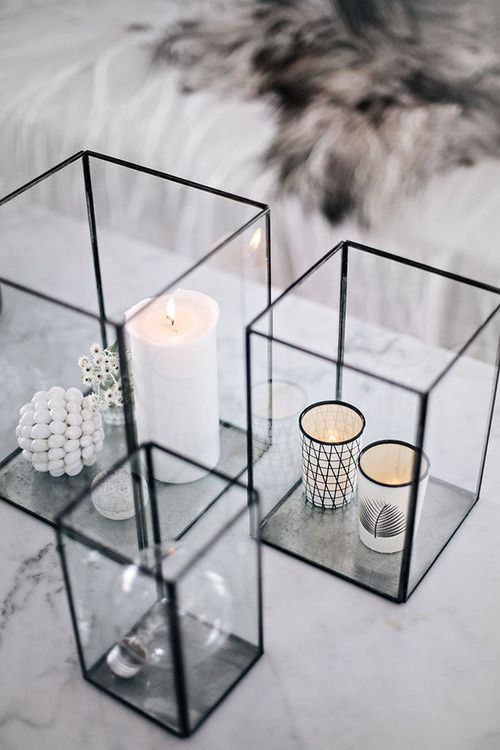 Image source Here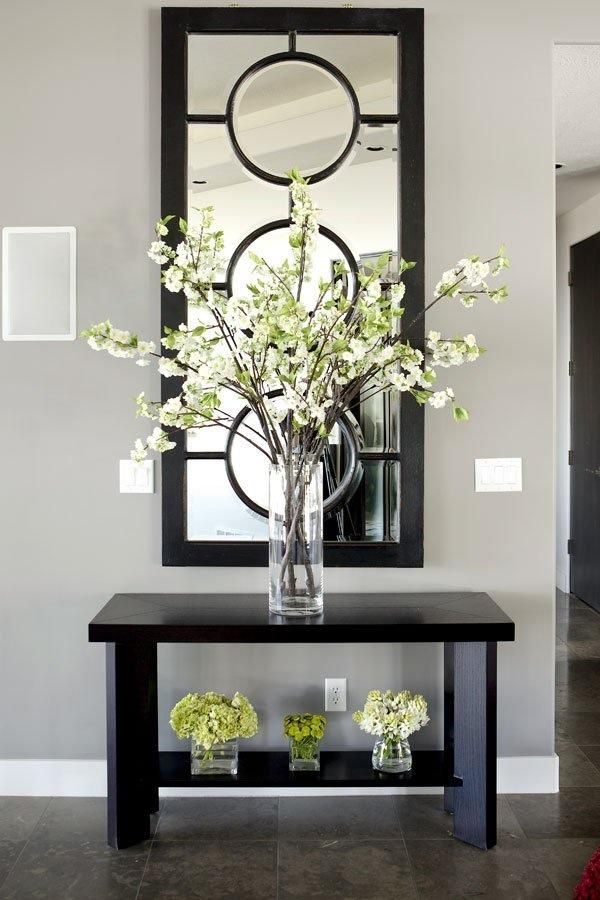 Image Source Here
Swoon right? love love love!