Modern Chairs|Maximizing Space and Style
Modern interior design focuses on two things-maximizing space and keeping a low, but chic profile, so today on COM we are talking Modern Chairs|Maximizing Space and Style. I have to be honest, I am not one for super modern decor, however I can appreciate some modern mixed in with traditional or even contemporary, or heck, even vintage. I also, would love one of those all clear chairs, I do love those, and that is about as modern as I get. That said, I know modern design is very popular with so many and as a decorator I can appreciate all forms of decor, style, and design, so lets get to it.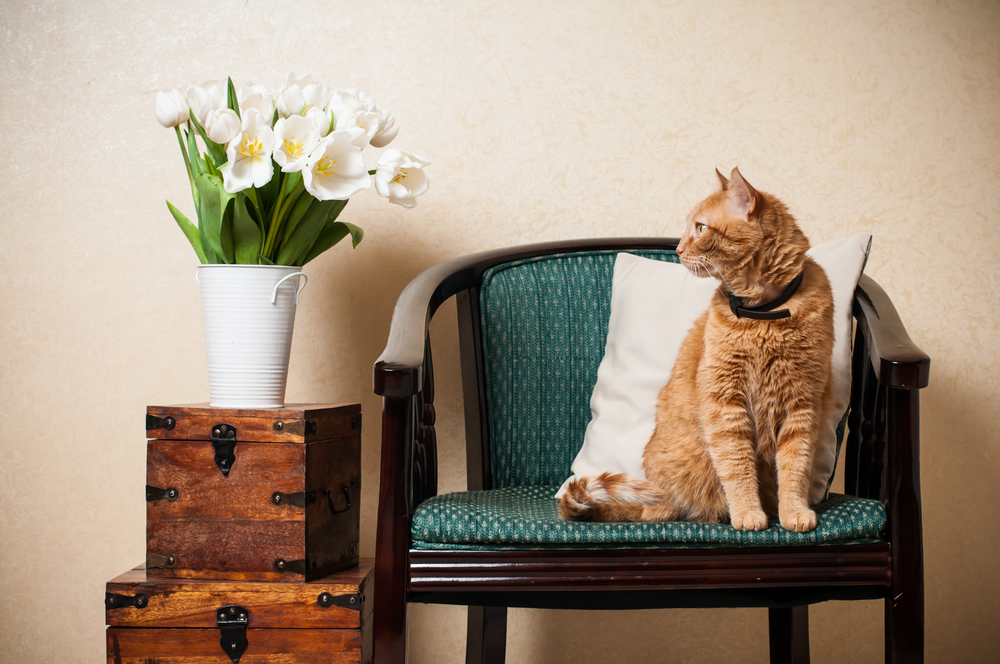 Tips:
When updating your home's interior design, skip the major renovations and go for the simple fix of buying modern furniture. Today's designers are taking cues from sculpture and creating chairs that blur the line between functional furniture and works of art. With sleek, curvy designs and fresh materials, modern chairs make an impact on style without taking up a lot of space. You can even mix modern chairs and sofas with more traditional hutches and end tables for an eclectic look. Select piece that suit both your own personal style and space. One of the hallmarks of modern furniture is that designers use materials that make the pieces affordable and attainable on nearly any budget. Lumens offers a good selection of modern chairs which are stylish, affordable, modern chairs and other home furnishings.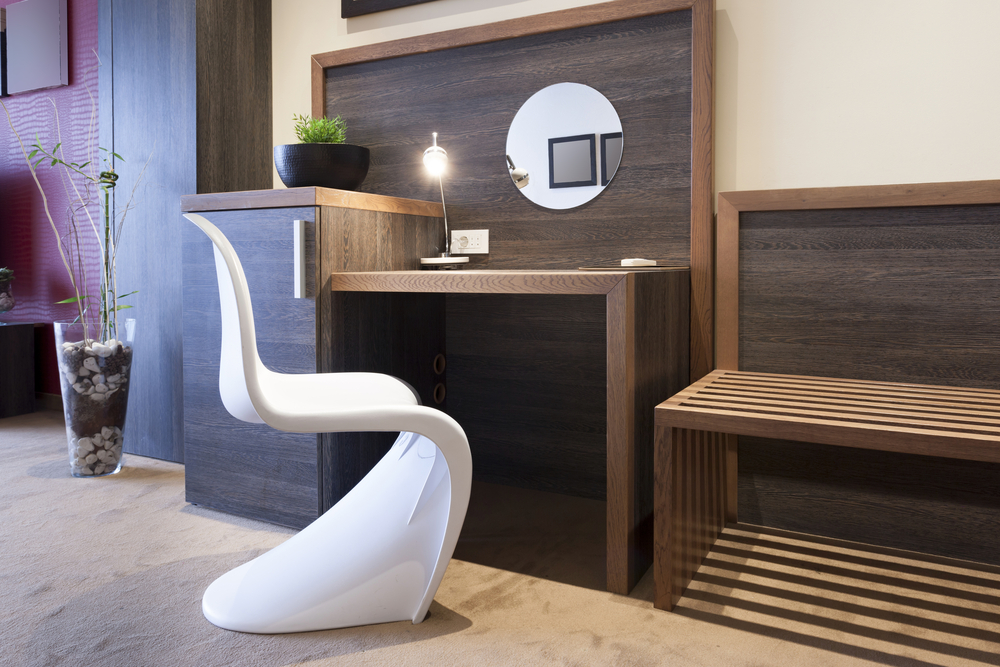 Shaping Style
Lushome.com explains that when it comes to modern furnishings the right combination of materials, colors, form and scale are needed to complete the look. Modern chairs are shorter and smaller. Legs are shorter, but not stubby, so that chairs do not sit flush with the floor but, instead, are lifted on short legs. Backs and arms are lower and either straight or gently curved. The idea behind the sleek design is to make furniture that provides the most usable surface area without taking up a lot of visible space. Tufted billowy cushions and piped edges have been replaced with smooth, flat, taut cushions and stark, straight edges: this change gives modern chairs a chic aesthetic appeal. Another nice feature of modern chairs is that many designs have building in shelving, side tables and other hand storage options, further increasing the useable space and enhancing the usefulness of the piece.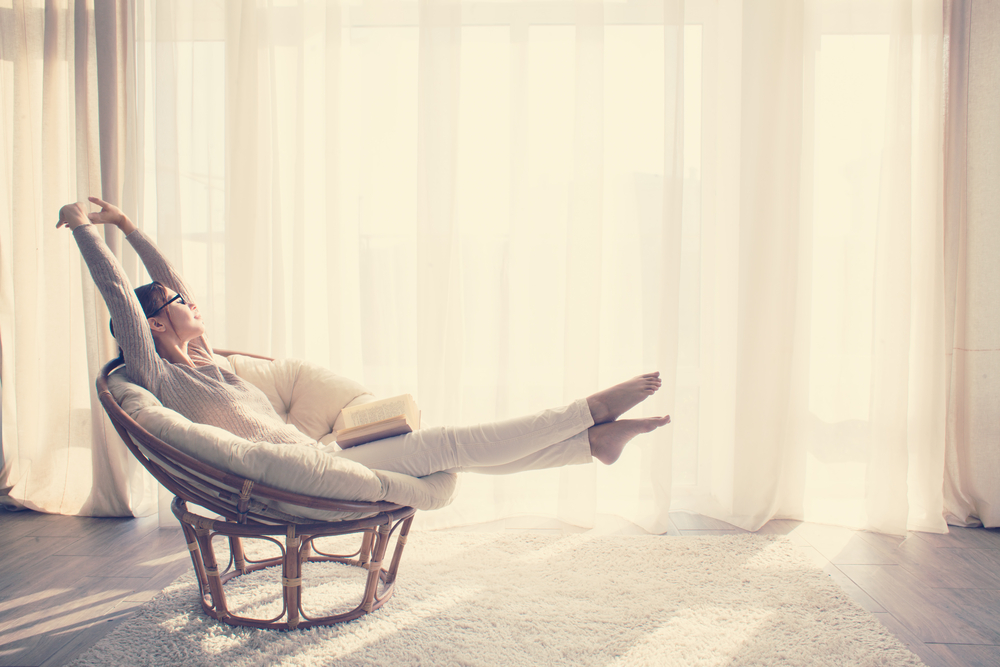 Materials
New technological advances in metal work and blending have allowed for the creation and formation of new materials for furniture construction. In keeping with the minimalist theme, contemporary design also throws in options of chairs and sofas with no arms and even backless seating options like large, square ottomans, backless, benches, and stools, like those found at Lumens. The use of tubular metals, standard metals, and chromatic blends, either singularly or in various combinations, expand the limits of furniture design. Modern chairs have pronounced edges, smooth surfaces, and sleek lines, explains PublicDesign.org. Molded plastics are another popular option that can give chairs a seamless, fluid form. Popular fabric choices are mainly comprised of pattern free solids that compliment the sleek form of contemporary pieces. Popular fabric options include smooth fabrics like leather, vinyl and duck that add to the sleek, simplistic nature of modern chair design. Wood chair frames are still found, but they are often covered in a smooth, thick paint as opposed to a lighter stain. Painted wood furniture frames are commonly found in white, black, chocolate brown, and grey in fitting with the neutral feel of modern furniture.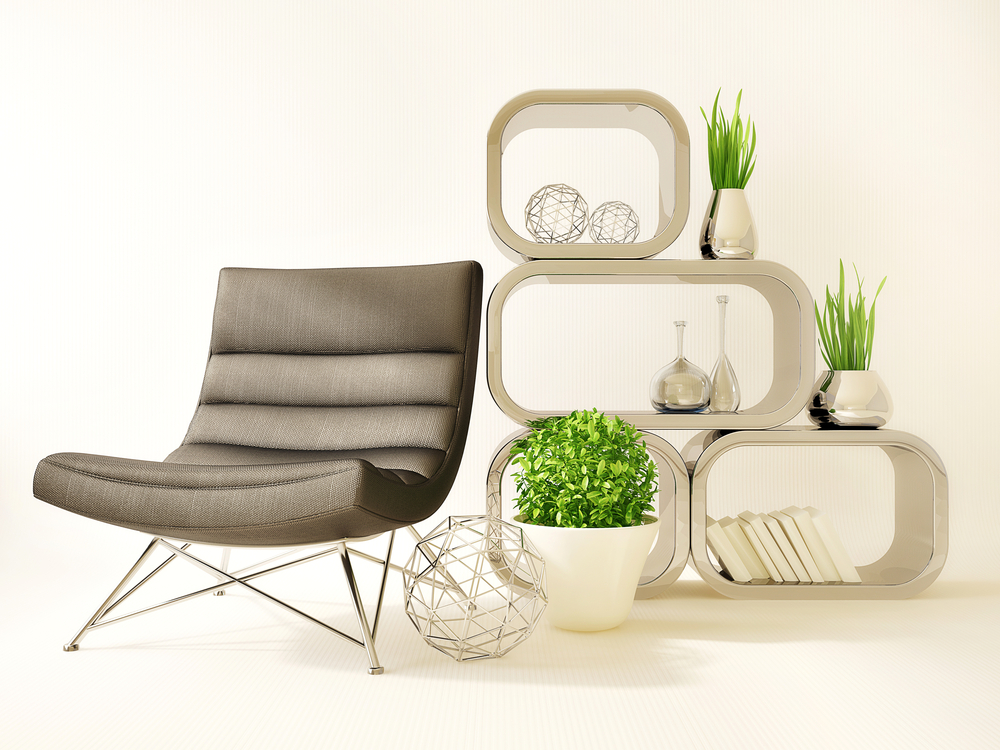 Colors
Two sets of materials involve color when considering modern furniture. The hard materials: the frame material and the upholstery. When metals are used for frame and base construction, they are not done with the shine of 90's brass. Instead, contemporary design uses matte and antique brushed finishes so the pieces reflect less light. Fabric colors are often muted as well, falling into the neutrals with black, white, grey, and brown being popular options. Some brighter colors like coral, red, salmon and turquoise are chic bright color options. The overall tone of contemporary colors options. With modern furnishings coming in a variety of neutral shades this makes changing your style more simple, as the neutral pallet can be easily incorporated into any existing space without having to paint walls, change flooring, or redo draperies. Updating your style can be as effortless as replacing an old upholstered arm chair with a leather and chrome chair and swapping out a glass coffee table for an upholstered ottoman that does double duty as a table and seating, suggests RealSimple.com. Purchasing a few well-chosen pieces of furniture, like a couple new chairs for your living room, is a quick and simple way to update the look of your home's interior design. When it comes to modern chair design, look for hallmark features such as industrial construction materials and smooth fabric finishes.
Metals
like chrome and cast iron are popular choices in contemporary furniture design: they are typically finished with a matte or brushed finish to minimize their visual impact on the space in your room. Leather and vinyl are common upholstery fabrics and they are generally offered either in a neutral pallet or in punches of bright colors like coral and lime green. Modern furniture design seeks to make furniture accessible and useful while taking up as little space as possible. Straight lines, along with low backs and arms-or an arm less look-are common design features as benches and stools bring sleekness to contemporary design.
Now I want to go thrifting for some awesome chairs, they truly can make an impact in a room, space, corner, nook, etc. Jen
All chair images are from ShutterStock