Summer is just around the corner, and some of you may even be finishing up spring break. I can't wait to visit Cancun one day. So today its all about finding the very best vacation spots in Cancun, Mexico, you'll need to shop around a bit before you can make your final decision. Although finding great hotels in Cancun seems like a breeze at first, the truth is there's always more to the equation than meets the eye. Luckily, as a member of 21st century society, you have all the resources of the Internet at your command to help you make the best decision for your budget.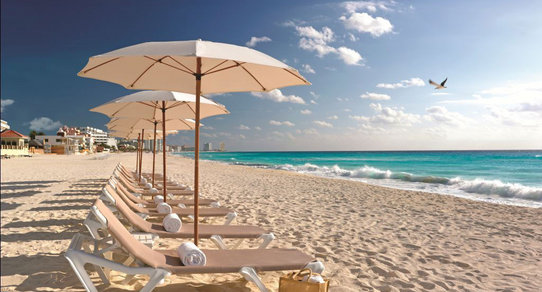 image source here
Fun in the Sun in Sweet Cancun
Cancun is one of the premier tourist destinations in a country that's simply packed to the brim with excellent vacation spots. Of course, there are the sandy beaches of Acapulco, the mystic jungles of the Quintana Roo region, and many more exciting vacation destinations to discover. Mexico is an ancient, mystic, and enchanted land, filled with opportunities for the adventure of a lifetime.
But there's something special about Cancun that really does set it apart from the pack. Perhaps it's the seemingly endless vistas of tropical beach scenery, surrounded by luxury hotels, first class vacation resorts, and countless miles of lush, green jungle. If you're looking for nearly unlimited opportunities for day and night activity in the sunny South, Cancun deserves to be a priority on your list.
Where Can You Find The Best Hotels?
The majority of hotels in the city of Cancun are located in an especially dedicated area known as the Zona Hotelera (which translates, would you believe it, as "The Hotel Zone"). This is where you'll find an assortment of hotels, motor lodges, camping grounds, and luxury resorts. Regardless of the size of your budget, as well as your specific needs, you should certainly be able to find a deal that will suit you.
Get the Best Deal for Your Budget
Of course, locating the Zona Hotelera is only the first step in finding the ideal hotel for your budget. How can you be sure that you'll really get the best deal? One way to make absolutely sure that you're in full control of your range of options is to make use of the Internet.
There's a wide range of choices when it comes to shopping around on the Internet. Cancun tourist guide sites are dime a dozen. But who's really got their finger on the pulse of the tourist industry in Cancun? What website is best equipped to guide a potential visitor through the wide world of choices and options that confronts them?
Get Hip to Hipmunk
As it turns out, there really is a website that is head and shoulders above the rest when it comes to getting you the best possible deal on your Cancun vacation travel package. The site is called Hipmunk, and you can quickly find it on the Internet just by punching it into Google.
Hipmunk has all of the latest information on Cancun travel destinations, including motels, hotels, and resorts. Whether you're a first time traveler on a fixed budget, or a seasoned jet setter looking to make a quick reservation at your favorite resort, this travel site can quickly put you in the picture when it comes to providing you with the widest possible range of options.
This article was contributed by Fiona Moriarty of Hipmunk, a complete travel platform that allows you to do everything from comparing charter flights and train rides, to finding the best resort hotels and Airbnb rentals.
I want to go like now….. DREAMY!

image source here
I hope this info. helped you all out in planning your next beachy, warm sunshine, vacation.
jen