Here Are Ways to Upgrade Your Garden Space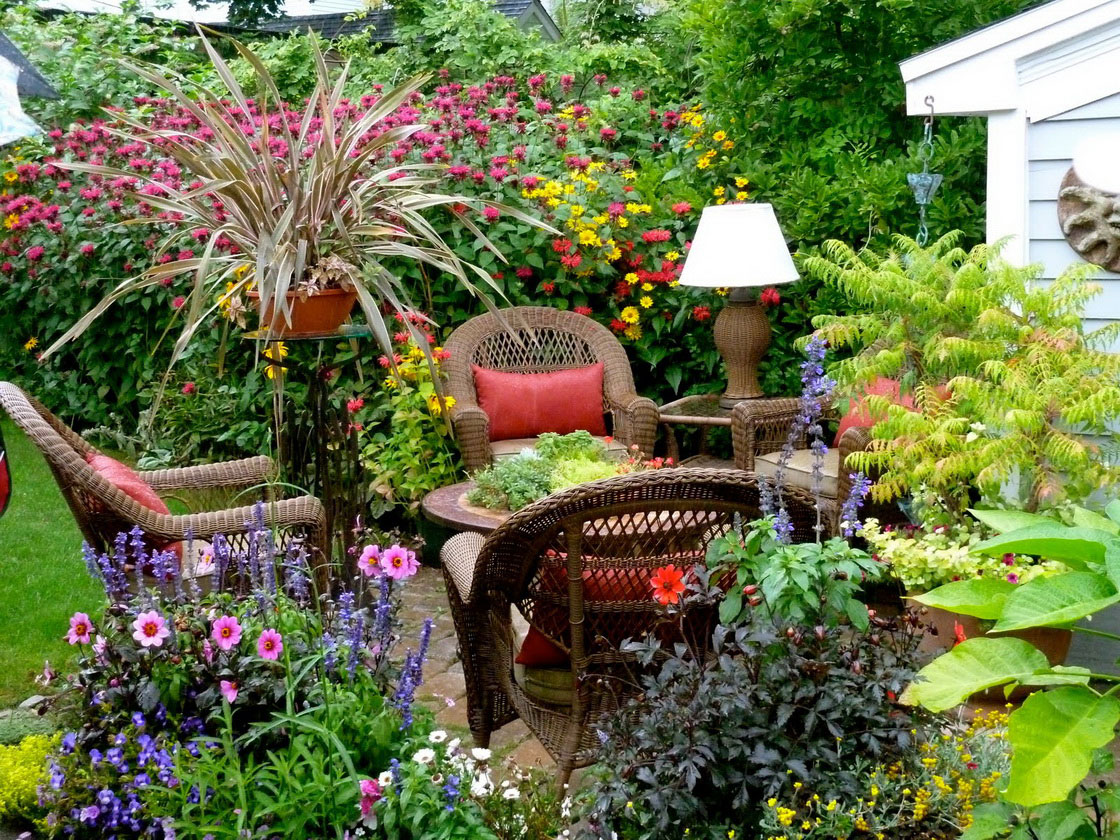 Google Image
You make a cup of your favorite coffee brew and head out to the garden. With a cup in hand, you scan your garden, and your eyes settle on that cozy spot, an ideal rest and relaxation area.
It got the perfect amount of space for a nook, the perfect amount of shade, and just the right angle to admire the planter boxes, flowers, and surroundings. But then, alas, there's no seating, no bench in sight, and no furniture to sink into.
Now is the time to drink that cup of coffee quickly and get your mind and hands to work. You need some furniture in the garden to be able to enjoy the quietness of the morning, while having your favorite beverage to savor the day, sitting in serenity. It's a matter of importance.
You need to upgrade your garden space because a garden needs to have the essentials -flowers, benches, seating, and even a rug! What's a garden with furniture to sit and admire it, right? If you're looking for ways to upgrade your garden space with more seating and decor, here are ideas to work on:
1) Make built-in benches
Built-in benches are excellent because they can be made to your liking, size, and the right kinfor your garden. You need to measure the space in your garden first to determine the size of your bench and how many you can have.
A built-in bench with storage makes it even more practical as you can lift the top of the bench to store garden or outdoor essentials, such as pillows and rugs, keeping them safe and dry during rainy weather or winter. Double up the fancy factor by combining a table, so you can do more than just have coffee in your garden.
2) Outdoor rugs
Apart from adding beautiful textures and colors, outdoor rugs help tie the entire garden furniture look together. It gives you and your guests a focal point when entering the garden.
When it comes to picking an outdoor rug, knowing how to pick the best one is essential because an outdoor rug needs to be many things, from being safe for kids and pets to being fire-retardant and mold-resistant. Remember that an outdoor rug needs to be an outdoor rug, not an indoor rug repurposed as an outdoor version.
3) Drapes
Drapes aren't a popular option for outdoor furniture because the common perception is that they will be high-maintenance. It will get dirty fast, and it will get wet in the rain.
There's no way to remove it fast enough before the downpour and many other issues. But then, just like outdoor rugs, if you're planning to add drapes, make sure they are fabricated for outdoor use because they will be made mildew-resistant, more durable, and come with many other features that make them suitable to be used outdoors.
4) Throw pillows
Throw pillows for your outdoor furniture add patterns and colors to your patio or garden. It's an excellent addition during colder nights when a little bit of warmth is a much-welcomed feature. Polypropylene fabric is the best type of fabric when choosing pillows for your outdoor furniture.
They are stain and water-resistant, don't lose their colors when they are out in the sun, and normally have a wax coating to make them resistant to the weather. You don't have to wash them often until they have acquired substantial dirt on them.
5) Multifunctional items
Multifunctional pieces are much better for small garden spaces because this means, while you can only have fewer pieces, you can have more seating options. Choose furniture with built-in storage or even a center table that doubles up as a seating area. Less is more in this case, ideal for entertaining in a small area.
6) Opting for durable furniture
Another way to immediately upgrade your garden space is by entirely switching up your garden furniture. Switch up your wrought iron benches to beautiful, glossy teak garden benches that immediately add class and luxury to a garden space.
Teak furniture is extremely durable, making it a long-lasting companion in your garden. It's heavy-duty and built to last, meaning that whatever the season, you can decorate these benches to your liking to fit the climate and entertain all year-round.
7) Fire pit table
Do you know what's even better than a fire pit? A fire pit table, of course! You can add this to the multifunctional furniture list if you're looking to add a fire pit into your small garden space. It's a double-duty table that lets you place drinks and food while using the fire pit in the middle to roast marshmallows.
Most fire pit tables come with the pit in the middle, surrounded by wood space to place food and drinks. Imagine cool nights sitting together around the table fire pit with your family, wine in hand, smores on another, while you enjoy each other's company.
8) Paint jobs
One of the fastest and quickest ways to upgrade. Pops of color for your garden space can magically transform the old into the bright and new, adding a sense of depth and diversion to your space.
Whatever you choose to go for, make sure that you use the right paint. You need to work with patio or balcony paint whether you're painting the deck, wooden furniture, the floor, or the walls of your space.
9) Faux grass
Well, let's be honest – natural grass is always better, but what if your garden space just can't seem to grow grass? Faux grass comes with many benefits, chief of all is its easy maintenance. You can purchase faux grass to the size you need, and once it's installed, there's nothing much
to do except to keep it clean. Faux grass is great for a small balcony space and patio. It truly brings the natural landscape indoors.
Small tweaks and upgrades can certainly lighten up your space. You don't need to do all of the above at one go because it's always good to have a plan and start with a focal point, whether it's centering the decor around your new teak furniture or just adding drapes to elevate the
space.