IMMEDIATE WAYS YOU CAN IMPROVE YOUR GARDEN ENVIRONMENT
While we can all appreciate that improvements come with time and patience, sometimes all we want is to have that quick fix so that we can get on with our lives. This allows you to concentrate on those areas which are particularly important to you, without being distracted with other areas of your life which are perhaps less important to you personally. For many, the garden is an extension of your home. You want your outside space to be welcoming, to reflect your personality, to be another place to sit and relax, even in the winter months.
However, the reality of having a garden is that it can require heavy duty maintenance, and patient and nurturing attention to coax growth of plants. Not everyone enjoys green fingers. Fortunately there are many options now that will allow you to create a brilliant outdoor space for relaxation and entertainment that won't require hours and hours of mowing and planting and cutting and pruning and watering. Here are some of the best.

Lay the perfect outdoors carpet
A luscious green lawn can be the envy of many, but achieving one requires feeding, mowing, and constant care and attention. Go out and buy an artificial lawn. This will give you an immediate, vibrant green, lush looking lawn that will feel soft and gentle underfoot, will be easy to keep clean come rain or shine, will never lose its lustrous color, eliminates muddy patches, and can't be dug up by the dog.

Subscribe to a plant subscription service
If you enjoy plants, but don't actually have the time or inclination to get your hands dirty, then a plant subscription service could be the perfect solution for you. Once you realize how many companies there are who would love to help you create the perfect garden in an economical and sustainable way, the more you can let your create imagination explode without having to spend too much time or money.

Alternatively build up a relationship with your local garden nursery who will probably run a service whereby they will seasonally create pots and hanging baskets and will simply come along and replace them on a regular basis, to make sure that your outside entertaining area is constantly looking fresh and in season. You will also be supporting a local business, which is always a good thing.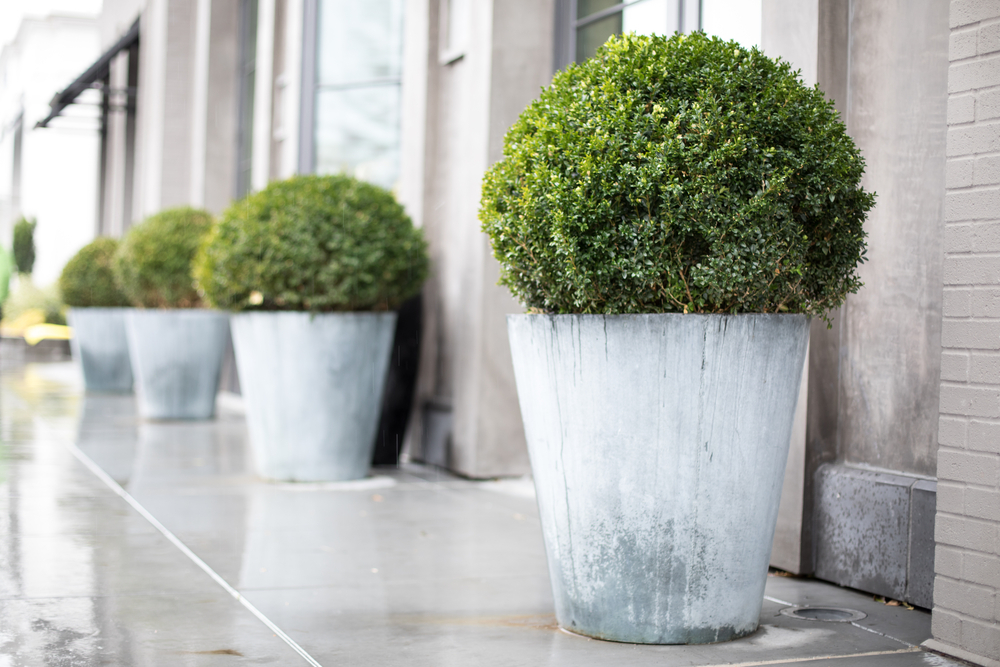 Extend the indoors out
One aspect of giving your outside space that immediate wow factor is to incorporate modern architectural design that can be employed when necessary. Tensile fabric structures are an ideal way to get tat modern touch to your garden, giving shelter from the sun when it gets too hot, and protection from the rain during cooler times. These contemporary and sleek designs will be the envy of your guests, and best of all, they don't need repainting – just a regular sweep and hose down to ensure that any debris is removed from the surface.

Buy some warm, snuggly blankets
One way to improve the appearance of any seating area is to introduce some color and texture. If you are creating an outdoor area that you want to use in the same way as any indoor seating area, then invest in a pile of interesting and varied blankets and throws that can be used both for the garden furniture and for throwing around your guests too.

Bright colors, faux fur rugs, big, knitted throws, Turkish kilims, erratic cushions and textures – you can introduce elements of the bohemian that elevates your outdoor seating area and makes it an inviting and relaxed place to chill out. Just makes sure that you have a waterproof chest in which to store everything when it rains.