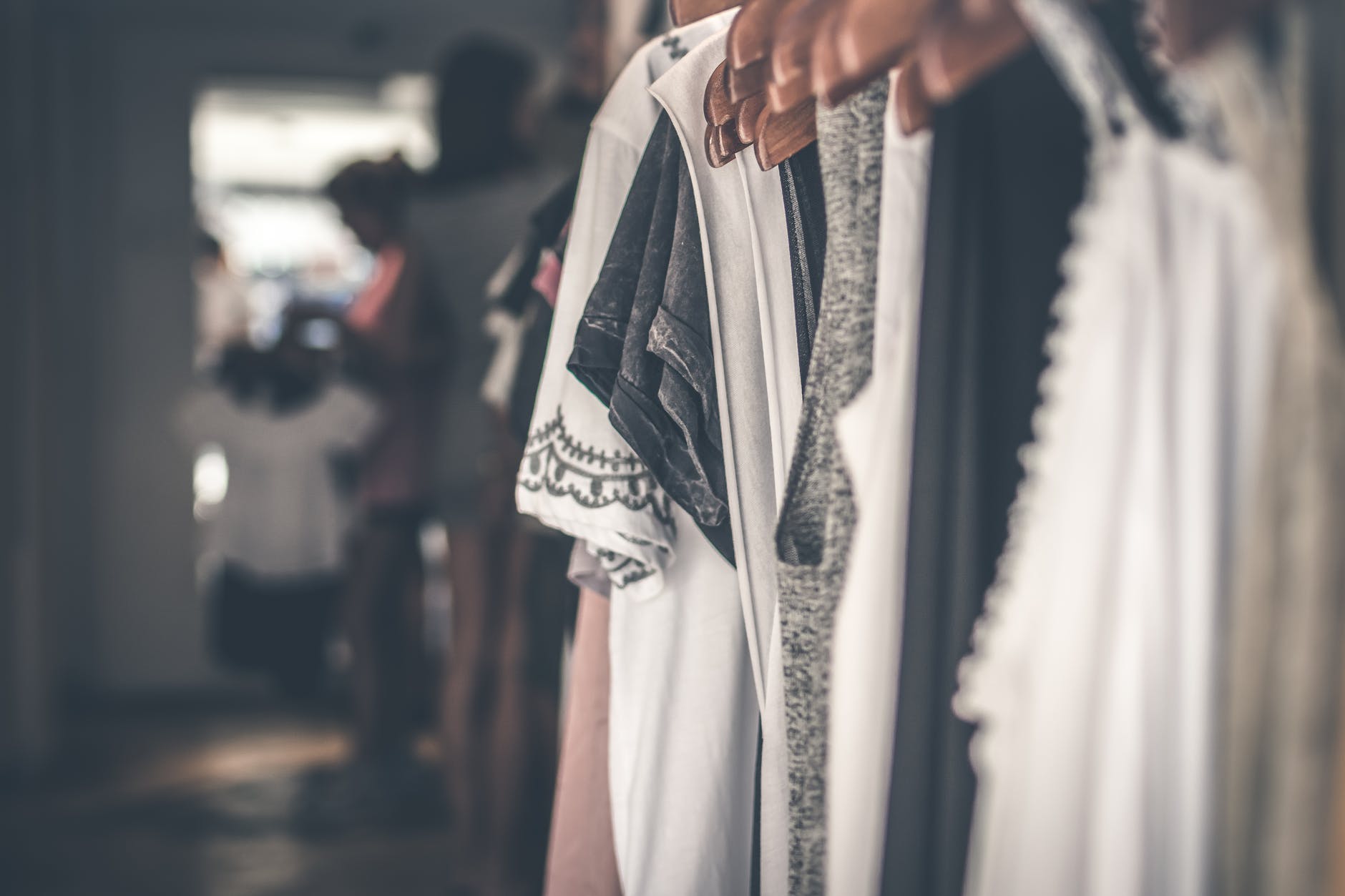 Image source here
We're in the weirdest possible time that we can be in right now and no one is going out all that often. With most places having restaurants and theaters closed, getting dressed up is pretty much reserved to walking around the block and heading into the workplace.
Most of our lives are being dictated by a pandemic, and the things that we would usually be permitted to do are no longer happening. So, we need some way to feel good and keep our heads in the game and one of the things that has fallen way off the radar of importance is our style.
We're embracing loungewear chic, with hair in messy buns and barely brushed teeth. We're living for the style of "indoor babe", and that isn't always our usual style.
The good news is that the pandemic doesn't have to strip everything back from you – you can still be stylish and inside the house! The positive of a pandemic is that you have the time now to reinvent yourself if you want to.
You don't have to jump into a new fitness routine or a fad diet, but you do have to check out the positives of the pandemic and start to feel more confident as a result.
You have the time now to give your wardrobe the once-over and you can start letting go of the old clothes you haven't got around to shifting, and start making good decisions for your own fashion sense.
Still on the fence about it? Let's take a look at 12 excellent ways to be more stylish – so you can start living the stylish life!
Buy Something You'll Wear More Than Once
It's so easy to think that you need to buy a dress for a party, for Christmas, for a Zoom birthday party – but you don't have to! You can shift your focus and buy something you know you'll wear more than once for a change.
Yes, there will be lockdown celebrations when it's all over, but that doesn't mean that you should buy something just for that event.
Get something that you love and have a few dressier pieces in the wardrobe that you can call on time and again. You can save some money and embrace a little sustainability with your fashion choices at the same time. You can switch up your accessories to make the outfit look different every single time!
Upgrade Your Accessories
Speaking of accessories, you can upgrade yours to give your outfit that edge of sparkle. Those specs you wear to see day to day when working from home?
Upgrade these to Michael Kors eyeglasses and feel fancy just working from home. Accessories can really change the way that an outfit looks, whether you are using layered necklaces or chunky bracelets. You can even upgrade pieces of older clothing by changing the buttons and zips to look more stylish.
Buy Clothes That Fit
It sounds so simple, but it's not uncommon to hang onto items that won't fit you – for those "just in case" years of life. Believe it or not, those years are not a guarantee and may not be coming back, so you should do what you can to let those pieces go and dress for the body you have rather than the body you want.
Sounds super simple, but it's not always easy to let go of those items, especially not when you have an emotional attachment to them. Find beautiful items that fit your current figure well, skimming your curves and giving you all of the confidence you need to feel fantastic.
Get Rid Of The Things That Don't Suit
So many of us hang onto items of clothing that don't suit us, and we really shouldn't. Check your drawers and your closet right now.
How many items are in there that were bought on a total whim and don't suit your body shape? That canary yellow blazer may wash you out and make your skin look pale and drawn – so don't keep hold of it! Yes, it was money you spent, but that doesn't mean that you have to keep it.
Clothing should make you feel confident, comfortable, happy and relaxed. If your clothes aren't giving you those feelings, then it's time to take it out of your life.
A Bargain Isn't Always A Bargain!
You're online window shopping because – well, what else is there to do in lockdown?! Anyway, you're scrolling through some awesome clothing websites and you see some great bargains. Think Wish and Catch – they always have fancy clothing that looks great.
That is, they look great until you part with your money! You should never buy something just because it looks like a good deal.
Often, bargain basement clothing is of a poorer quality and is made with fast and unsustainable fashion practices. No matter how affordable something is, it's only going to take up space that can be used for better pieces.
One In, One Out
If you choose to go shopping and you buy a new dress, replace something in the wardrobe. It's actually a great way to save money on your shopping practices because unless you're willing to give something up in the wardrobe, you shouldn't be buying anything.
Sure, it's your money and your choice what you shop for, but if you want to keep your wardrobe a sensible one, you need to consider only buying when you're willing to give things up. It's a pretty nifty way to be smart with your clothes shopping, too!
Set Up A Clothing Drop
So, you can't meet up with all of your friends to do a clothing swap, but that doesn't mean that you can't have fun doing one! Set up a Zoom meet with your best buddies and keep your wardrobe feeling fresh with some drops and swaps!
You can save money and operate that one in one out policy we talked about. You can borrow from your friends and make it a temporary swap if you like!
Take Down Your Spree Rate
In the middle of a pandemic, it's likely you're ensuring that you're not spending too much money right now and that means that style rut or not, you have to take down your spending spree rate.
You don't have to let things go nuts and you can choose to spend your money online, but only do that when you really need to! It saves careless decisions and you can instead enjoy the shopping that you do!
Try New Brands
Have you ever owned a designer anything? Now's the time to have a shop around for something that you truly want. Those Michael Kors eyeglasses we mentioned are a great start, but it's also a good idea to check out new purses or shoes!
There are always new brands coming onto the fashion market and it's important to keep looking around. Often you can discover something entirely new and a whole new way of shopping with a new brand.
It's so much fun to find a new brand to buy from, especially if that brand is a small business you discovered during lockdowns.
Embrace Capsule Wardrobes
Have you ever thought about throwing half your wardrobe away? No one likes to throw anything away if they can help it, but with clothing you can repurpose so much of it on eBay or Facebook if you want to make those tough decisions.
You can use the money you make from your old pieces to replace your wardrobe bits! Capsule wardrobes are smaller wardrobes with fewer pieces to make more than one outfit at a time. If you cannot bear to let something go, ask yourself how often you'll wear it and see whether that's true for six months. Then let it go!
Give Yourself A Uniform
Now, if you are stuck at home it's likely that your wardrobe will be loungewear chic as we said earlier. However, you can create a uniform from your wardrobe and stick to it as a "base" for what you look like.
You can be whatever you want in life, and you can dress however you want, too. Your uniform should make you feel good, and whether that's tanks and jeans or a business suit, you shouldn't be afraid to make the most of what suits you.
Get To Know Your Things
It's so easy to forget what you already have, which is why so many people go shopping before checking their existing wardrobe items.
Comb through and inventory everything, from your clothing to your accessories and shoes. You need to be able to clear out and declutter everything before you choose something new to add to your wardrobe.
This will stop you from buying the same things again, and it will also allow you to make sure that you have everything you need!
When you get to know your wardrobe, you can start to be more stylish with everything that you own. Take the time to get to know what you have – you'll thank yourself later!