Celebrate Valentine's Day with 2 Quick and Simple D.I.Y. Projects that Last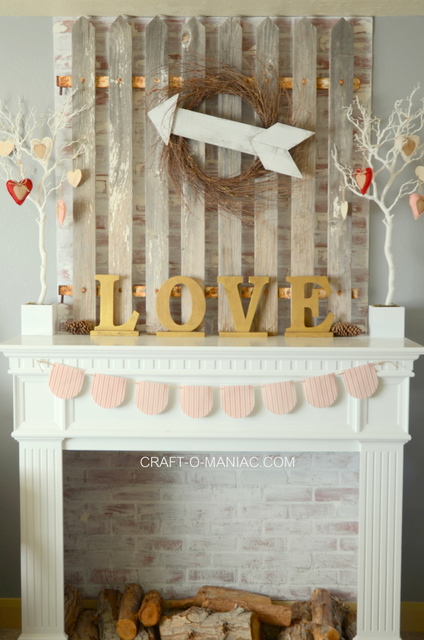 Hi friends,
Today's blog is about "Celebrate Valentine's Day with 2 Quick and Simple D.I.Y. Projects that Last." One of these projects is just for the little ones and the other is for the whole family (including you)! As you know, I love decorating for Valentine's Day, but I always take everything down right after the holiday has passed.
This year, I want to share these D.I.Y. projects that show how much you care about your family and you can keep all year long. I hope these
Valentine's Day
projects will help you feel all warm and fuzzy. 1. Create Space for Your Kids to Craft Alongside You Do you love to craft, but have trouble including your kids? Or maybe you want to craft, but you need to be in the other room watching the little ones.
Well, show your love for your little ones by creating a space for them to express their creativity in your craft area. And as a busy parent, this project will help you make time for your hobby while keeping an eye on the kids.
What you need:
· A surface area such as a desk, small table, or lap desk
· Seating such as a small chair, stool, or beanbag
· Chalkboard, cork-board, pegboard, or picture frame
· Cups, jars, hooks, or baskets for craft supply storage
Craft Supplies:
· Colored pencils
· Paper
· Markers
· Paint and Paint Brushes
· Crayons
· Wet Wipes for messy fingers
First, look at your space and decide how much room you can easily devote to your kiddos' craft station. You don't need a ton of space. A 1-foot by 2-foot area will do. Next, collect the materials you'll use.
You'll need a flat, sturdy surface like a desk, a seat, storage bins, and some craft supplies. Try to use what you already have. You can re-purpose a beanbag and a lap desk if you have limited space or pick up a side table and stool.
Then, personalize the area. I put up a chalkboard, but you could use a peg board or one of their paintings to help them feel like a superstar. Empty frames for them to fill with artwork is also a
cute idea! Personalizing the space will help your little ones feel inspired and important. I love stringing up all of their latest drawings to keep things fresh. Finally, collect their crayons, markers, and colored pencils and plenty of paper.
Find simple storage solutions like hanging baskets for pegboard, cups, or a craft cart to keep those supplies handy but tidy.
Once you have your kids' craft area done, show them they're your #1 Valentine with Valentine Décor for My Kids Creative Space.
2. Say "I Love You" to the Whole Family with a Gallery Wall
Nothing says "I love you" more than finding those special projects that celebrate cherished memories. I love this project because it makes every member of the family feel special. And if you want to switch out the pictures for new seasons, it's quick and simple.
Supplies:
· Picture hanging kit with enough hooks and nails for all your pictures
· Hammer
· 9 or more of your favorite photos and art First, choose a location. Think about where the family spends time. I think the area over the sofa
is one of the best places to share your favorite photos.
A great trick to avoid extra holes in the wall is to use toothpaste to figure out where to place your nails.
Then, start with your anchor piece. This photo or artwork is usually the largest. And if you're planning on updating your wall from time-to-time, you may not want to change this one, so choose thoughtfully.
This is a great spot for a wedding photo. Center the frame over the furniture from side to side and top to bottom of the open wall space.
Next, arrange the other pieces about 3 – 6 inches from the anchor piece. It's nice to have a variety of photos and artwork. Add rustic flair or a modern touch by having some of your photos printed onto wood or acrylic.
Finally, why not have fun and let your wall grow? Don't be afraid to try out new things and add more pictures over time.
If you want to add a Valentine's Day theme, you can include pictures of your kid's Valentine's
Day crafts.
Thank you for stopping by today! And I hope you have an amazing Valentine's Day! Jen