Weight Watchers Shepherds Pie Made With Cauliflower Rice
Hi friends, I have been doing Weight Watchers for about two months, its been slow going but so far I am down 7 lbs. It goes between 7-9 lost, so as I mentioned slow going. That said, WW is so freeing because you can still live and not feel suffocated by strict fad diets. etc. I made a delicious Shepherds Pie last night and I winged it from my traditional way of making it, to a more WW friendly version. Below I am sharing how I made it and OMG… it turned out so darn good, my kids even said "Mom put this on your dinner list." It definitely is a keeper, we all loved it.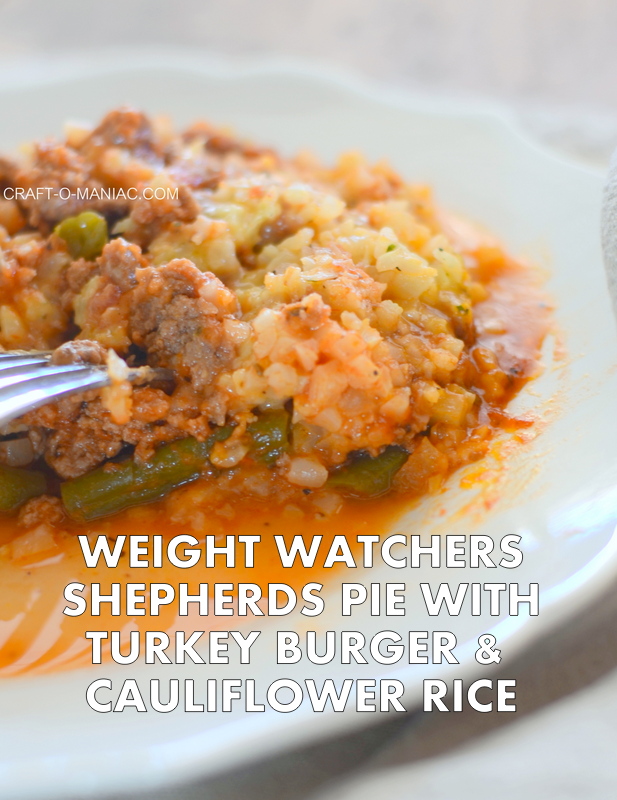 Weight Watchers Shepherds Pie with Cauliflower Rive
2018-03-23 20:51:19
Delicious Flavorful Shepherds Pie Weight Watcher Style
Nutrition Facts
Amount Per Serving
* Percent Daily Values are based on a 2,000 calorie diet. Your Daily Values may be higher or lower depending on your calorie needs.
Ingredients
1 lb of turkey burger (I get mine at Walmart)
1 lb of Italian seasoned turkey burger (Walmart)
1 Jar of Smart Style Prego Traditional Sauce
1 can of Fire Roasted diced tomatoes
2 cans of drained green beans (low or no sodium ones)
2 bags of microwavable cauliflower rice
1 cup of mild cheddar cheese
Seasonings,1 tbsp of Italian seasoning, 1 tbsp garlic powder, a shake or two of salt pepper, and a small hint/shake of red pepper flake.
Instructions
Start by browning your 2 pounds of turkey meat, drain it. Add in your seasonings, your jar of Prego sauce, and your can of fire roasted tomatoes. Spray a 13 x 9 baking dish with Pam. Dump your two drained cans of green beans in the bottom of the baking dish, spread it out. Next add your meat and sauce mix, spread that across evenly. Next add your cheese to the top of the meat. Finally cook your cauliflower rice according to the microwave instructions and then spread it out over the very top. I sprinkle a bit of dry parsley to the top to make it extra pretty, but its optional. Bake at 365 for 20 minutes.
Notes
You can certainly add more cheese to the very top, but that is optional. 1 serving is 6 points. Enjoy.
700 N COTTAGE https://craft-o-maniac.com/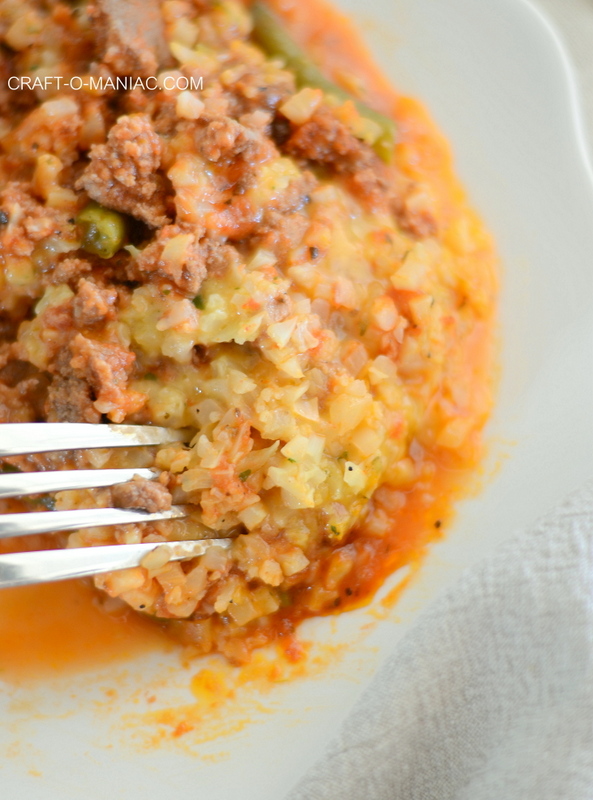 Enjoy, and thanks for visiting the blog today. Jen