Stylish Design Trends To Set Your Kitchen Apart
Sometimes we don't always know what to do with our homes or even where to start. Today on COM it is all about "Stylish New Design Trends to Set Your Kitchen Apart."
Kitchen design is more important than ever before when it comes to making your home feel like a sanctuary. Modern family live centers around the kitchen where family members gather to do everything including work, play, homework, entertaining and of course cooking and eating. Whether you are getting your home ready to sell or you just want to give your kitchen a face lift so it looks better and functions more efficiently here are some of the top design trends for kitchens this year:
Neutral, Not White
If you've spent any time on Instagram or Pinterest in the past year you've seen dozens of different styles of all white kitchens. And the white kitchen does have a clean and minimal aesthetic that is very inviting. But it also can be a little austere and cold. That's why the hot new
kitchen trend for this year is the neutral kitchen. The neutral kitchen keeps the overall clean white look of those Instagram worthy minimal kitchens but adds some warm wood accents to make the space more inviting and to bring in natural elements that are calming and relaxing.
In order to get this neutral look replacing white cabinets with plywood cabinets in natural finishes is a great start. Finished plywood can also be mounted over kitchen islands to add a block of color and texture to the kitchen. You could also replace closed cabinets with open modified wood shelving which will give you better access to all your kitchen essentials and make the kitchen seem more open. Another way to add wood accents in the kitchen is to replace your dining furniture with clean natural wood furniture. An Amish dining hutch and table set will brighten the kitchen and give it a rustic farmhouse look.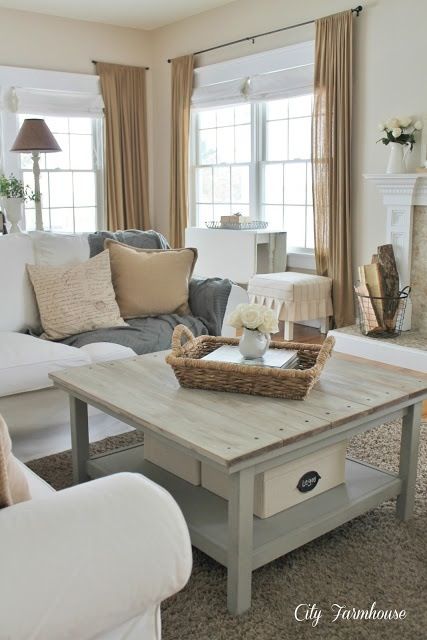 Image Source Here
Dark Floors
Contrast is making a comeback, especially for homeowners that don't want to give up a monochrome look in the kitchen. A fantastic way to set off the minimalist look of a white kitchen is to replace the flooring with dark floors. Dark engineered hardwood floors are the perfect way
to set off your kitchen and make it look vibrant instead of cold. Engineered hardwood is a better fit than solid hardwood for kitchens because it is less prone to warping and flexing than solid hardwood. As long as you use waterproof mats near the kitchen sink and dishwasher your
engineered hardwood floors should stay beautiful with minimal maintenance and cleaning.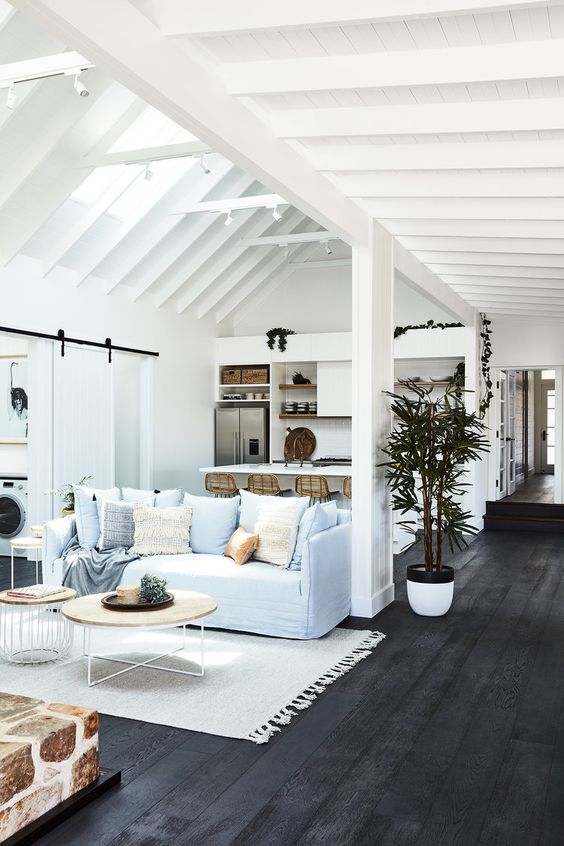 Image Source Here
Black Appliances
Stainless steel has been the go-to finish for appliances for a long time but finally the cold look of stainless is giving way to the neutral appeal of black. Black appliances in a white kitchen provide the contrast that gives the kitchen more depth, like dark floors. And black appliances are easier to keep clean and looking great. They don't show fingerprints, smudges and stains the way that stainless steel can which is great if you have kids. If you choose to change up the look of your kitchen by choosing colored paint instead of white black appliances are the perfect neutral color to balance out a bright colored kitchen. Stainless steel appliances might still be the first choice of builders but homeowners are embracing black appliances to make their kitchens more functional, easier to clean, and to make the kitchen a more comfortable gathering spot. There are some gorgeous new appliances on the market right now including matte black stoves which really stand out in a neutral kitchen design. If you want to add a metallic pop you can use metallic knob covers on a black stove for some real "wow" factor.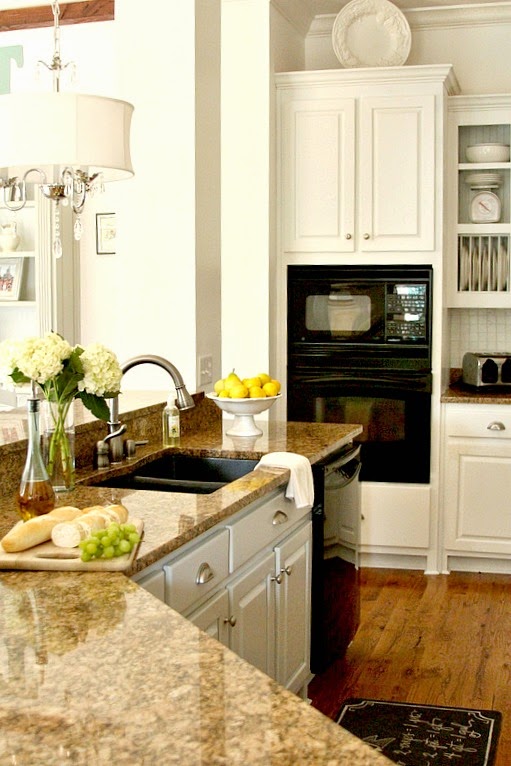 Image Source Here
I sure hope these stylish trends help you all out in designing the rooms and spaces in your own homes. Thanks for stopping by. jen