New Year New Me!
"This post is part of a social shopper marketing insight campaign with Pollinate Media Group®, All You®, and Real Simple® but all my opinions are my own. #PMedia #NewYearMeTime  http://my-disclosur.es/OBsstV"
The holidays are over, and things are packed up nicely and put away, (a little bitter sweet right?) With this new year, it comes with a new ideas, plans, new goals, and a "New Year New Me!" A few weeks ago, I spent sometime thinking about a word I wanted for this year and all though a lot of words came to mind, I finally fell upon "positive" Its so easy to get wrapped up in the negative, the whoa is me, the unfair, etc. I wanted to change that, because all though I am not ungrateful and I do count my blessings, it still can be hard. We are taught (or I have been anyway) that we don't compare ourselves etc. or that we shouldn't.  However, I think its only human that we compare and even if at times we don't mean to, we do. I don't want that in my life anymore, in any way shape or form, its toxic, stupid, and plain ridiculous. I want only positive thoughts, ideas, feelings, etc. I think when you wake up with a "positive" attitude about how your going to act, react, and feel for the day it helps a ton, and even sets the mood/tone for your day. I have been a lot happier acting on that word and implying it in my life a lot more. Along with this new word and "new me" I decided to hit up my local Walmart store and pick up some magazines. I normally don't even buy magazines, (I have plenty to read and look at on social media) that said, there is something about sitting, relaxing, cuddling up, (with a diet coke) and reading some great magazine. I actually picked up two that in the past I have flipped through at the checkout many times. I chose All You® or Real Simple® magazines to devour, HA! I loved seeing the healthy recipe ideas, healthy life ideas and tips, fashion, and even some great love stories ("Real Simple® had in their magazine for Valentines). Reading magazines aka these two magazines helped me focus more on my "positive" word for the year. I read a lot of "good mood food" stuff, and looked at a lot of great pictures too. All these things inspire me and motivate me more, for the new year, new word, and new me! that is a win win in my book
If you are looking for some down time you can pick up a on line copy and use this coupon to save $1.00 on ONE (1) PEOPLE®, InStyle®, PEOPLE StyleWatch®, All You®, or Real Simple® magazine. The Walmart digital coupon is available 1/14/15-2/16/15 (while supplies last). To access the coupon you must be a member/subscriber to Walmart.com
Inspiration comes from all over, and I found a lot in these great magazines. Diet coke, some DIY pom poms, and some good reads, makes for one happy positive me aka jen!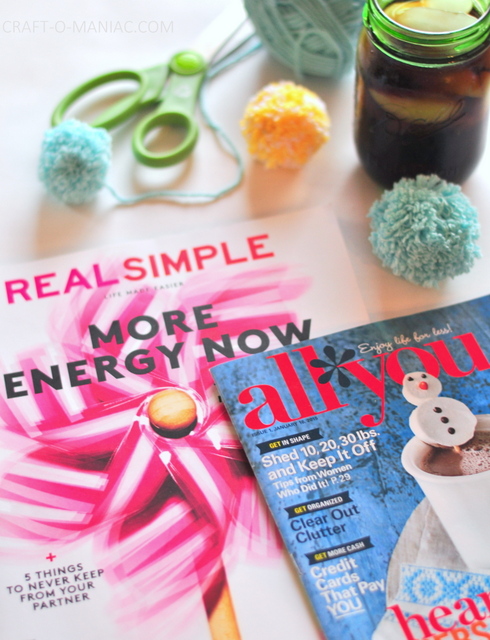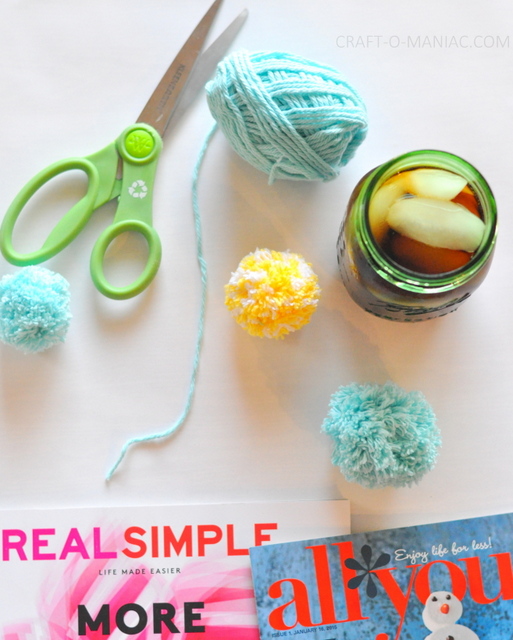 So what are you thinking for you and the new year? share, I would love to read all about it. xo jen