Almond Joy Cupcakes
Hello there! Today I am sharing these super fluffy and tasty Almond Joy Cupcakes.  I made them a few days ago and they didn't last long. Funny thing, is years ago when I was younger I hated Almond Joy's, I mean HATED! like get them away from me they are nasty. HA! Not anymore, I love them now and when its Halloween I tend to steal my kids Almond Joy's (and Kit Kat's) My daughter loves Almond Joy's too, plus you just can't go wrong with homemade Hershey's' chocolate frosting, fluffy white cake, chewy coconut, and  crunchy almonds.
So if you make these Almond Joy Cupcakes, be sure to have some ice cold milk to wash them down with. YUM!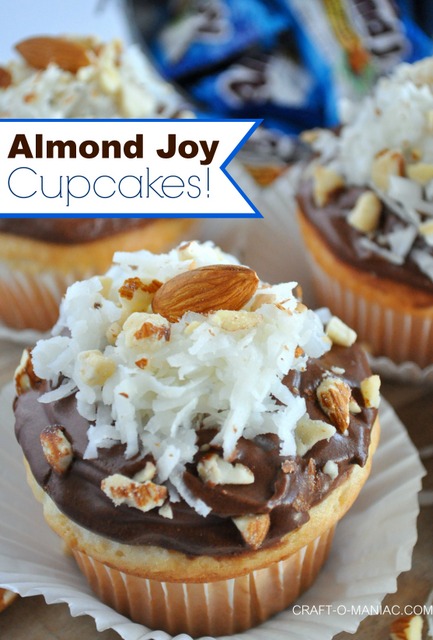 Ingredients:
– 1 box of white cake mix (I follow the "3" egg white version)
– 3/4 cup of almonds
– 1 tbsp coconut extract
– 1 cup of coconut
– 2 tbsp of sweetened condensed milk
– Hershey's Coco (for homemade frosting, The Best!)
Directions:
I started by making my Hershye's frosting simply by following the recipe on my Hershey's cocoa container. I prepared the frosting (so creamy and truly the best) and put it in the fridge to chill a bit.
I then followed my cake mix recipe again following the "3" egg white version. I added in my 1 tbsp of coconut extract then filled up my cups. While the cupcakes were baking I took a bowl and added a 3/4 cup of coconut and 2 tbsp of sweetened condensed milk. I mixed them together to make the coconut topping a little sticky. I then chopped up my almonds in a food processor and set them aside for garnish. I left out some whole almonds again for garnish. After you cupcakes are baked and cooled, you can frost them. Next add a pinch of your coconut to the top of your cupcakes, then some sprinkled almonds, and one almond for the very top center. Serve and Enjoy!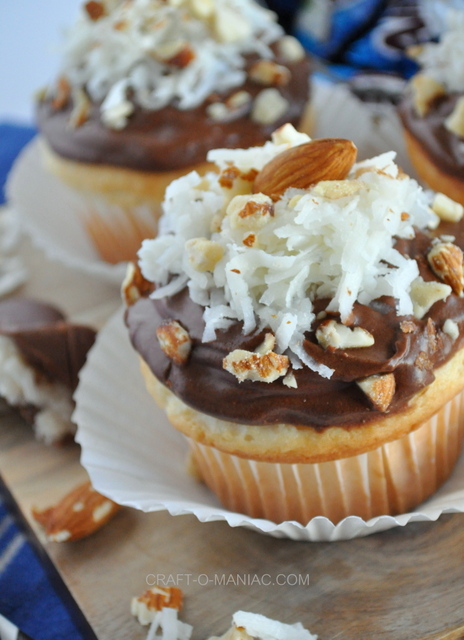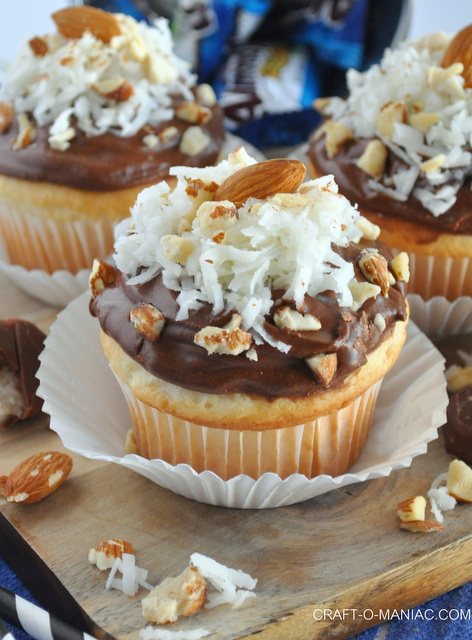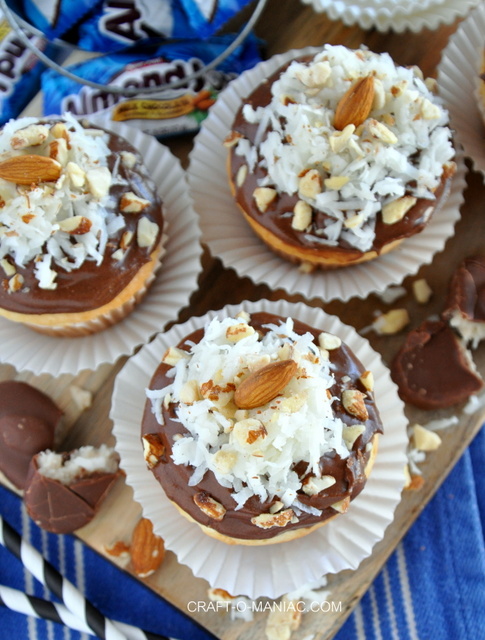 Is your mouth watering for your own Almond Joy Cupcake?
winks, jen