Kitchen Counter Christmas Decorations
I will admit to it right now. I am one of "those" people. You know the kind that take everything off of above the kitchen counters and decorates for Christmas up there too. Like I really didn't have enough rooms to decorate. But, I don't decorate the bathrooms…yet.
I have a reason why I love to decorate above the counters. The kitchen is the center of the home. The place where everyone tends to congregate to. So, why not have it be super cute. Like I said, I am one of "those" people.
I love the look of glass, white, greens and those cutest bottle brush trees. I also love white dishes. They go with everything and are so versatile. Because I love a lot of things, I thought that I would put them all together…above my kitchen counters. What, your brain doesn't think that way too?
A couple of weeks ago, I did an episode for my show, Sassy Style which airs on My Craft Channel. I talked all about bringing your dishes, teacups and glass bottles out of your cupboards and decorating with them.  I so know you want to watch it, so here it is. I even wore red and green.
Since I don't have a mantle in my house, I improvised. (see my everyday faux mantle here)
I pulled out my scales ( I so heart these & all of mine came from thrift stores), white dishes, glassware, burlap, pine cones, bottle brush trees and fake snow AND went to town.
The key to being able to achieve this look is to layer. Don't be afraid to layer big with small and glass with green. This is the key to getting this inviting look.
My first layer is one half of a bi-fold door that I painted a long time ago. The door stays up all year, and is a really simple idea if you have a lot of empty above counter space.
I love these cutest little trees! I got them at Lowes for $5. They came with ugly, red plastic paper. I just pulled this off and replaced it with burlap that I tied around the tree with jute. I then put them in some super cute white bowls from the Zion Mercantile line. Cheap & Easy idea #1
I layered my apothecary jars with plain glass bottles. I added some Epsom salt to look like snow and some mini bottle brush trees and voila…Oh wait, I also added some pine cones (buy from the store=no bugs) and some sprigs of faux greenery for filler.
I heart my vintage ice cream scale that I found at my local thrift store. It makes me happy whenever I see it. I added a simple white platter with some pine cones,and pine boughs and I was done.
Last but not least, my favorite corner in the kitchen. I brought in my old pop crate that my husband said I would never use, so I shouldn't buy it-crate from an estate sale. I added 2 jars, one with a junk bow,a tall bottle brush tree and one more small apothecary jar.
Oh, I also added my white trophy that I so didn't need, but bought anyway from Target. I just filled it with faux pine boughs and some snow flakes.
Even though I really don't love to cook dinner or do the dishes, I do love my decor in the kitchen. It makes me happy. Not as much as someone bringing me dinner makes me happy…but you take what you can get…right?
If you haven't been over to my place, I would so love for you to come and see what other simple DIY ideas and other fun inspiring stuff I come up with  at Sassy Style Redesign.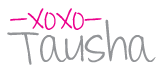 CAN WE ALL SAY HOW PRESH Tausha's KITCHEN TOP SHELVES ARE? Oh' I am in love. 
GREAT WORK MY FRIEND. Make sure to stop by her great blog and say hi. 
xo, JEN