Top 8 Best Neighborhoods to Relocate to in Arizona (Fastest Growing City in US Today)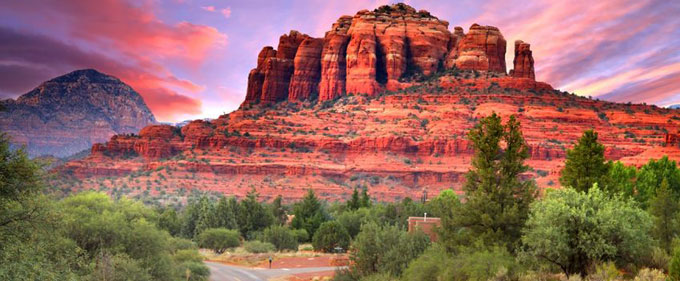 If you can't stand cold winters and rainy springs, Arizona is the place for you. Also known as The Grand Canyon State, Arizona is known for its warm weather and beautiful deserts.
It is also home to affordable education and countless employment opportunities. Arizona is currently thriving on its health care, government, transportation, and technology economy, making it a great place to live for a wide range of ages.
Whether you are looking to start a family, or are new empty-nesters, Arizona might be the perfect state for your new home. There are a variety of neighborhoods waiting to be called 'home' all throughout. This article will dive into some attractive neighborhoods in Arizona based on the cost of living, education, and crime rates.
1.Gilbert, Arizona
Located southeast of Phoenix, Gilbert is home to about 230,000 residents. Gilbert is recognized as one of the safest cities to live in the U.S., according to azcentral.com.
It is also ranked in the Top 10 for best school districts in Arizona. Formerly known as the "Hay Shipping Capital of the World," Gilbert has a rich culture with agricultural roots.
These roots are very much incorporated into their food scene, as well as a plethora of handmade goods. Gilbert is also home to a number of bike trails and national parks.
By some, Gilbert is also known as "Phoenix's Coolest Suburb" and is regarded by many as one of the best places to live. In terms of cost, Gilbert's median home cost is $335,000, and its median household salary is $99,000. Gilbert's crime rate index is 45, making it safer than 45% of U.S. cities. Overall, Gilbert is a great place to live for young foodies or anyone wanting to start a family and beyond.
2.Scottsdale, Arizona
Home to 240,000 people, Scottsdale, is known as one of the best places to live in Arizona. Scottsdale is in Maricopa County and has plenty of parks, bars, restaurants, and coffee shops.
It also has several things to do and has an abundance of hiking trails. Scottsdale also has a hip social scene and a bustling downtown nightlife. If that is not your scene, Scottsdale also offers over 200 golf courses, perfect for swinging that club on a sunny day.
Startup culture is also prominent in Scottsdale, and tech is on the rise with Yelp and Weebly opening branches in the city. Education is great as well, with BASIS Scottsdale being the best public high school in Arizona, according to niche.com. In terms of housing costs, the median price of homes is $378,500, and the median household salary is $72,000.
The crime rate in Scottsdale is 7% lower than average, making it a safe neighborhood to live. Whether you are young with an entrepreneurial mind or looking to retire, Scottsdale is an excellent city to call home.
3.Mesa, Arizona
If you are looking for a big city feel, Mesa might be your place. With about half a million residents, Mesa has the highest suburban population in the U.S. and offers a place that feels like a big city without all the fuss.
Mesa is located in the middle of a desert, making it a drier and hotter option; however, it contains two rivers and three lakes, as well as pools on every corner, making it a little more fun during those hot summer months.
There is also a wide range of museums, a Wild West Town, golf courses, horseback riding trails, and much more to explore. Additionally, there are many housing options in Mesa, whether you are looking to rent a single- family home with lots of space or a modern townhome with state of the arc amenities.
The average household income is $43,000, and the median price of homes is $271,000. Mesa also has excellent public schools and a lower average crime rate in comparison to the entire state of Arizona. Overall, Mesa is diverse and a great place to start a family in Arizona.
4.Tempe, Arizona
Tempe is undergoing a construction boom, and its city is well on the rise. Tempe is very attractive to the tech industry and is seeing an increase in tech companies opening offices across the city.
Tempe is fast-growing and has a booming economy. The city is filled with bright- eyed college students and yuppies looking to build the rest of their lives. It also has plenty to do on weekends such as kayaking, biking, hiking, and dining.
Tempe is a city that is filled with character and perfect for those looking to move to a new place. Its suburbs have numerous single-family homes, and the average commute time is 20 minutes, making it a pleasant option for maintaining a good work-life balance.
Tempe is also home to 83,000 undergrads, and highly rated public schools, making it a place where education thrives. Its median household income is $52,000, and the median cost of buying a home is $310,000. Tempe is an especially attractive place to live for those seeking a mix between urban and suburban and is great for young professionals.
5.Chandler, Arizona
If you are seeking a truly suburban feel, Chandler is for you. Chandler has a population of 245,000 residents and is one of the best places to live in Arizona. It has various parks, coffee shops, and amazing restaurants.
It has a bustling downtown, which will give you a more cosmopolitan feel and also has one of the best school districts in the state. Chandler is also located very close to Arizona's two major airports, making it very accessible. Chandler's median household income is $83,000, and the median house price is $285,000.
6.Glendale, Arizona
If you are seeking a more affordable option, Glendale might be a great choice. Glendale's median house price is $154,700, and median household income is $47,000.
Though its IT industry is not as booming as it is in Tempe or Scottsdale, Glendale is a great option for those looking to move to Arizona on a budget. Sports fans will also be a fan of Glendale, as it is home to the Arizona Cardinals and Phoenix Coyotes.
There are many entertainment options ranging from outdoor activities to restaurants and bars and everything in between. Glendale is a suitable option for those considering a move to Arizona.
7.Peoria, Arizona
Those who are seeking a quiet suburb with an excellent public school system can look no further. Peoria has some of the best schools in Arizona, and 26 of its 38 educational institutions are either classified as Excelling or High Preforming by the state.
This small city is home to 164,000 residents and is super close to Phoenix, making it a serene getaway after a long day's work. Peoria's scenery is breathtaking, and the city offers a lot to do for any age.
Peoria's housing market is also relatively affordable. Its median house price is $302,000, and the median household income is $63,000. Peoria is known for its appeal and provides great value overall.
8.Phoenix, Arizona
The capital city itself- Phoenix is a beautiful and thriving city in Arizona. Phoenix has a population of 1.5 million, making it very diverse and full of flavor.
Phoenix is a fast-growing city and is the 6th largest city in the United States with a wide range of entertainment options. Sports fans can cheer on one of Phoenix's four major professional teams- the Phoenix Suns, the Arizona Diamondbacks, the Arizona Cardinals, and the Arizona Coyotes.
Phoenix also has a bustling nightlife scene and various outdoor activities with places perfect for hiking, biking, swimming, and everything in between.
The median home value in Phoenix is $215,800, and the median annual income is $62,000. Phoenix has excellent public schools, which makes it ideal for raising a family. Whether you are young or old, there is room for you in Arizona's capital.
With its beautiful weather and gorgeous scenery, Arizona is a fantastic place to consider calling home. Its booming economy, a wide range of entertainment options, and a growing population make it an attractive place to buy a home.
Whether you are looking for that perfect single-family home or looking to rent a townhome with all the amenities, Arizona has got your back. There are also many external options to consider when making your decision to move.
Resources such as Ace home AZ, AZ Big Media, and Niche are excellent to look into and will hopefully ease your move process. There are many great neighborhoods in Arizona to explore and even more warm, sunny days to do it.