New Years Eve cocktails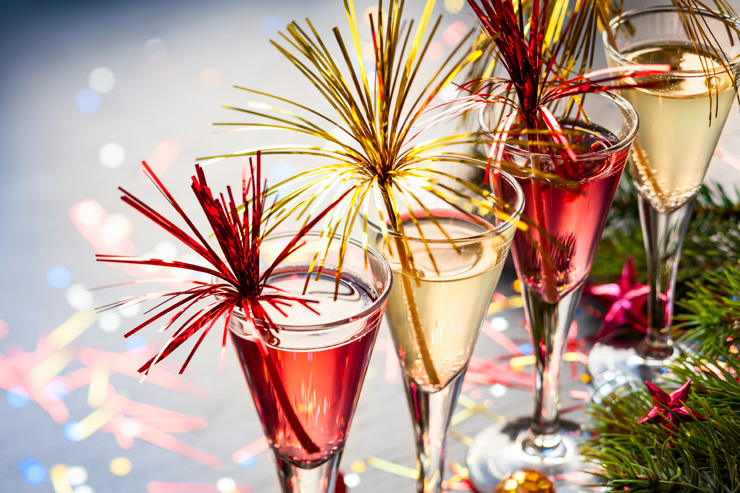 Image Source Here
For many people, the beginning of a new year is a cause for celebration with friends, family, and other loved ones. If you are thinking about hosting your own perfect New Year's Eve party this year, why not begin your plans early so that the festivities don't have a chance to sneak up on you as the holidays come and you find yourself wrapped in dozens of activities all at the same time.
Whether you choose to have a small intimate party or an extravagant gala for 50 co-workers, you can create a party that people will talk about for months. Begin planning your get-together today to be prepared to ring in the new year on December 31.
Venues
Choosing the venue should be the first step in your party planning. Will you host the party at home or a rented hall? The location will often help determine the theme, decorations, and party budget. If you are renting a hall, you need to consider parking, possible catering services, and setup and cleanup services.
Invitations
Send out invitations early to announce the party to friends, family, and associates, so there is no scheduling conflict during the party season. If it is an intimate gathering, you may request the guests bring a food item for the dinner before the celebration. If your holiday party is for 100 people at a local private venue, make sure to ask for RSVPs, and once you receive confirmation of a person's attendance, send out special instructions and expectations for costumes, parking, or gag gifts.
Drinks
A party that rings in the new year is almost always filled with New Years Eve cocktails, so make sure your bar has a wide variety of drinks for everyone to enjoy. Even if your party is a small gathering, it is always a good idea to have a bartender that knows how to make some of the popular standard vodka drinks such as the Tom Collins, Cosmopolitan, Bloody Mary, Espresso Martinis and Screwdriver. Make sure you have a mixed drink reference book handy for special requests like the Bearly Liquid, Sex on the Beach, or Old Glory drinks, and don't forget to stock up on Absolut vodka, sparkling water, ice cubes, and fresh fruit diffusion's.
Foods
Parties and food go together, so plan on a variety of finger foods, vegetable trays, and cheese bites. If you are catering the event, request fruit skewers, meat rolls, festive breads and cheese platters. The caterer may also recommend a dessert bar with mini-pies, parfait cups, and cake balls. On the other hand, if your party is an intimate gathering filled with friends, think about serving two or three of your family favorites, and then invite everyone to help with the dishes.
Favors
New Year's Eve at the stroke of midnight is all about making noise, so whether you have party favors, a countdown clock, or someone assigned to shout out the good news, make sure everyone is aware that the new year has arrived!
As the host of a party, you will spend most of your time making sure everyone is enjoying the celebration, so why not ask some of the guests to take four or five photos with their cell phone and send the pictures to you – the pictures may make you laugh out loud when you get them.