An Ultimate Guide On How To Write a Wedding Ceremony
Your Big day is coming nearer, and one of the challenges that arise for every couple is how to write a wedding ceremony. Of course, a lot of people are happy with a traditional wedding ceremony, others prefer something more modern or up-to-date.
If you wanted to write your own unique wedding script, that fits your wedding theme (you can look up top wedding themes 2019 here) – we've got you covered. Take a look at our ultimate wedding ceremony script from Wedding Forward to personalize your wedding ceremony and make it truly unforgettable.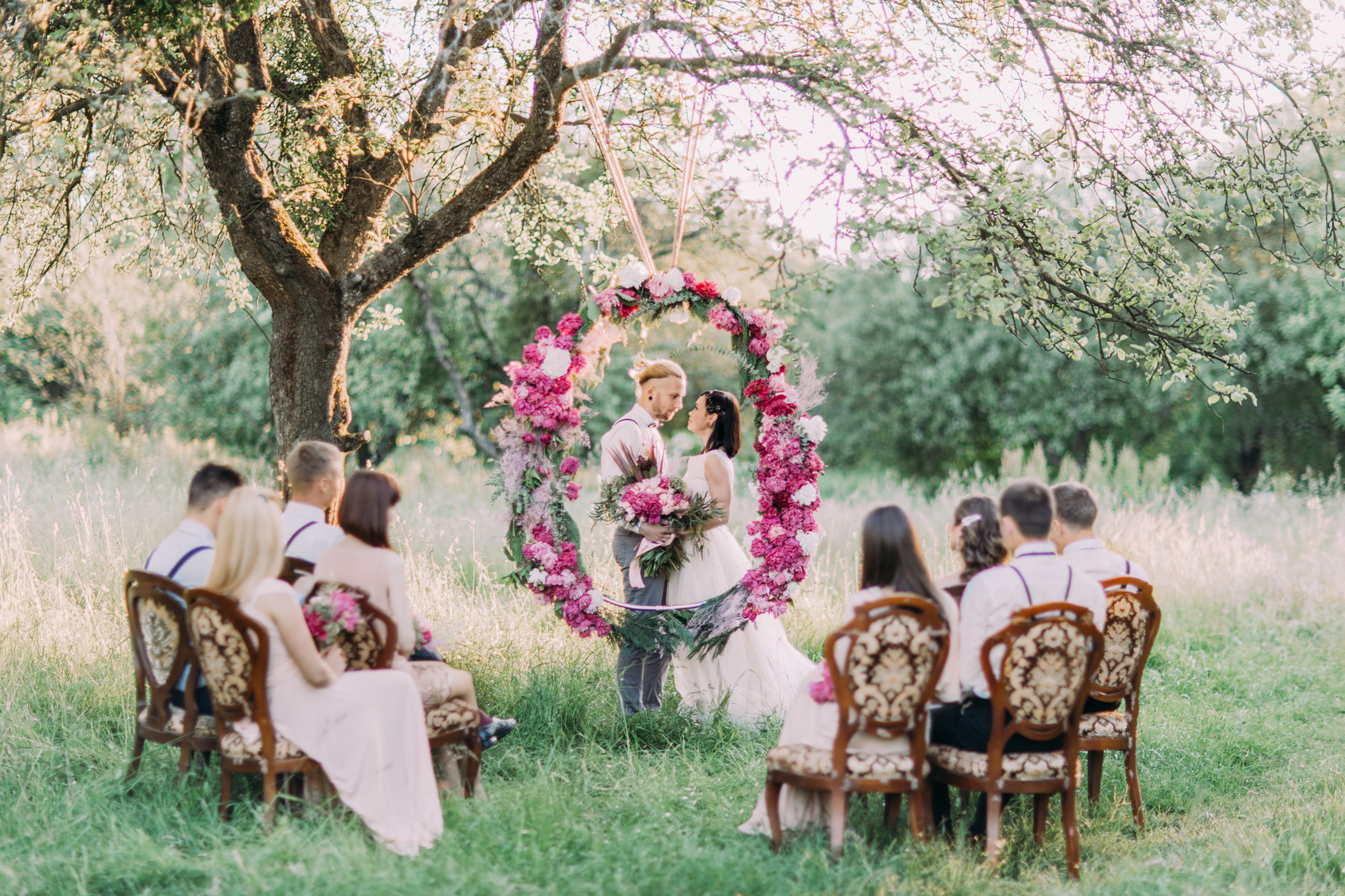 Useful Tips For Writing Wedding Ceremony Script
First, here are some general useful tips on how to write a wedding ceremony script.
1) Different people might have different ideas on what is a perfect wedding ceremony. Discuss your plans with your second half and make sure that you are on the same wavelength.
2) Think about paper work. Don't forget to legalize your marriage! If your officiant has no right to sign marriage certificates you might want to have the legal ceremony the day before.
3) Even if you don't have an officiant, it's always a great idea for wedding ceremonies to have their own structure. If you need an outline – we will provide several examples below.
4) Even if you don't have an officiant, it's always a great idea for wedding ceremonies to have their own structure. If you need an outline – we will provide an example below.
5) Your script can follow your wedding theme. Elf weddings, boho weddings, beach wedding, barn yard weddings etc influence the exact wording of the wedding script, and the unity ceremony itself.
Wedding Ceremony Script Outline If you write your own wedding ceremony script, there is no limit to your imagination.
Usually, a wedding ceremony include:
● Wedding procession
● Various wedding readings – love poetry, religious quotes etc
● Attendants sign the wedding certificate/license
● Exchange of wedding vows and wedding rings
● Some kind of unity ceremony
● A blessing from officiant and announcement of marriage
● First kiss
● A recessional
Of course, you can change this basic wedding ceremony outline according to your needs and wishes. Traditional Ceremony Script Sample
If you take a look at a traditional wedding script, it looks more or less the same. The officiant welcomes family members and all the guests, and expresses gratitude for all involved.
His speech usually involves several romantic stories and quotes. After that, the wedding ceremony order begins – the bride and the groom repeat after the officiant the wedding vows.
The vows often start as 'I take you…', and the couple promises to love and care about each other forever. The couple exchanges rings, and is pronounced husband and wife.
Modern Wedding Script Sample
If you want a more modern sample wedding ceremony, the only real limit is your imagination. A lot of couples are inspired by something that they have seen in a film or read in a book. For example, trendy medieval styled weddings can have some part of their wedding script borrowed from The Game of Thrones.
If you are planning a destination wedding, you can borrow an exotic local wedding ceremony.
Christian Wedding Ceremony Scripts
If you are getting married in church, the question on how to write a wedding ceremony is simple. Usually, each religious institution has its own wedding ceremony script.
Some officiants allow the couple to change the words of the ceremony, but in others all you have to do is choose from several ready-made options.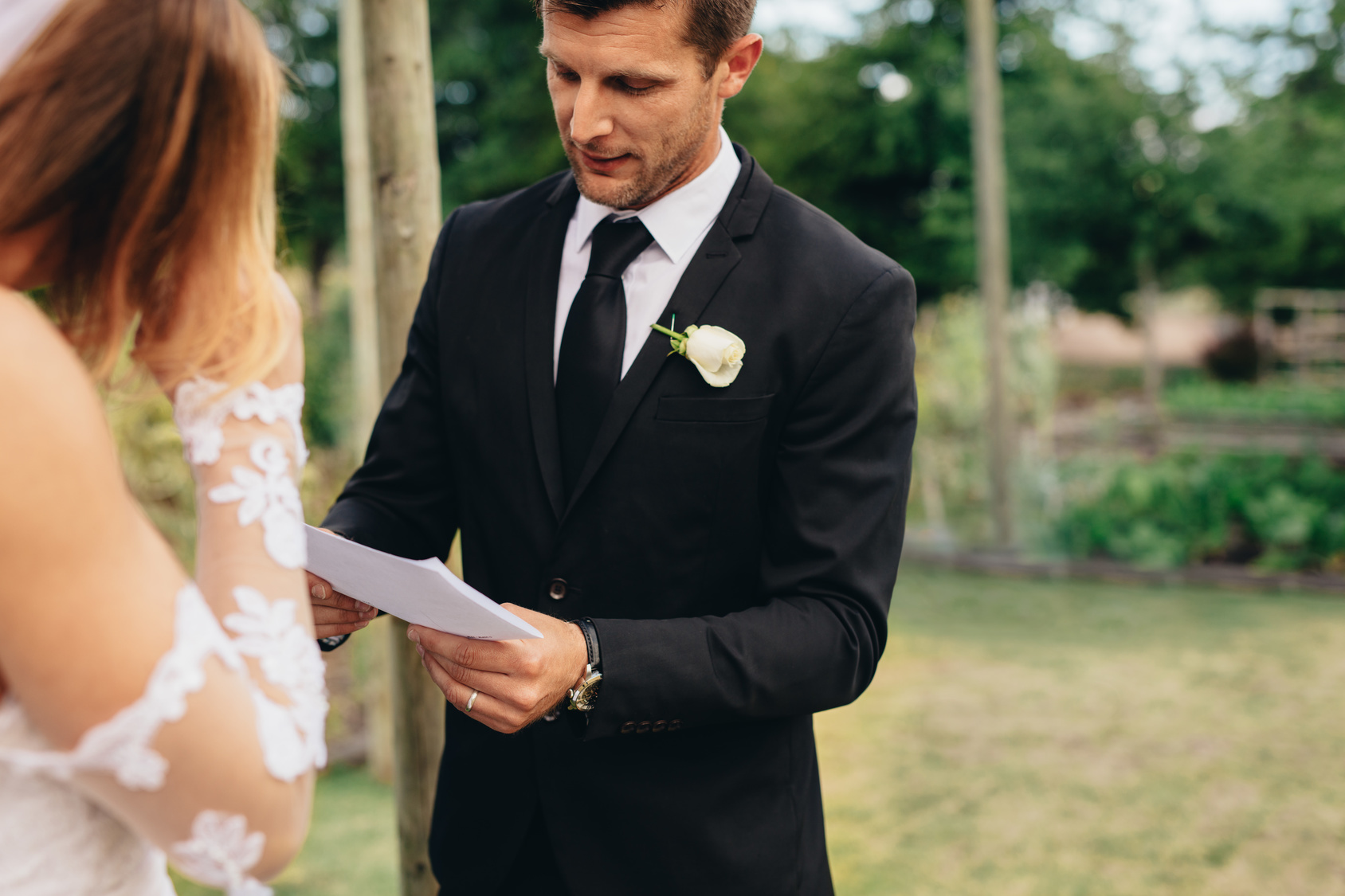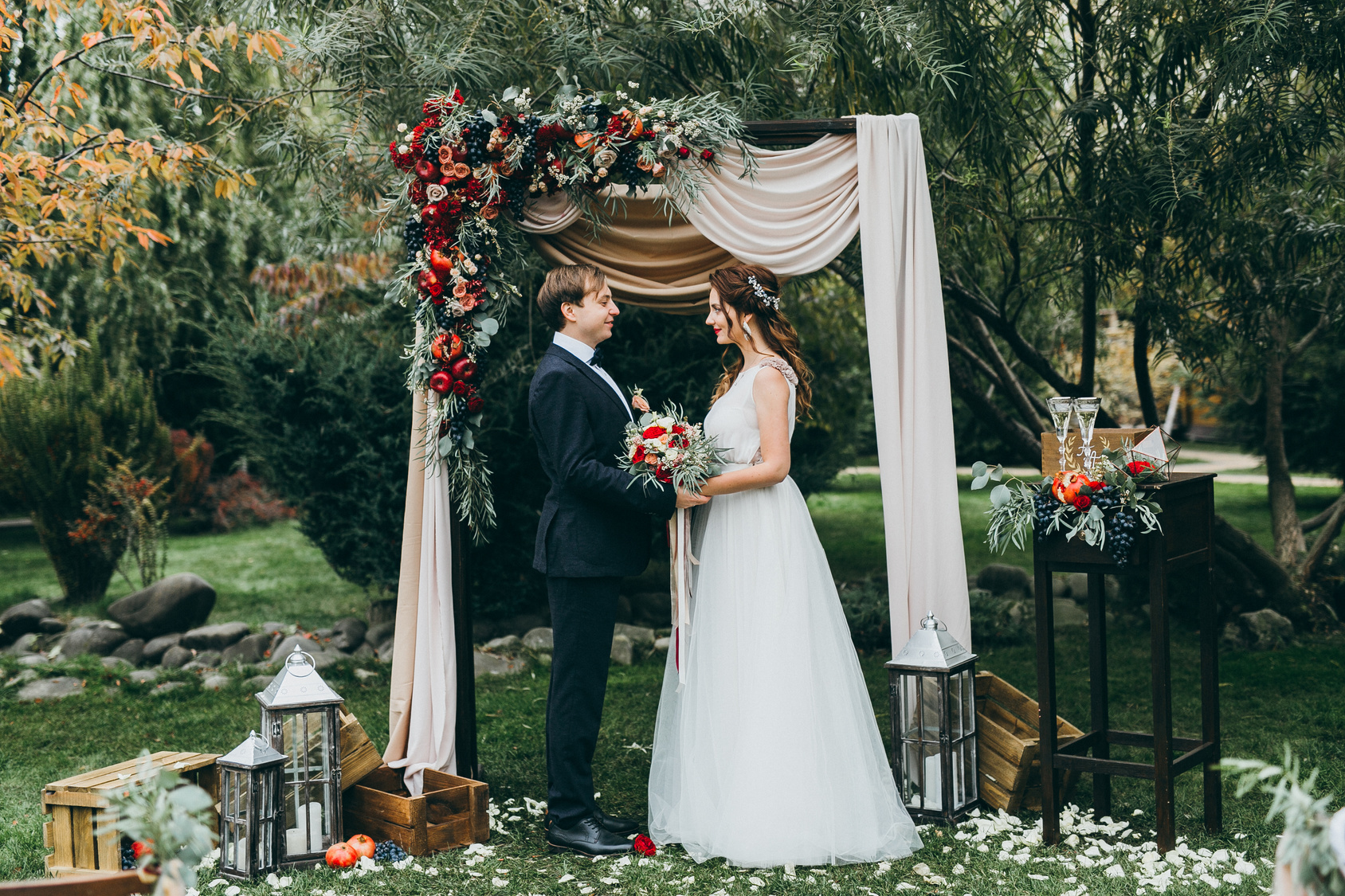 Picture links/sources
https://stock.adobe.com/images/the-beautiful-wedding-ceremony-in-the-sunny-park-the-horizontal-photo-of-the-newlyweds-with-flowers-behind-the-wedding-peonies-arch-and-their-guests-sitting-on-the-chairs/168161742https://stock.adobe.com/images/beautiful-wedding-couple-on-the-wedding-autumn-ceremony/165794772https://stock.adobe.com/images/wedding-ceremony-rituals-of-a-couple/198983354