Good Thins are a Good Snack
Disclosure-This post was sponsored by GOOD THiNS through their partnership with POPSUGAR Select. While I was compensated to write a post about GOOD THiNS, all opinions are my own.
Hi, all. Today I wanted to share a yummy, healthier, go-to snack. The snack I am talking about is these light, airy, and tasty "GOOD THiNS." I like to make myself a big glass of ice water, grab a healthier snack, and start planning out my week in my planner.. get all those things written down.. including some good dating advice for your sister, wink. Just be sure to share the Good THiNS with her.
Let me tell you a little bit more about these yummy GOOD THiNS… GOOD THiNS is a new brand of wholesome savory snacks from Nabisco/Mondelez International Reason to Believe: The brand was created in response to consumer demand for delicious snacks that start with real ingredients (like wheat, potato and rice) combined with enticing flavors (like spinach, garlic and sweet potato) baked thin and crispy. It's a new snack you can feel good about. This is totaly my kind of snack, especially when I am not particularly in the mood for fruit, (I'm being good), and potato chips are a no go! … Then I grab me some GOOD THiNS.
Each of the eight flavors has a "no" list that makes it easy to say "yes" to good snacking. Yeah! PLUS- no artificial flavors, colors, cholesterol, partially hydrogenated oils or high fructose corn syrup. Availability:
GOOD THiNS will be available in 3.5-6.5 ounce boxes at retailers nationwide starting March 7th, 2016 for a suggested retail price of $3.69.
" rel="attachment wp-att-7868″>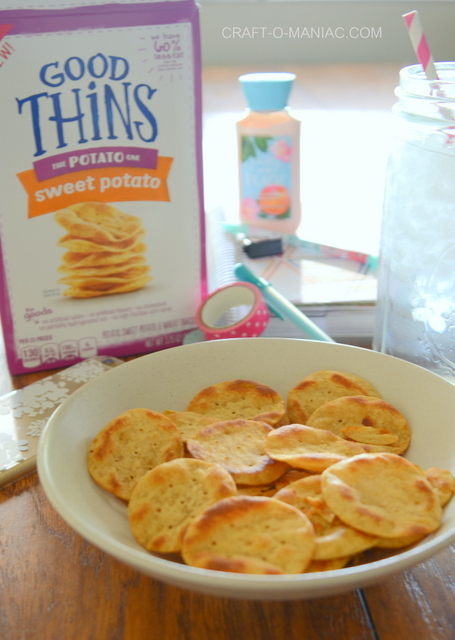 Who loves a crunchy feel-good snack? Me!
GOOD THiNS is an all-new brand that launched in March. We all have go-to's in life – from our go-to friend for dating advice to our go-to dance move. These are the people and things we can always rely on to deliver the goods. Finally we have a go-to snack. GOOD THiNS are baked and crispy, wholesome and great for any occasion.
They come in 8 varieties and have: no artificial colors, no artificial flavors, no cholesterol, no partially hydrogenated oils, and no high fructose corn syrup. To show that GOOD THiNs is a perfect go-to snack in any flavor, we enlisted Dr. Ruth and other go-to's to star in video reviews.
Kids are honest in a way that adults rarely are. They're also difficult to please, which is why they make great go-to food critics. HA! check out the great video below.
You can find more on or about GOOD THiNS on their social media
https://www.facebook.com/GOODTHiNS/?fref=ts
https://twitter.com/GOODTHiNS
https://www.youtube.com/channel/UCA10khiijHV-aIDFtqwygsA/featured
https://www.youtube.com/watch?v=Z2NLwG551CA