Full Craft Room Reveal
Hello everyone, I have been putting off this post forever!!! It was alway's just one more thing, I need to change this, add that, paint this.. and I finally told myself, "If you don't take pictures and get it on your blog, you never will!" I blame it on my perfectionism problem. There are still things I would like to change or do first, but this is my full room for now. I alway's change things anyway, or add, or take away.. who knows what I am talking about? Anyway, the room is full of lots of colors, so I kept the walls the beige (blah) color, and figrues it worked since I have cork, some burlpa, and other nuetral colors flowing through my room. In our home we purchased last September I chose the 5th room to be my "Craft Room" I have waited 16 plus years for a craft room and was so over the craft walls, or nooks, I took up in our master bedrooms. Allthough you do what you can and use what you have, I was thrilled our home had a 5th bedroom that I can call my own. I do work from home with my business being Craft-O-Maniac, so I really needed a space I can close the door and craft or work in. YEAH!
Let's take a look at al the pictures shall we?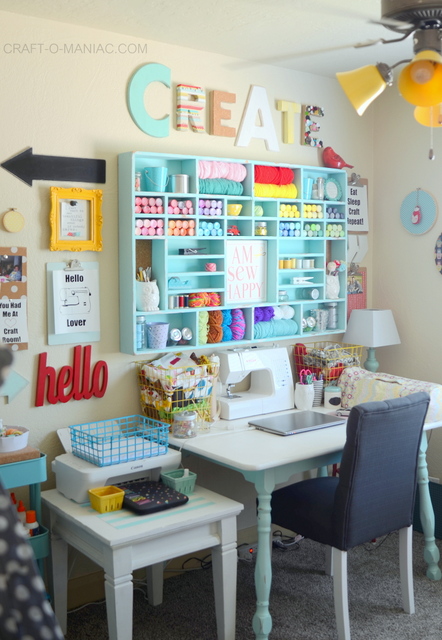 One of my favorite space's is under my hutch. I love all the bins with organized craft supplies. I know exactly what is in each bin. The bins were purchased from Walmart about 7 months ago.
I did chalk paint the blades on my fan, and spray painted the shades. Easy DIY.
The room's in our home are fairly small, so I opted to leave the closet open and exposed, it gives off a larger feel to the room, and I love seeing more organization and such.
A lot of what you see in this space, are pieces of furniure I have thrifted for cheap and up-cycled/re-painted. Items I have accumulated over the last 8 years. Lots of DIY items, and stuff picked up from craft stores, dollar stores, etc. If you have any "specific question" about anything at all, I am very good about answering question's, and would be more then happy to answer a question you have about something. Thank you for visiting my creative happy space. jen