DIY Faux Brick Fireplace
Hi friend's. Today I am so excited to share with you all the project my hubs and I completed this past weekend. I alway's wanted a fireplace in whatever home we bought, even it if meant we created our own "faux fireplace." Today I am talking and sharing pictures of our DIY Faux Brick Fireplace. Yeah!
What you need:
– Depending on your look/space "1" or more faux brick sheets from Home Depot
– Rostoleum chalky finish "linen white" chalk paint (the best I have ever used hands down at Home Depot)
– A roll of paper towel's
– (optional step) spackle and scraper tool/item
– Sand paper
– Nice paint brush
– Liquid nails.
How To:
The first thing the hubby and I did was clear our work space, next my hubby cut our faux brick to the size we needed, then he added a bunch of liquid nails to the back of the faux brick as we don't want any brick slips faux or not. Then we both pushed on the faux brick to help it ad-hear to the wall. We found some area's to not want to stick, so my hubs added about five screws through the faux brick to help it stick overnight. Then I started painting the faux brick with the chalk paint, I would brush it on in sections and then with some paper towels I would wipe off some of the bricks, making some bricks look more exposed and others more painted. I did this all over the faux brick. Once I was done with the piece and got the look I wanted, I moved on to some spackle. I simply added spackle randomly all over the faux brick, some larger applications and some not so much. Once I was done, I sanded all the spackle area's down to an almost flush finish. I loved this look because it added more texture and looked better. That said, this step is totally optional, as it's a very messy step involving a lot of sweeping, dusting, and mopping, afterwards.
Once the faux brick was done, we decided to paint the walls. I used Clark and Kensington"Stone Age" (a pretty grey) paint and primer. Once the paint was all dry, it was time to add back my faux mantel, and decorate. Also, if you happen to be thinking about a new fireplace for your home, you may check the following best electric fireplace reviews.
Here are the pictures.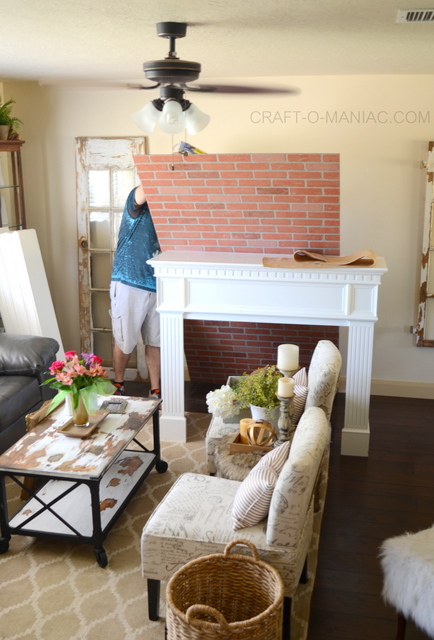 Before!
After!
Thanks for the visit. jen