I Have Dreamt of This Day!
Hi friends in cyber land. I want to first apologize, I haven't been much of a blogger these days, nor a DIY'er, crafter, or Decorater for that matter. Im surrounded by messes, and a maze of boxes, its just ugly. I have been something entirely new and exciting.. something I have dreamt of for many many years.. over a decade in fact. What have I been these days? "A Home Owner!" that is right, my hubby and I bought a house. GEEEE, EEEEE, EEEEP! I have dreamt of this day, truly I have.
It all happened out of no where too, I will tell you the story, but first I will tell you that we had plans to finish paying down some debts (still doing that) and waiting on another raise after the new year, and then we were going to start looking at buying and getting approved. We had our goals set for the new year, but God had something different in mind.
So late July my kids were finishing up their last week of swim lessons, and my hubby (on this one particular day) decided to go pick them up. After he picked them up, he said "lets go look at some houses" and the kids were all for that. I guess my hubby saw a home that he thought I would fancy, and they drove by it. He got out and looked around the exterior, then called me and told me all about it. Next thing I know we are inside the home with an agent and talking about buying. What? where did this come from? will we even be approved? are we ready? is this really happening? I didn't like the inside of this home, but it was the start of it all.
Next thing I know we are in contact with another agent and finding our we are now pre-approved. So then the real hunting began. We looked at several houses, one in particular that I squealed and clapped over and wanted so sooo badly, but it was over our approval by 19k. Big bummer. We kept looking, all the while wondering if we would actually qualify "qualify" since you have to go through all the finiancing approval. From where we stood we were just pre-qualified, and I tend to think more with the glass half empty (which I am not proud of). I figure I'm just "pre"-preparing myself for dissapointment. That way I am ok when bad news hits, and it all goes down hill.
The hunt contined and looking turned to "this is it!" we found the home, built in "75." We walked through it, and both were silent squeals, making hidden faces to eachother behind the agent, and silent hidden clapping too. We both loved the inside, the previous owners had completely remodled it top to bottom. Plus it has a huge fenced in backyard that needs work, and a front yard that needs quite a bit of curve appeal, but that's all fun stuff right?
We move next week on the 27th when we get those magical keys that unlock our front door into a new chapter of our lives. I am beyond excited, and I feel so blessed and thankful. Im crying now…. I dreamt of this day, and dreams really do come true.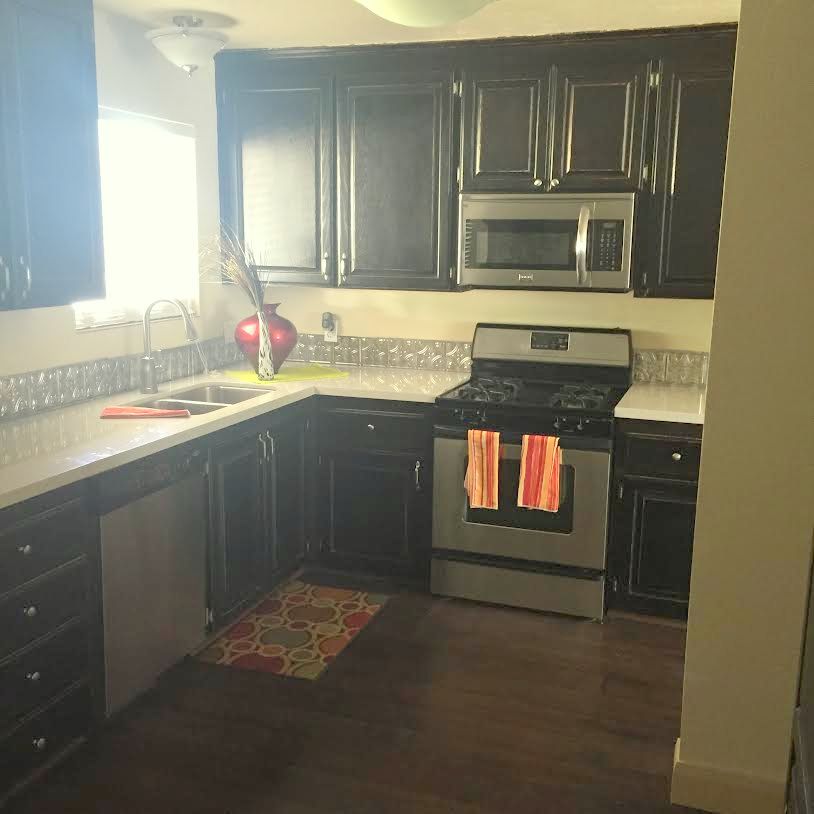 Above is a shot of part of our kitchen, (decorated by the previous owners) also my apologies if my grammer sucks!)
PS I have shared some instagram sneak peeks of our house, and inside the house, if you would like to see them I am here on Insta. I will be sharing more there, until I can start decorating, doing big projects like board and batten, planked wood walls, subway tile, etc. I will sahre all those here on the blog when those projects happen. Eeee!