Hi Friends, I hope you all had a nice weekend and an even nicer Fathers Day. This salad below, that I concocted for Fathers Day is perfect for the 4th of July, "4th of July Fluff Salad". All my family that came over yesterday love it, and ranted and raved, so its a defininte keeper for years to come. I hope you all enjoy it as much as I and all my family did. Nothing is better then the summer and a refreshing light salad, am I right? Thanks for stopping in friends. jen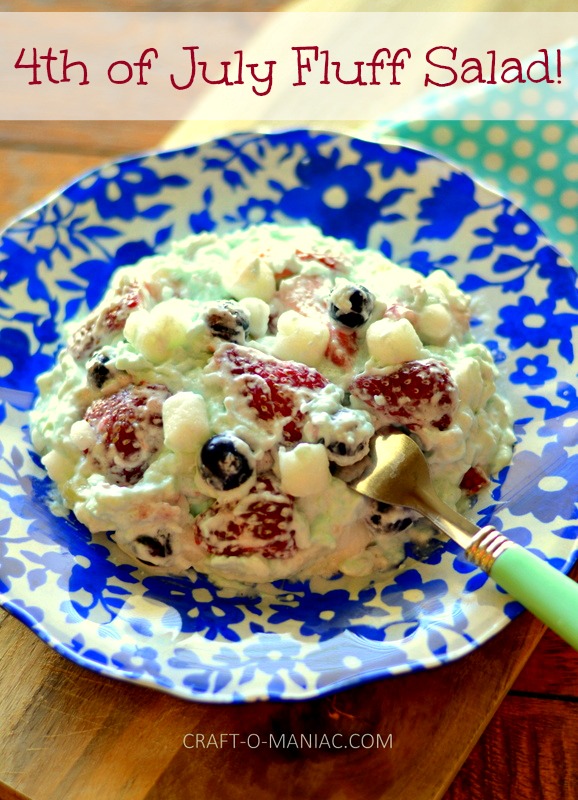 4th Of July Fluff Salad
2015-06-22 10:06:30
Serves 12
A light salad with marshmallows, cool whip, and berry flavors.
Nutrition Facts
Amount Per Serving
* Percent Daily Values are based on a 2,000 calorie diet. Your Daily Values may be higher or lower depending on your calorie needs.
Ingredients
- 1 box of jello berry blue
- 1 large container of light cool whip (room temp.)
- 2 (one large and one small) container of cottage cheese
- 1 large container of strawberries, cut into sliced like wedges
- 3/4 cup of firm blue berries
- 2 1/2 cups of mini marshamllows
- 3/4 cup of coconut
- 1 small can of crushed pinneapple
Instructions
Start by adding your cottage cheese containers, then dump in your cool whip, next add your packet of berry blue jello powder, fold these three ingredients together. Next add in your crushed pinneapple, strawberries, blueberries, and fold/ mix in gently. Finally add in your marshmallows and coconut, and again mix/fold in gently. Smooth out the top and with a damp paper towel clean off the inside messy sides/edges. Cover, and let chill in the fridge for 3-5 hours.
Notes
Decorating the top of the salad is optional, I just did it to make it more festive.
Craft-O-Maniac https://craft-o-maniac.com/