Fruit Fluff Salad
Hello friends, I am sharing a yummy salad that is perfect for any spring, summer, Easter, 4th of July, BBQ or picnic you are attending or celebrating. This Fruit Fluff Salad is just that, its fluffy, light, and packed with delicious flavor. My mom makes this salad and so I got it from her, and its a family favorite.
My little boys especially love this salad, in fact they call it "Candy Salad" I figured if I titled it candy salad that no one would be interested, no one would want to pin it, and everyone would think "how un-healthy!" that said there are marshmallows in this salad (insert big gritted teeth and shrugged shoulders) so its not uber healthy, but you will just have to get over it, and enjoy this tasty salad. Mmmm-kay.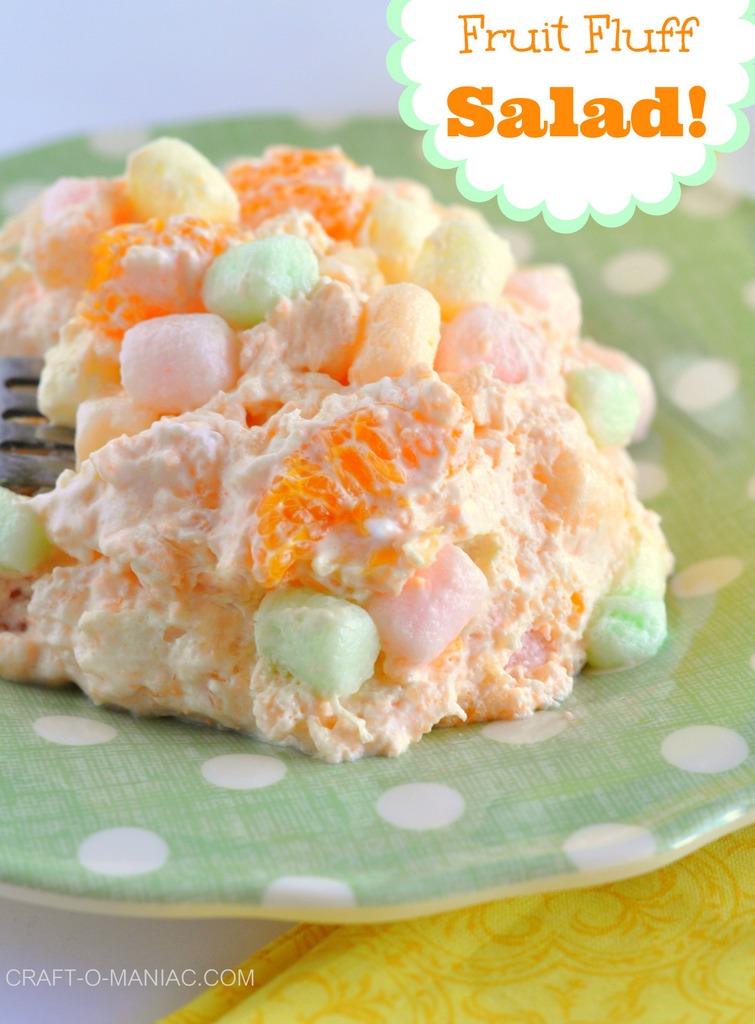 Ingredients:
– 1 large 16 oz. container of cool whip (make sure its frozen, or slightly defrosted)
– 2 8 oz. cans of pineapple tidbits (drained really well)
– 3 small cans of mandarin oranges (drained really well)
– 1 3 oz. package of orange jello
– 1 and 1/2 container of reduced fat cottage cheese (the largest containers 24 oz.)
– 2 cups of mini pastel marshmallows (but I eyeball the marshmallows and please add more if you choose)
Optional ingredient- coconut about 1 cup as it give a good texture.
Directions: (serves 12-18)
In a large bowl combine cottage cheese and the package of orange jello powder, mix these two together really well. Next add in your semi thawed semi frozen cool whip (if its fully thawed then the salad won't set up when chilled in the fridge) mix the cool whip in real well. Then drain your canned fruit really well and add all cans of fruit.
Be sure to fold the fruit in, making sure you don't destroy the mandarin oranges. Once the fruit is all mixed in, you can fold in your marshmallows. Smooth out the top of your bowl, wipe down the inside top edges for a clean look (optional, OCD here) cover it and let it chill in your fridge for at least 2 hours or more. Enjoy. I prefer to eat this salad and wash it down with some kind of drink, like coffee that I brew in my glass drip coffee maker, or tea or freshly squeezed juice is also great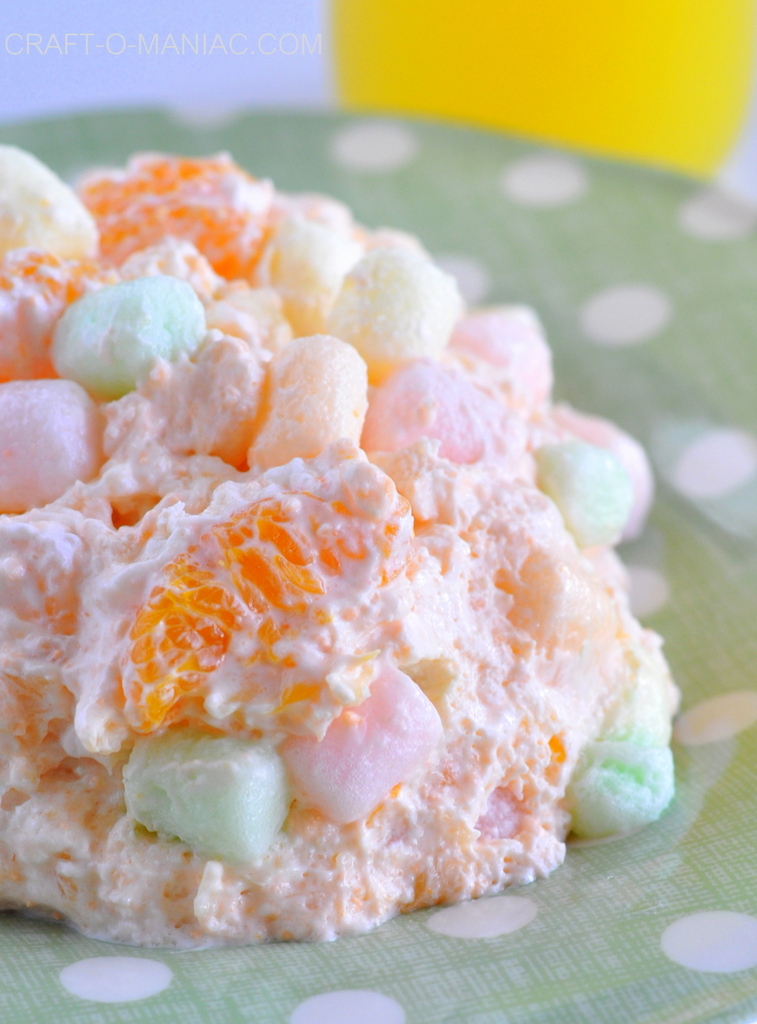 You and your family, (especially your kids) will love this Fruit Fluff Salad. Mmmm Mmmm GOOOOD!
Thanks for stopping by as always.
jen