Taco Salad – The Tastiest One!
Growing up there were always a few frequent recipes my ma made in the kitchen.. they were: spaghetti, burrito's, sheppards pie, and taco salad. My ma always cooked delish dinners, but these seemed to be the go to ones, when ma didn't perhaps know what else to make. 
I loved my mas taco salad and
especially
her
dressing
…. 
 As the weather starts to heat up, I find it hard to fix things that don't sound heavy, super hot, or super filling. I love salads in the spring and especially in the summer time, but you don't always want a pasta or fruit salad either. 
Taco Salad is perfect, and makes for a good dinner too.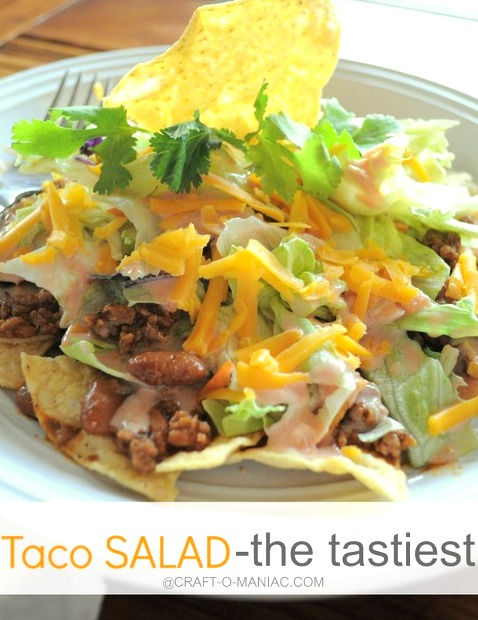 Ingredients & How To:
1 lb. of hamburger- cooked and drained
1 can of less sodium chili with beans
1 1/2 c. graded mild cheddar cheese
1 packet of less sodium taco seasoning 
cumin, onion flake, salt and pepper
l bag of fresh salad mix or 1 head of rinsed and chopped lettuce
Start by cooking up your hamburger, I season mine with some salt, pepper, onion flake, and cumin. I eye ball them, just a couple shakes around the pan. Drain your grease, and then add your taco seasoning with water as directed on the package. Add your can of chili with beans and mix everything together. 
Assemble: 
start by adding 6-7 chips to the bottom of your plate, crunch them up a few times with the palm of your hand. Add your meat mixture, some graded cheese, your lettuce, (chopped tomatoes optional) and your dressing. 
The best Taco Salad Dressing (thanks mom)
1 jar of pace picanta mild sauce (non chunky kind)
1 container of light sour cream.
Mix the two very well. You want the color to look more light peach or salmon colored. So if its more red like the salsa, add more sour cream, and keep mixing. Drizzle the dressing over the top of your Taco Salad, garnish with some fresh cilantro (optional) 
linking up to Buttercream Bakerhouse 
here