A New Site -Dio- Plus $100 dollar Amazon Giveaway
This is a Sponsored post written by me on behalf of
dio
for
SocialSpark
. All opinions are 100% mine.
Hey friends how are you?
I can't wait to share Dio with you all, Holy Fun! I just opened up an account, super easy and its free. Once my account was opened, I got busy creating fun spaces/places (like boards if you will.) I am brand new so I don't have followers yet (come follow me) and I am not following anyone, but will. Anyway with Dio the options you have are endless. You can create spaces, rooms, places, looks, destinations, etc. Plus its so fun to interact with new friends and see their new places that they have created.  There is so much fun to explore on Dio, and again great fun creating your spaces.
I am going to share with you some of my created spaces: Yes' they may look familiar to you, but to newbies its a new space for them to explore, and that is the fun of it. These are screen shots, but you can get the idea. winks.
Come find me at Jen-Craft-O-Maniac.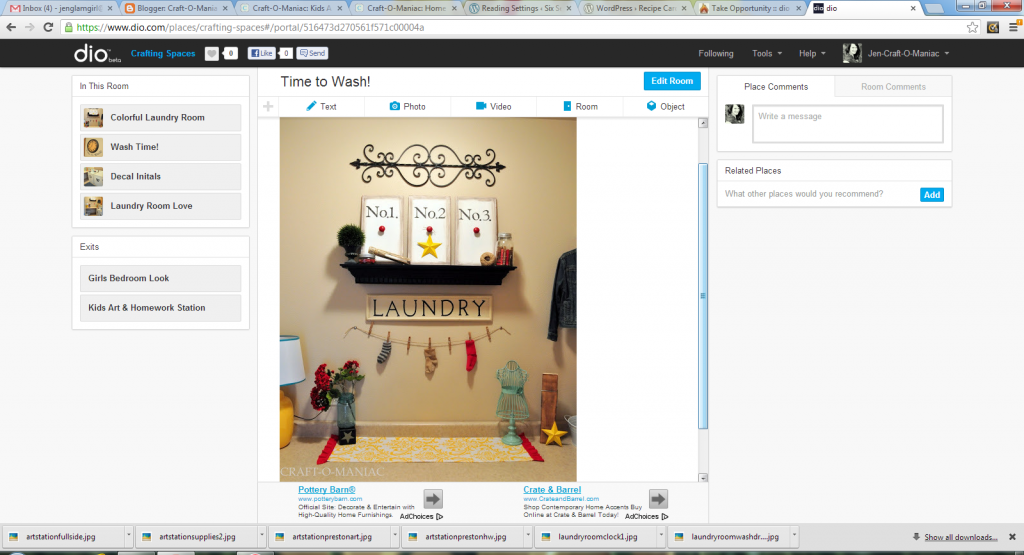 Please ignore all the tabs I had opened when I screenshot my images, Oh' and please ignore all the image tabes I copied too- HA! just working hard and getting my job done. winks. 
OK' so you have learned that Dio is a fun Creative site where you can create places like boards/ rooms and you get to meet new friends and explore their boards, not learn how you can Enter to WIN a $100 dollar Amazon Gift Card!
– First visit Dio.com and create a place, and comment back with the email you signed up with. (To WIN you MUST be an active USER! )
– Optional is to Tweet with a message about your place and include @dioplaces in your tweet with a dedicated #discoverdio hashtag
I know there are all these rules to giveaways, so I get that it can be a bit frustrating, but dio is fo fun Trust  Me!… plus we are talking $100.00 dollar giveaway. 
Have fun with Dio you all and enter the awesome giveaway! (please read and follow the rules)