Craft-O-Maniac Monday Linky Party
WELCOME TO CRAFT-O-MANIAC MONDAY~ PLEASE LINK UP YOUR FUN CRAFTS, DIY projects, and RECIPES. CAN'T WAIT TO SEE WHAT YOU HAVE WORKED ON
.
I worked on these boards this weekend along with some fun boxes. I have seen these "Keep Calm Carry On" and "Eat a Cupcake" ones all around blog land. I finally decided to make my own. I also added my own flare.. THE Bee….etc. one! The pictures are from the "Home Decor" Cartridge for the Cricut and the lettering I used from the "Platinum Schoolbook" Cartridge, regular font. I painted the boards with acrylic paint. (p.s. best part this craft was FREE! the boards were part of my sons torn apart changing table drawers, and the paint and vinyl I had at home!)
I LOVE THE RED AND WHITE, AND OF COURSE the cupcake with the cherry on top!
THIS MAY end up in my MISS'S ROOM, or I will hopefully sell it!
now although I have seen this kind of saying before for a few years, the bumble "bee" idea is mine, so if you do this board or one with the bumble bee's please give CRAFTOMANIAC credit. THANKS!
I haven't decided if I WANT A CRAFT booth at Swiss Days this September here in S. UT. I go every year and love it! or to do A SUPER SATURDAY, OR place a bunch of crafts on my ETSY? HMMMMM~ Decisions! 😉
NOW ONTO THE LINKY PARTY FUN! I HAVE CREATED A BUTTON FOR YOU ALL. Please make sure you link back to CraftOmaniac, or add the button to your post. THANKS!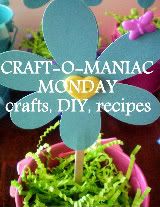 I am linking up with Met. Monday over at Between Naps on the Porch HERE Market Yourself Monday at Sumo's Sweet Stuff HERE Trendy Treehouse for Marketing Monday HERE and Get Your Craft on Tuesday at Todays Creative Blog HERE.