3 Easy Ways to Make Your Kitchen Look More Modern

Image Source Here
Today on the blog it is all about "3 Easy Ways to Make Your Kitchen Look More Modern"
Are you into the modern style when it comes to interior decorating? While your kitchen may not look so modern, there are simple changes you can make to give the room a more contemporary look and feel without even spending a lot of money. You do not necessarily have to go through an entire renovation process just to achieve the look you are going for and would like to have inside of this room.
Ditch the Traditional Kitchen Chairs
The first change you can make is getting rid of your traditional kitchen chairs and replacing them with bar stools because the bar stools tend to have a simple and more modern design than the traditional chairs that tend to take up more space. Bar stools are comfortable, take up much less space, and may be easily moved around from one spot to the next inside of the kitchen. There are even padded options available to maximize your comfort while allowing you to create a contemporary vibe in the kitchen.
Have New Cabinets Installed
Replace those old cabinets with new, customized options that have more to offer. Not only can you get new cabinets, but you can also purchase different types of modern kitchen cabinet decor, including contemporary handles and convenient organizers that fit inside of the cabinets while allowing you to keep some of your items organized, such as your plates, bowls, cups, and even any spices you might use. When you are selecting the cabinets that you want to have installed, you can choose from dozens of colors, styles, and finishes, many of which fit with the modern theme.
Install Hanging Pendant Lights
Add more brightness and sophistication to the room by installing hanging pendant lights. Many homeowners like installing these lights directly over the kitchen table area where they will sit down and eat with the family. These lights are perfect for your modern kitchen because they provide a soft light that shines down on a specific area instead of shining down throughout the entire room. These lights provide more of a spotlight without such harsh brightness.
Dozens of different hanging pendant lights are available and may be used in your kitchen, so you will need to look at the different styles, select the ones you think look good, and then decide how many of them you would like to hang on the ceiling of your kitchen. Even if you are working with a tight budget, there are some affordable options that cost less than $100. When it comes to adding the kind of light that gives off such a contemporary vibe, the price paid is well worth it.
If you have always liked the contemporary look and feel of kitchens but have not been able to achieve that look inside of your own kitchen, make these simple changes and you will see a difference. All you need to do is ditch the kitchen chairs and replace them with modern stools, have new cabinets installed with all the right accessories, and install some hanging pendant lights on the ceiling throughout the room and you will quickly see a major improvement.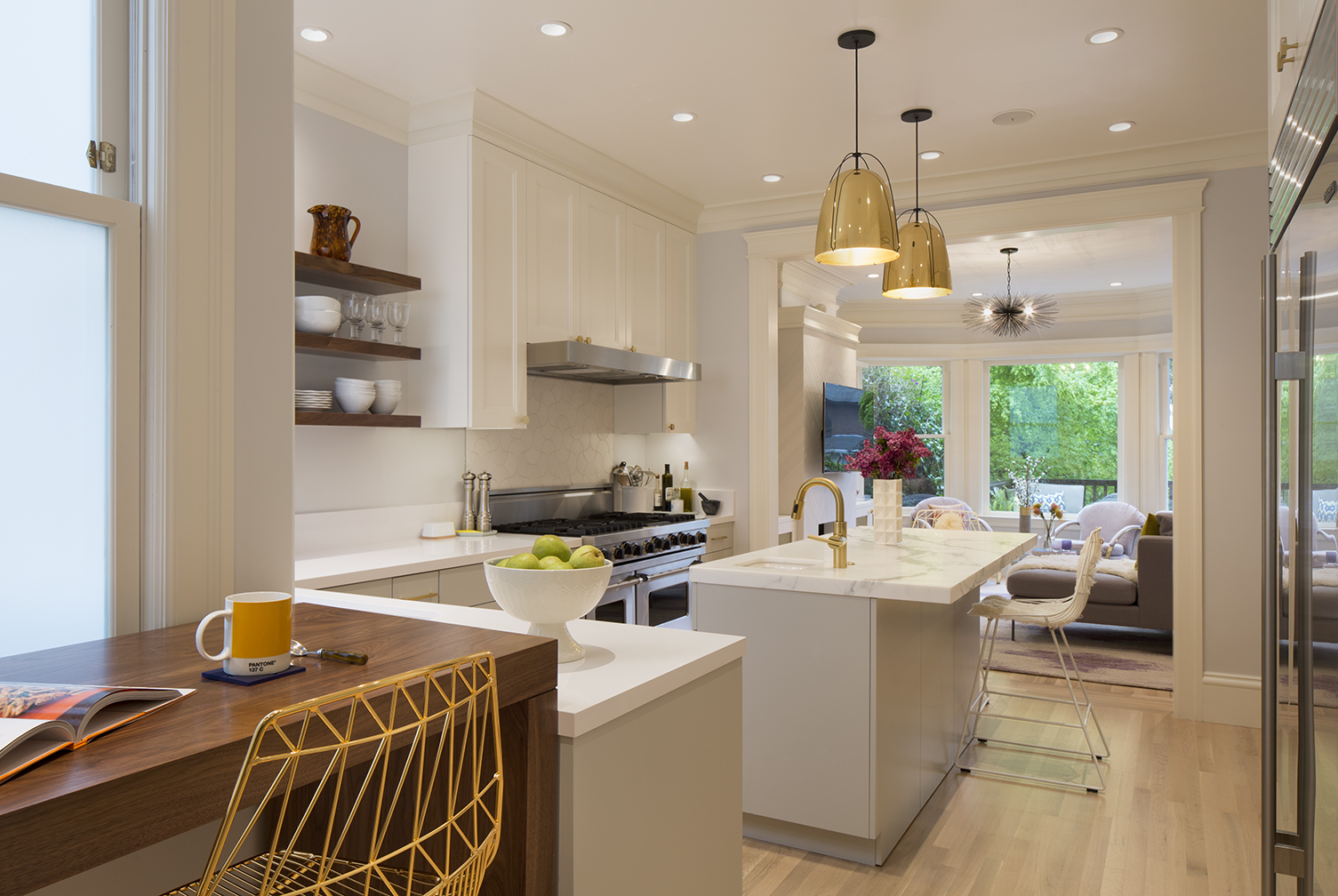 Image Source Here