DIY Bathroom Vanity Plus Makeover
Hi friends, its been sometime since I blogged a room makeover, do over, re-fresh, etc. Well one of mine and Kevs favorite projects we have done in our home is our "DIY Bathroom Vanity Plus Makeover." All the inspiration for the space came pouring in when the most gorgeous copper sink and beautiful faucet came from Sinkology.
It took both my hubby and I a few months of searching everywhere to find the perfect cabinet that we could up cycle into a bathroom sink. It took awhile, because it had to be the right width, depth, and the right size counter space to hold the gorgeous copper sink. With all those things in mind we had a hard time, but eventually it paid off… (I also wanted to just mention since I am talking about my copper sink that there are great benefits to drinking water from a copper vessel, pretty cool Eh'?)
As I mentioned it paid off, because one day while at my "favorite regularly visited" thrift store.. I found it. I went straight to the back of the store where they put out the furniture and larger items.
As soon as I entered the room I saw it… I B-lined it straight over to the cabinet/night stand and new right away with the details and size that it would be perfect. You know those "Mouth dropping Ah-Ha moments?" when you see that said item/piece and the heavens open and the angels descend with trumpets blaring… well that was the moment!…. especially after our long hunt.
A few days later we hit Home Depot to pick up some legs to elevate the cabinet and I stained them to match. Hubby got to work cutting out a circle to the top of the night stand and the makeover began. Hubs also did the plumping and all, he is basically amaze-balls and some of you already know that. Wink.
Below I am going to share all the pictures and be sure to check out my Instagram "Highlighted" Stories titled "New Bathroom", to see more details of the bathroom.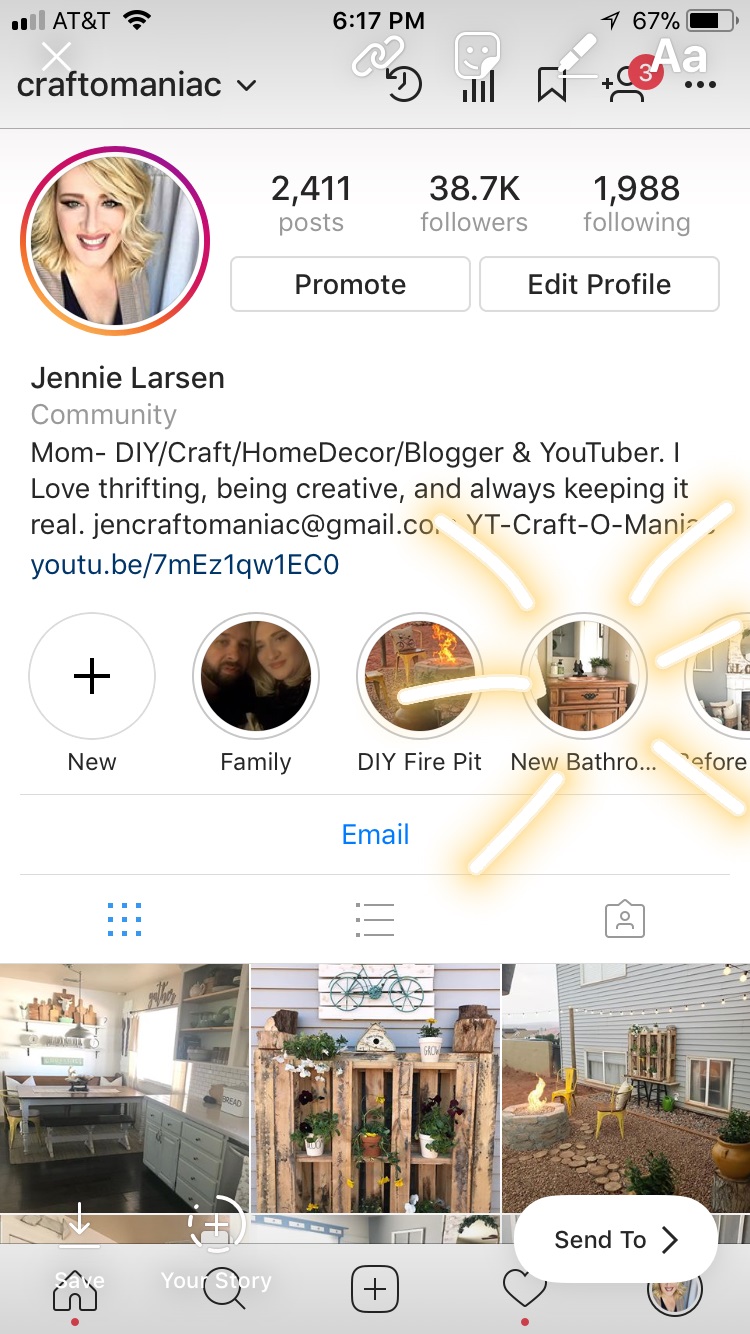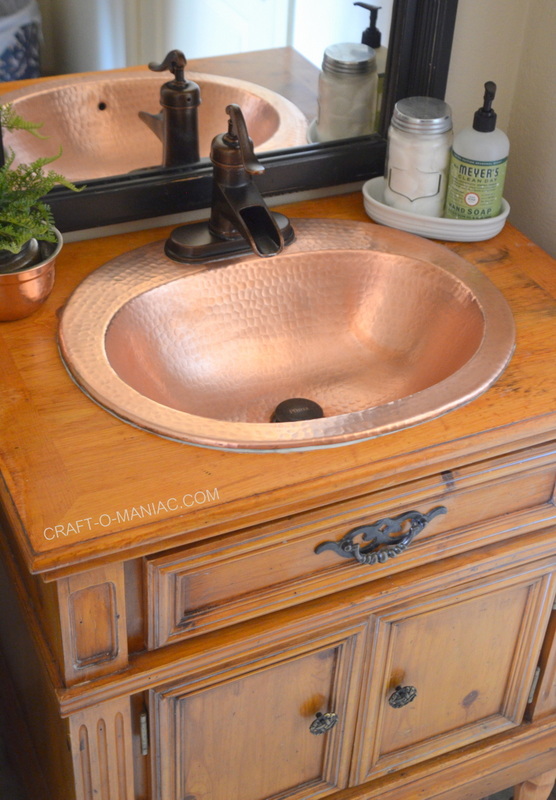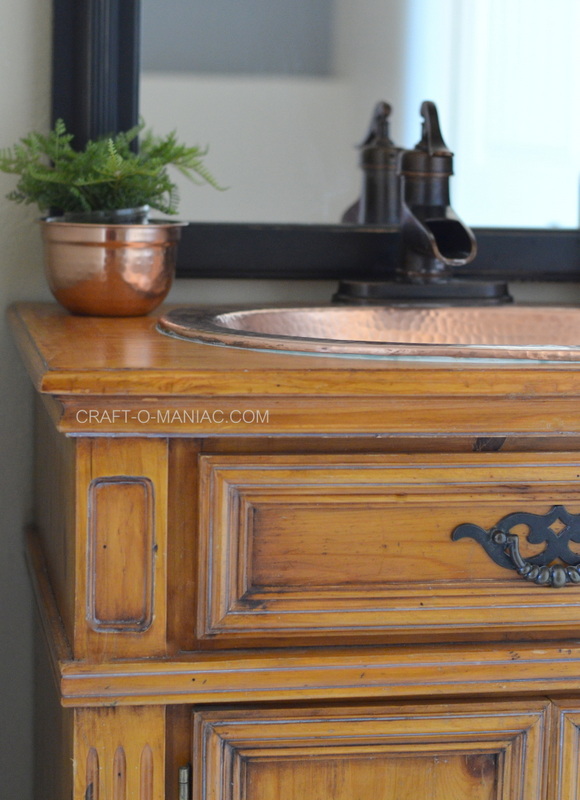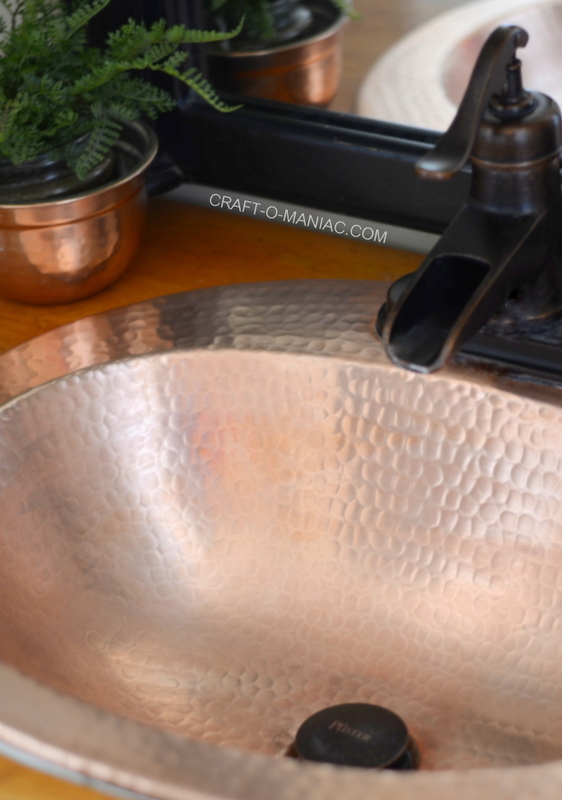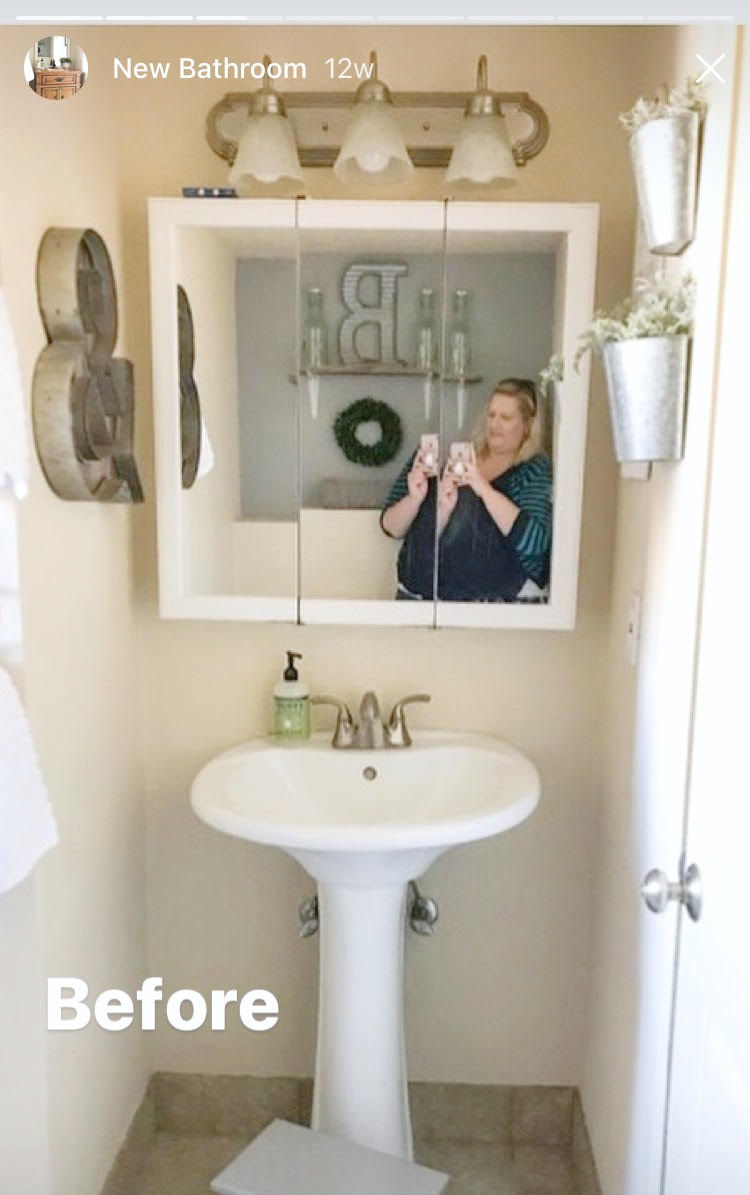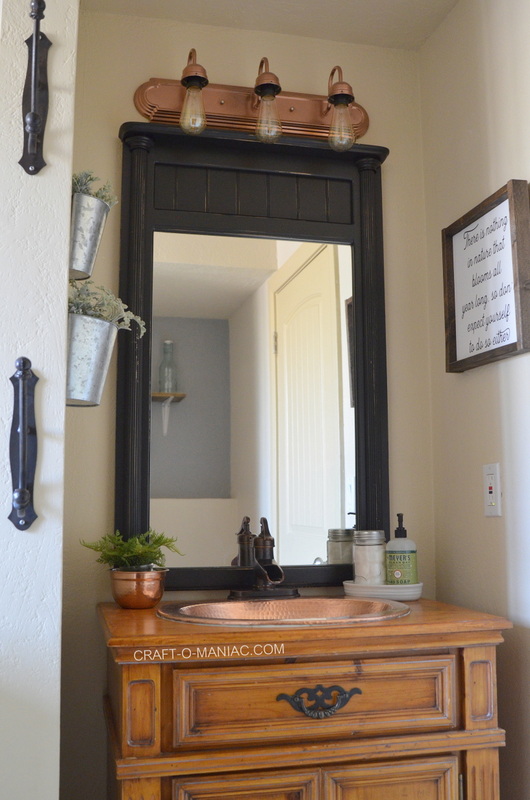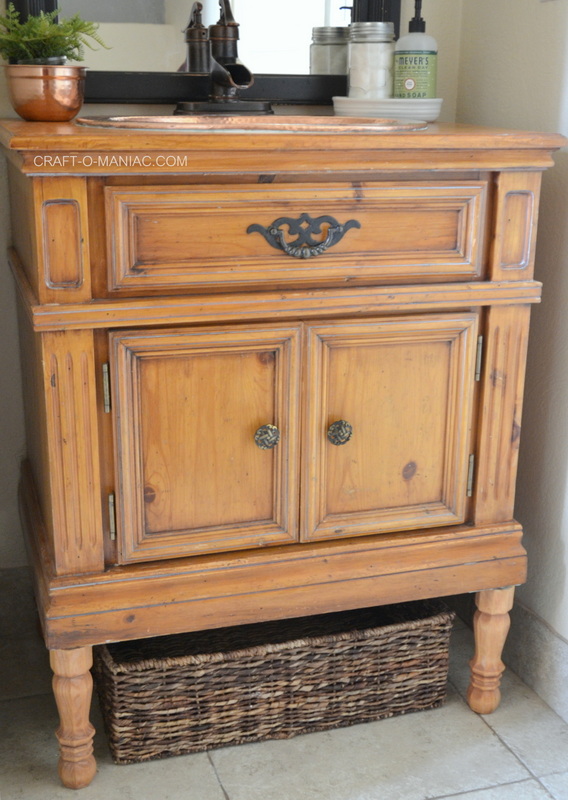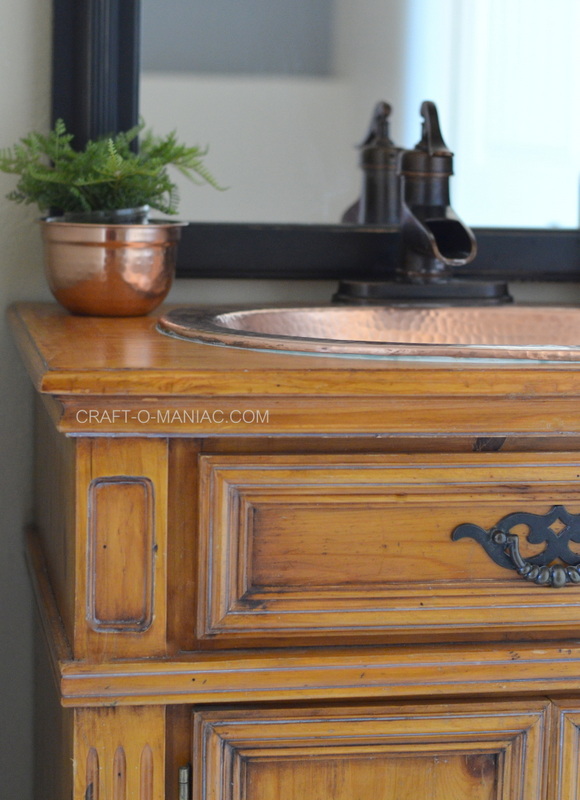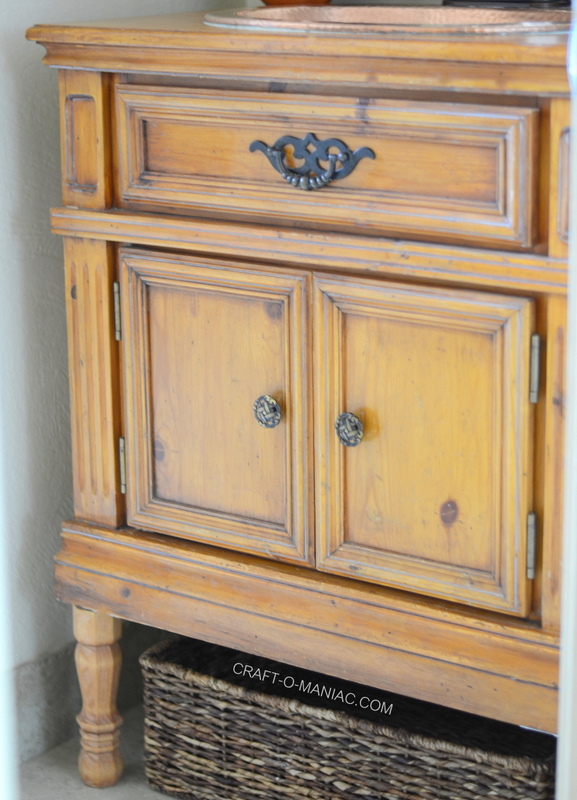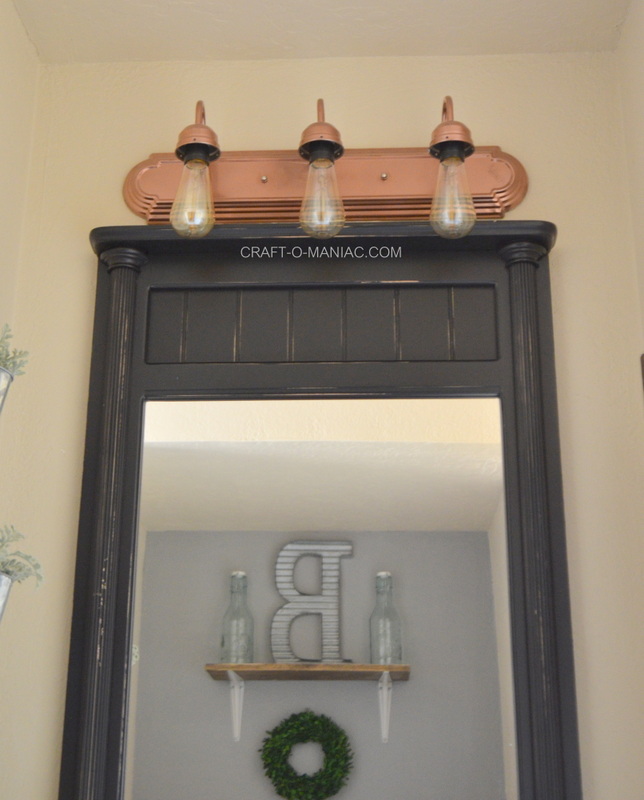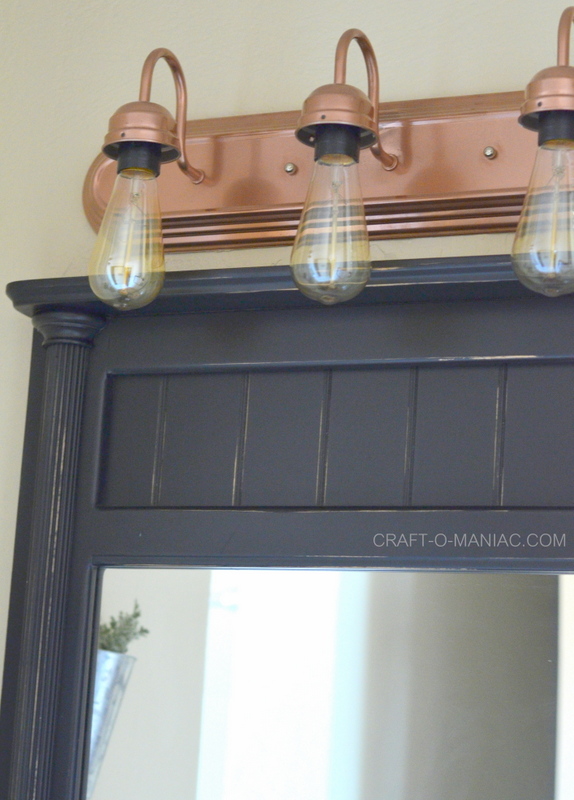 Below is a full detailed YouTube video of our process so you can get more info. on the space. FYI, the white mirror in the video was thrifted but my tall teenager was to tall to see in it, so lucky for me I found the black thrifted mirror you see in the pictures.
It was much longer and went better with my black accents in the "Wash Room", so that was awesome.
We also saved money by spray painting the light fixture with copper spray paint, removing the shades and then sprucing it up a bit more using black mechanical tape to tape around the withe plastic parts making it look more clean and finished. "The whole bathroom makeover was right around $100.00 dollars." YAY!
I sure hope you all enjoyed this post and video. I would highly recommend and suggest Sinkology if you are looking for a copper sink or any beautiful bathroom or kitchen sink. Finally I would like to add that if you are looking for more modern vanities and not something up cycled and or re-stored, to just be sure and do all your research, inspections and such. There is something for all of us to love and enjoy, right?.