Fall Living Room Tour| 2016
Hello my loves, this afternoon I decided to fill up a tall glass of diet Pepsi, sit my butt down in front of my lap top and edit over 5o images of my "Fall Living Room Tour". I have been putting it off for about a week and a half, but today I said.. ENOUGH! I got to get this up on my blog. Note; you will see down below after the slew of images that I have shared to videos. One is a "Fall Home Tour" and the other is my "DIY Mod-Podge Leaf Candle holders". Please feel free to check those out. Its funny how videos and images all come out different. I am still so new to YouTube, or lets say keeping up with current videos, that I am learning more and more as I go.
Before we start the Fall Living Room Tour, I wanted to say that I will do my best to share where items are from.
"Welcome to my Fall Living Room Tour|2016"
The wreat I bought at HomeGoods and the wood leaf welcome sign is from Michaels.
The garland is a mixture of Dollar Tree garlands I picked up this year, mixed with jute like ribbon and some metal fall tags I have
had for years.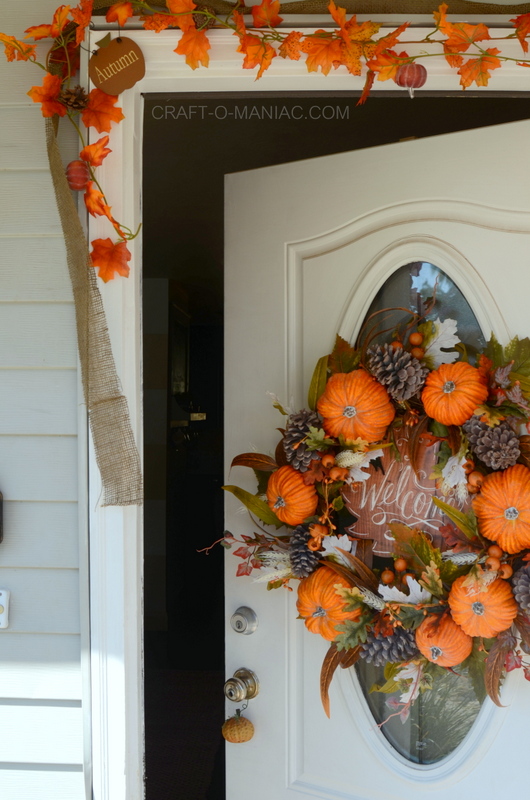 Welcome' come in.
This is facing you as you come in the front door. A chippy vintage ladder from a local antique store. Pumpkins from craft stores, and a cloth fox from Target last year.
My clock from WayFair I drappe in a fall garland I have had for several years.
To the left of my front door is this wall with a bookshelf unit and mirror.
Thecute birdie is from Target last year.
The orange lantern is from Oriental Trading, mini pumpkins from Dollar Tree, candle and fox candle holder from Bath and Body Works. Other various items I have had.
The plaid blanket is from Jo-Ann's, and all the pillows are from Target last year. The Fall blocks are from Krumpets Home Decor, various pumpkins from Target, Michaels, Jo-Anns, HomeGoods.
The glass candle holders are from Dollar Tree, and I DIY'ed them, with mod podge, leaves, and hemp (video below).
The cute wood fox is from Hobby Lobby. The pine cones came in a bag from Oriental Trading as well as the larger lantern that came with the smaller one you saw above. The leaf picks are from Dollar Tree, the vase is from HomeGoods, and so is the filler items.
The wreath is from Michaels, and some of the pumpkins.
The Lanterns, and all the foilage in the wheel barrow are from Jo-Ann's fabric and craft stores.
The Wheel Barrow is from HomeGoods.
The wood foiled leafs were hot glued to some twine, and I got the leaves from the Target Dollar spot.
The glittered gold tea light pumpkins are from Oriental Trading, the other ones in (various sizes) are on my piano. Other pumpkins from here and there. wink.
The old vintage glass door was thrifted, the wreat (candle ring) is from Hobby Lobby.
The old vintage window was also thrifted. The metal basket is from Hobby Lobby. The mini pumpkins from HomeGoods, the tall metal green vase/bucket is from Tuesday Mornings. The other items I have had.
Psssssst, YOU CAN CLICK THE BELOW IMAGES TO BLOW THEM UP.
Now time for me to sit, sip, and swoon over some lovely fall decor.
XO
jen