Secret Santa DIY Gifts!
I participated in a super fun Cricut "Secret Santa" handmade gift exchange this holiday season. I wanted to jump on the blog and share a quick picture of my handmade gifts from Step of Crafting in The Rain (its totally raining today too HA!). Thanks Steph I adore the handmade earrings, the box, the envelope and the darling card. My family loved the homemade treats too. Thank you again so much, my daughter and I will both enjoy the handmade earrings.
Steph made everything you see in the picture from her Cricut/The Design Space Studio. Sweet right? I love playing in the design space, its pretty fantastic and pretty darn amazing all the things you can do.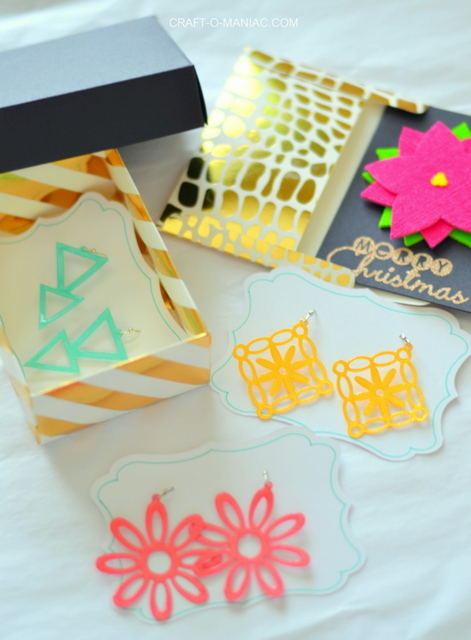 Thanks again once more Stephanie, and have a Merry Christmas.
"I am a member of the Cricut blogger community – which means that I do receive products, creative challenges, and sometimes compensation in exchange for my honest feedback, experiences, and reviews. This post may contain affiliate links – which means if you click on my links to Cricut, and you decide you'd like to purchase something from Cricut – I will earn a small commission. Thank you so much for supporting Craft-O-Maniac, it's readers like you that make this all possible!"