Top Tips to Liven up your Living Room
Top Tips to Liven up living room.
The living room – that communal space where you'll hang out with friends, lounge with loved ones or loll around when you're feeling down. If the walls of your living room could speak, they'd tell tales of your highs, lows and all the times you sat in your pants watching Game of Thrones. In most homes, it's the room you'll use the most – so you want it to look as stylish as possible. Of course, overhauling an entire room can be more costly than all your Game of Thrones Blu-rays combined, which is why we're going to focus on a few core elements of your living room. Get these sorted and you'll love your front room all the more.
Sit, don't suffer 
Does your current seating arrangement feel like Chinese water torture – an infrequent, but frequently irritating, pang on the spine or droplet of pain in your posture? You're not alone. Swathes of the population have dodgy spines and sore buttocks because their chairs aren't up to scratch. Invest in a few well-made recliners to ease the pains of poor seating arrangements. For just a couple of hundred quid you'll feel your posture correct itself and your bum ease into its new luxurious groove.
The black hole in your wall
Tellies, those giant black holes in your wall that delight and irritate in equal measure (especially if you're watching Top Gear), have become so complex. Trying to discern a telly specification guide is like trying to understand a Will Self lecture presented in Latin. There are, however, only a few factors you really need to take into consideration if you want a high quality telly. Make sure you purchase a fully HD ready set with enough HDMI ports (two or three should do), a decent Freeview box and you're good to go. Of course, salespeople will try to add on dongles and doodads, but these are largely unnecessary. Just be sure you don't get square eyes during your box set marathons!
Cool culture
You might secretly be into Celebrity Big Brother, but a dose of intellectualism can add a warmth and style to your room that will be sorely lacking with a few telly guides strewn across the floor. Invest in a neat bookshelf and cram it full of classics, from Dickens to Dan Brown. Top the design off with a few ornaments and you'll create a varied space with more character than your sleek television could manage.
Mementoes
Looking back at that sizzled holiday in Malaga, that perfect day with your girlfriend or the time you got your first motor can flood in more emotions than any hoity-toity modern art ever could. By reminiscing about the past, we learn more about ourselves and can even gain solace during our lower moments. Some houses take this far too far, however, lining their walls with more photos than a branch of Jessops. Find the perfect balance of nostalgia and tackiness and you'll be able to reminisce without cluttering your home into a messy abyss.
Living Room with Color| Craft-O-Manaic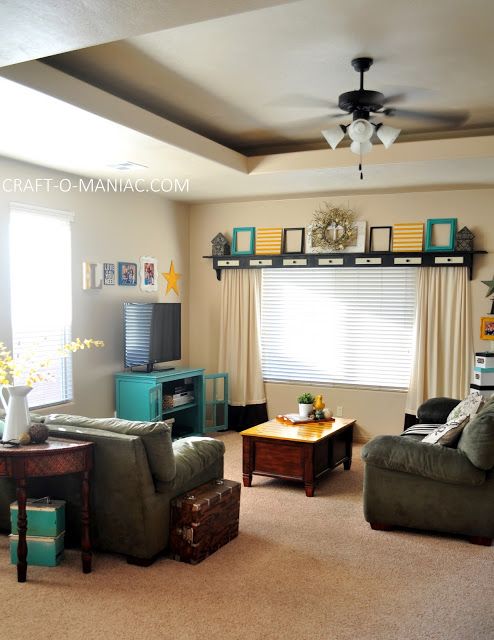 Colorful Chic Family Room|Craft-O-Maniac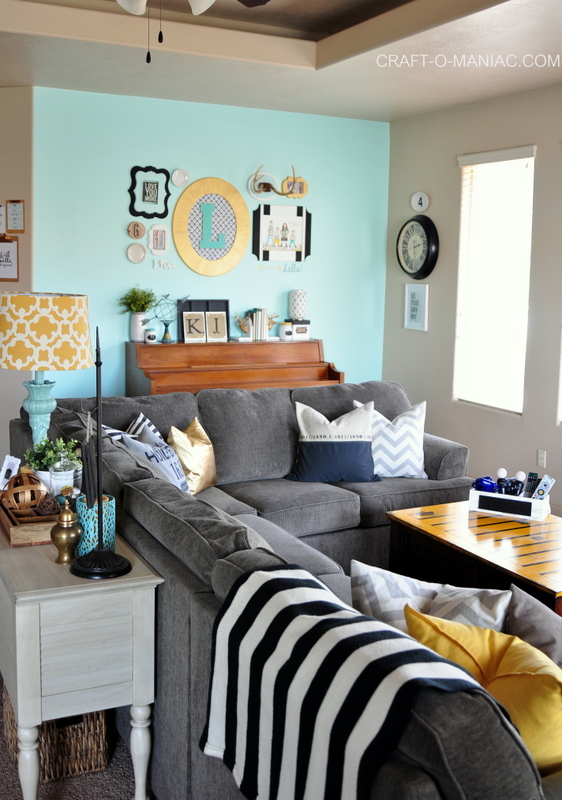 I hope these tips and ideas help you in preparing for a new makeover, renovations, decorations, and more. I personally love a fresh, clean new room design and am glad to share some good ideas and tips. Thanks for stopping in as always. Jen