Upgrade your Home with a Hot tub
Oh' doesn't a hot tub sound nice? after a long day of work or long work week, or with it so cold these days. A Hot tub sounds perfect to me (all take one for Christmas), so why not Upgrade your Home with a Hot tub?
A well-installed and attractive hot tub adds value to any home. There are several different types and styles, so you can find the right one for your indoor or outdoor area. When you contact hot tub retailers in Toronto, they will be happy to help you select the best type for your use. You can find self-cleaning, energy-efficient and salt water hot tubs. Hydropool is one example of a company that offers several different hot tubs.
Installation Requirements
Depending on the type of hot tub you select, you may need to make some changes before it can be installed. The first thing to do is select the space where it will be. This will determine the size of hot tub you choose. If you want a tub that holds up to ten people, you'll need a large space. Professional installers will check your house to make sure you have the right wiring for a hot tub. If you have an older house, you may need to add special wiring to meet the requirements.
The next step is the base. Hot tubs are heavy and require sufficient support. Concrete slabs, spa pads and wooden decks are the most common types of support. A wooden deck should have posts that are secured in concrete footing. Spa pads are removable and easy to install. They also help conserve heat.
If your hot tub will be installed indoors, you'll need to make sure there is proper ventilation in the area. An exhaust fan or other ventilation system will prevent steam from building up and allowing mold to grow. The material that surrounds the hot tub should also be mold and mildew resistant. If it is wood, it can be treated to resist buckling and rot. Outdoor tubs may require insulation and weatherproofing, while indoor tubs do not require this.
Types of Hot Tubs
After choosing the place and size, you can consider the features you want. Jets, lights, benches, pillows, and grab rails can be in the tub. Shapes include rectangles, circles, octagons and squares as well as more irregular shapes. Your tub should have all the safety features available, including a gas or electric temperature regulator, a lid that locks and professionally installed wiring and plumbing. You can find a lot of this information at Hot tub retailers in Toronto.
Hot tubs are so wonderful, and can be enjoyed throughout the year. They offer a warm, relaxing soak during the winter as well as plenty of fun during the summer. This is one home improvement the whole family will appreciate.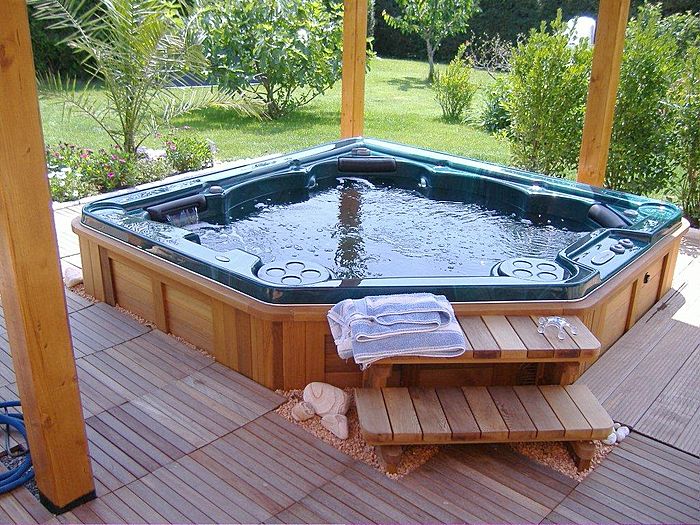 Image source here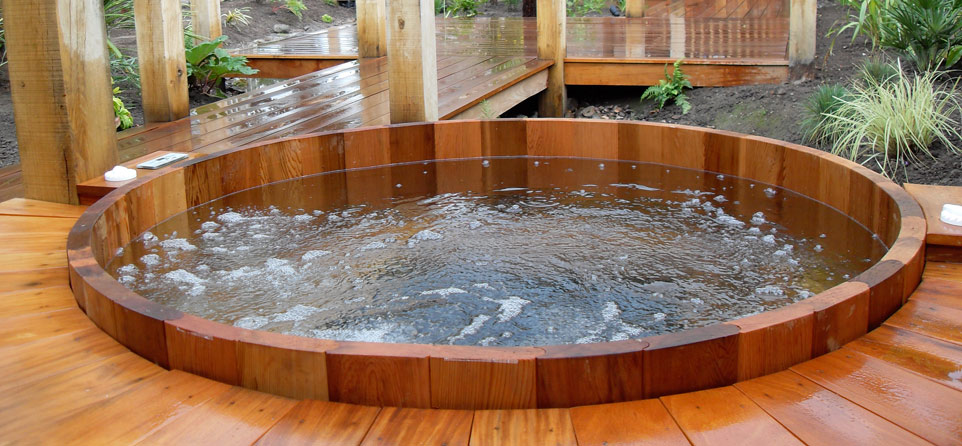 Image source here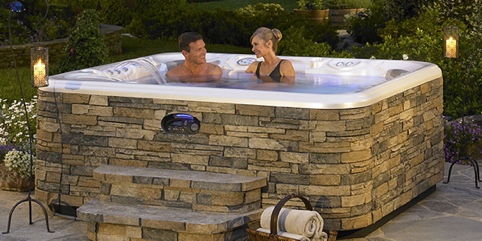 Image source here
Can I get a Yes' please!
Thanks for stopping by today,
jen