DIY Vintage Spring Burlap Wreath
Hey guys, I am so so so so excited to share this beauty with you today meet my new DIY Vintage Spring Burlap Wreath. I have made a lot of wreaths since I started blogging, and I have had favorites, but  I think "This One" is my very very favorite one. It makes me just crave spring all the more! I also love it because I can't help but think of both my mom and my grandma, its so them. I can't wait for my mom to see this wreath, I know she is going to just fall in love with it (maybe I will even give it to her). Anyway, lets me share her with you.
Supplies Needed:
– "48" 1 1/2 X 13 inch strips of burlap (plain , colored or both)
– "7" mixed canvas and burlap flowers in different colors
– "5" unfolded candy/cupcake cups (cups found on Etsy. To make these, just pull the cupcake/candy cups apart, then cut a circle out from scrap paper and glue it to the center, super easy and super cute.)
– vintage cut out tags of your choice
– string, jute, or ribbons
– Hot glue gun
– 4 mini Styrofoam eggs
– 1 round metal wreath form
Directions: I started by wrapping the burlap around the metal wreath form and knotting them. I alternated the burlap with the colored burlap (the burlap, canvas flowers, and burlap flowers are all from Canvas Corp.). Then I took my cut out vintage tags (search Pinterest for them or Google, mine were from a friend) my canvas and burlap flowers, and my cupcake/candy cups and placed them on the wreath form to get the look I wanted. Once I got the look I wanted, then I started hot gluing everything down. To create dimension I made sure to tuck and overlap the items. Once everything was glued down, I made a twine loop for hanging at the top. It was made by simply looping the twine through the wreath form and adding a knot. I then added some other twine, duck cloth, and polka dot ribbon to the bottom for more texture. This wreath took about an hour to and hour and half to make. It was messy with the burlap, so my suggestion is cut the burlap on carpet on your sewing/cutting mat so you can just vacuum up the mess. It was fun to make and worth it in the end.
So here is my "DIY Vintage Spring Burlap Wreath!"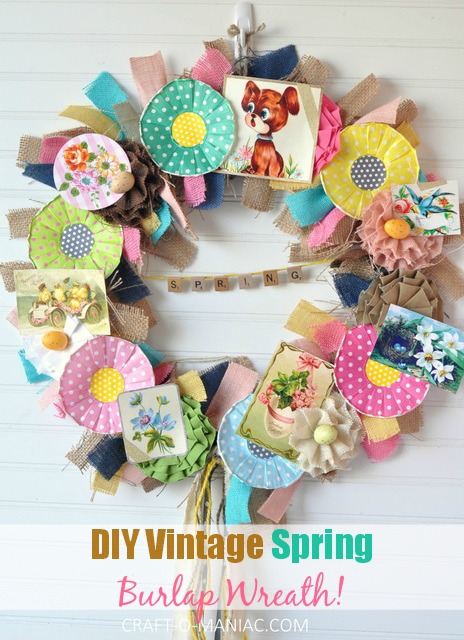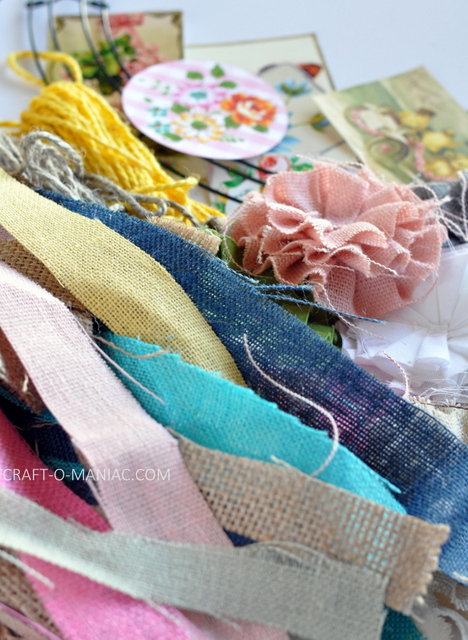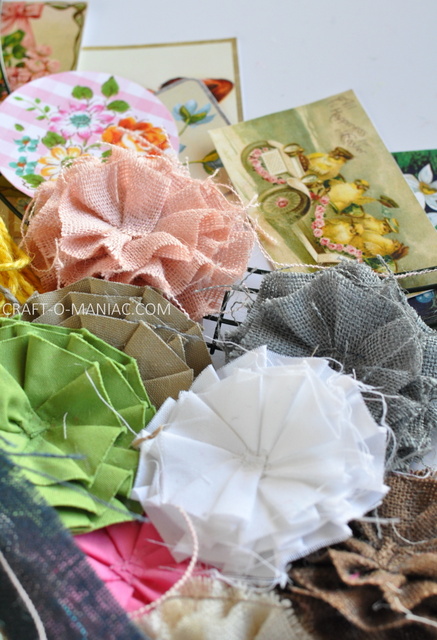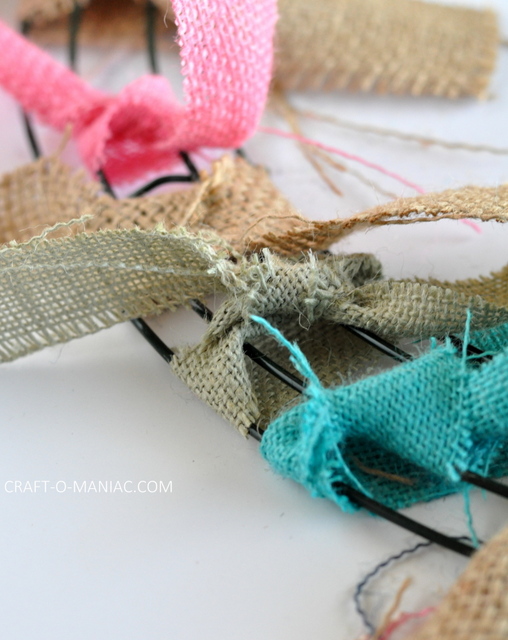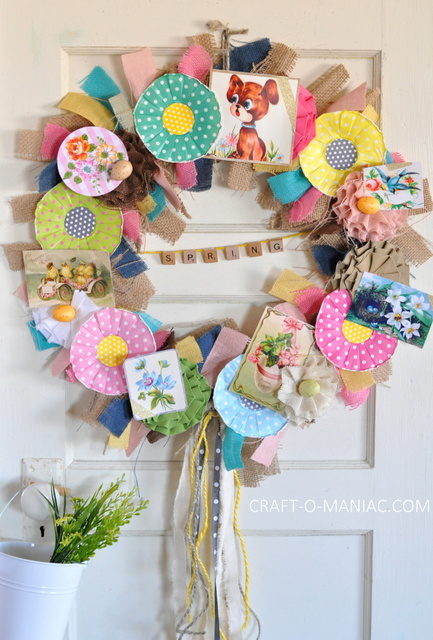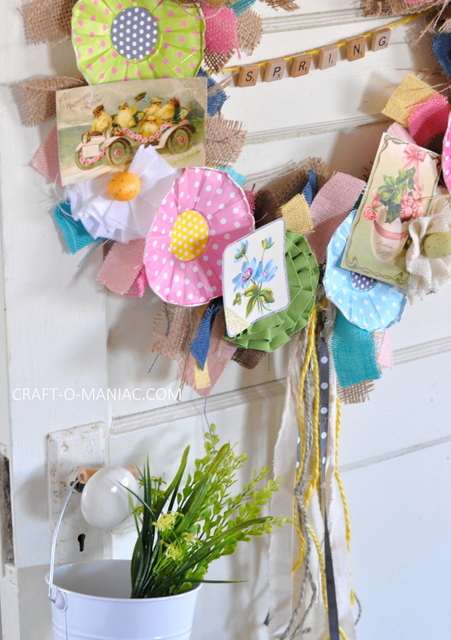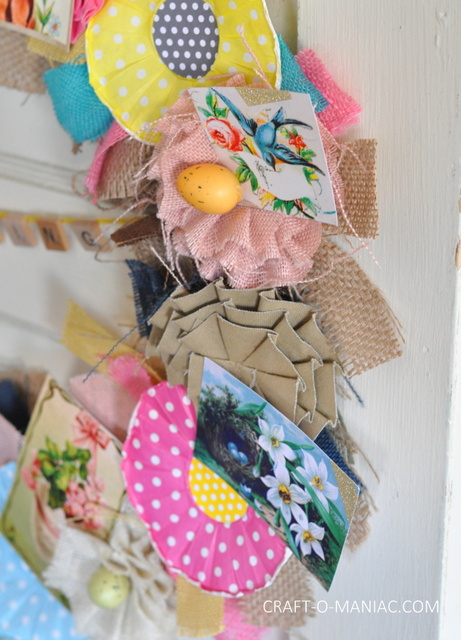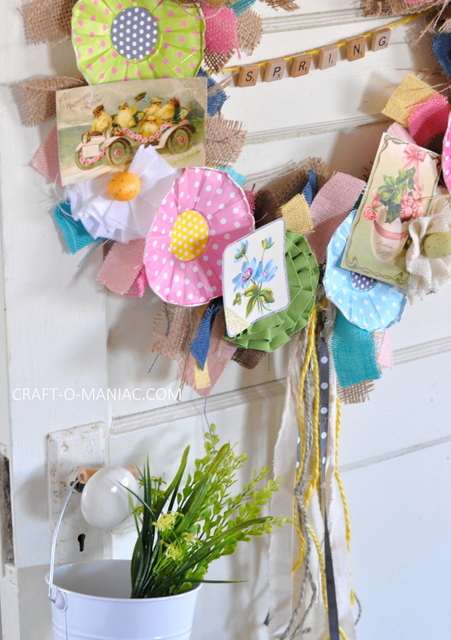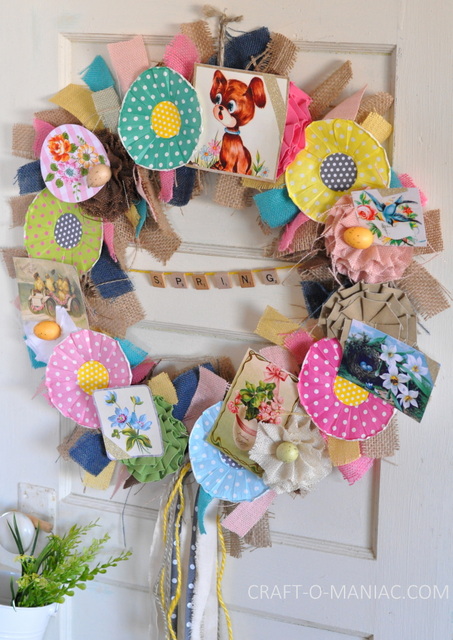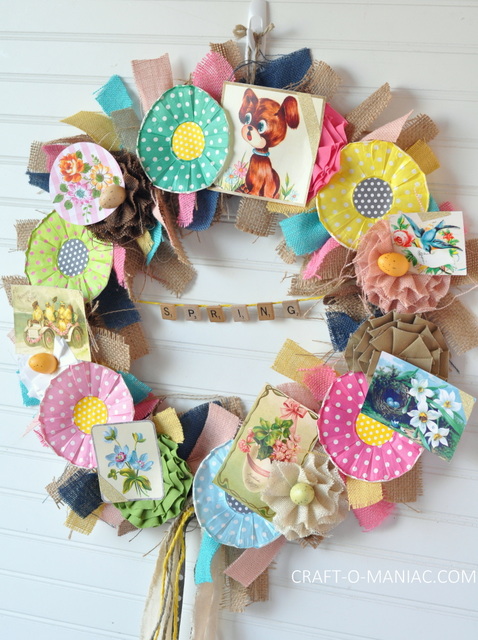 Do you like? I sure think she is ready to shine this Spring and Easter. Thank you all so much for stopping in today.
Linking up to the "Link Party Palooza" Here.