Tis' the season for all things "Pumpkin!"… and I am not talking about pumpkins you carve or decorate with… Oh' No' I am talking about savory, soft, delicious, and tasty "Pumpkin Recipes!"
PREFERABLY the "SWEET" ones.
Today I am sharing a favorite recipe most of you are familiar with….
"The Best Pumpkin Chocolate Chip Cookies."
I took a recipe I found online and tweaked it a little.. to make it even more sweet and tasty. They turned out so darn soft, chocolaty with the right amount of pumpkin flavor.. GOOD!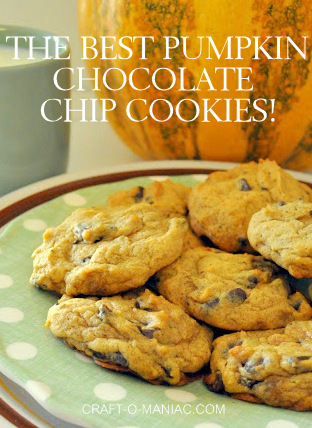 Ingredients & Directions
1 c. shortening
1 c. sugar
1 1/3 c. pumpkin puree
2 c. flour
2 tsp. cinnamon
1 tsp. salt
1 tsp. pumpkin pie spice
1 tbsp. vanilla
1 1/2 c. of chocolate chips
(I use the big chunks and chop them up!)
Mix your shortening, sugar, vanilla, and pumpkin puree
then add your sifted dry ingredients, and last your chocolate chips.
Incorporate everything really well, spoon onto greased cookie sheet and bake at 375 for
12-14 minutes
Serve WITH ICE COLD MILK, and
ENJOY!!!
lots of love
and sweet eating's.
jen
….and if you are looking for even more tasty savory pumpkin treats
I have a fantastic round up here