DIY Mickey Embelished Tote for Disneyland
Hello there, today I am sharing this fun DIY Mickey Embellished Tote for Disneyland!
OK' OK' I "never" want to be that person who says…
.. Guess where we are going.. in your face.. rub it in kinda person… because I think its tacky, boastful, & obnoxious. However, a giant but, and perhaps a big HYPOCRITE I may be, we are going to "Disneyland!" Eeeeeep!
This is our first real family vacation and we have waited 13 year for it, our kids are beyond stoked.
I also wanted to share this bag because how many more of you are planning on D-land for Spring break? or the Summer? so here is a cute in-expensive Mickey Bag idea for ya. You could even do this with a bag you may already have on hand and ribbon you may already have on hand. winks.
… and be on the look out, I have a few more DIY Disney things in store for you all.
Today however, I am sharing with you a purse I bought at Walmart for $10.00 bucks that I embellished with some finished lightly ruffled trim. 41/2 yrds for $6.48. So the purse all together cost just over $16.00 bucks… and I love it- its ONE OF A KIND. Plus I think if I were to pay for something like this I think I would of been charged a whole lot more. Anyhoo, I really wanted a cute Mickey tote for D-land. Something to hold diapers, wet wipes, snacks, formula, anti-bacterial, etc. After I scoured Etsy and Ebay and didn't come up with a thing that I liked under $15.00, and  what I did like was $50.00 plus….. I DON'T THINK SO.  I decided to have a little chat with  my inner CraftOManiac self….. "DUH- JEN go find a simple tote and add a ruffled mickey silhouette to the front. eeeee, YES!"
SO HERE IT IS.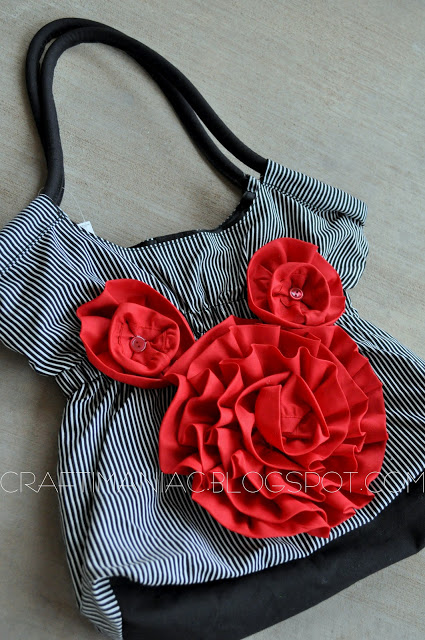 BEFORE- cute black and white striped and cinched $10.00 dollar tote.
 AFTER- ruffled Mickey embellished Tote= LOVE
  HERE IS THE purchased ruffled trim I used.
even though the trim was ruffled to begin with, it was ruffled enough. I hot glued the circled Mickey head onto the bag, and as I went I would overlap a piece of the trim hot gluing it down to some of the trim and some of the bag. I did this until I got the shape I wanted. I also did this with the ears, and cut extra smaller ruffled pieces of trim to add inside the ears hot glued them down as well. I lastly added two buttons to the center of the ears. I did not use all 41/2 yards of trim,  I have a yard left  over, I I just played it safe and bought more just in case.  winks.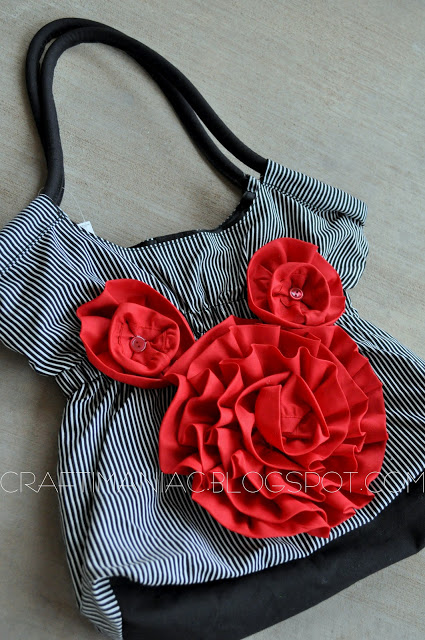 Now, I am so darn excited to use my Mickey Tote and make some awesome memories with  my fam. The countdown is on.
THANKS FOR STOPPING BY COM