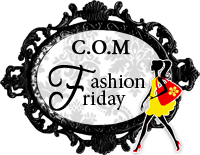 Hi! My name is Bev and I blog over at Flamingo Toes!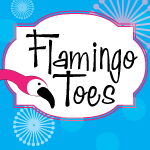 I'm so thrilled to be here as a part of Jen's Fashion Fridays!!
I have been wanting to do a sweater refashion for a while – and when I saw Ellie G's over at Less Cake More Frosting – I knew the direction I wanted to go!
I love the swirls she painted on – I think they're just darling.
And so is she – how cute is this picture!!!
Here's my version!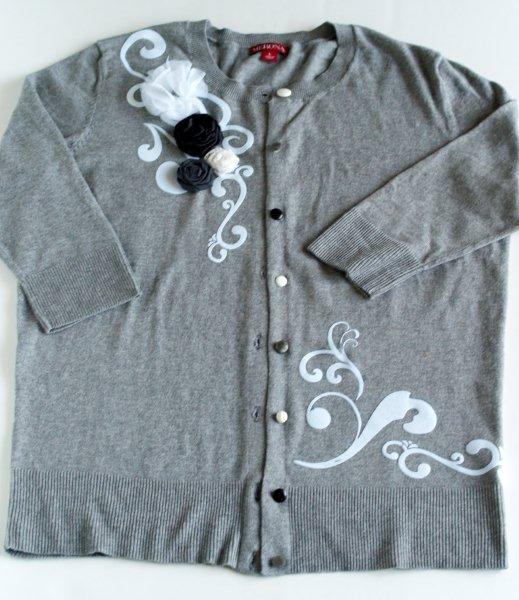 I got out my flocked heat transfer from Silhouette and got to swirling!
I started with a Target cardigan – which I got all excited about and didn't take a before picture of.
I snagged one for you from Target with a perky model in it.
I cut out my swirls with my Silhouette – but I tried to make them fairly simple swirls for you.
If you like the design but don't have a Silhouette, you could buy the heat transfer material and cut them out by hand, or you could paint them on with a freezer paper stencil like Ellie G!
Email me and I'll send you either the image file or the Silhouette file. 😉
I used the white flocked transfer material and ironed on my swirls first –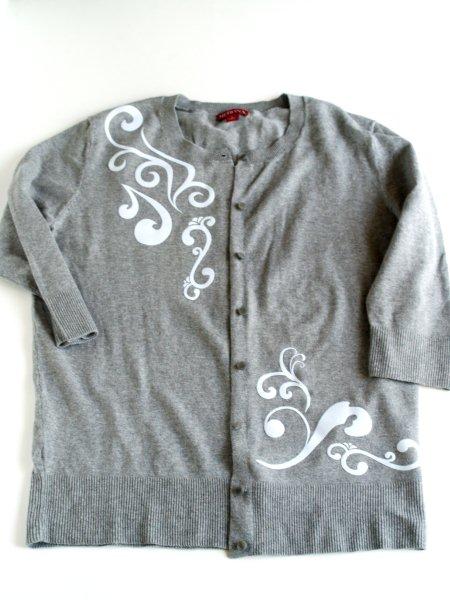 I changed out the buttons so they were a combination of white, black and gray.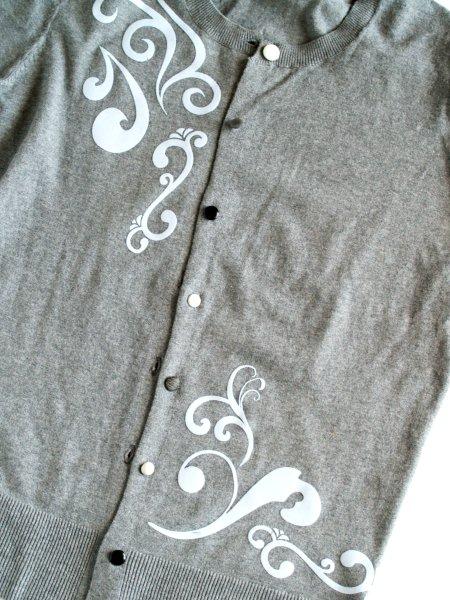 I made a few fabric flowers too – one from chiffon, one from lace, one from ribbon and one from fabric.
I wanted some contrast in the flower styles and fabrics.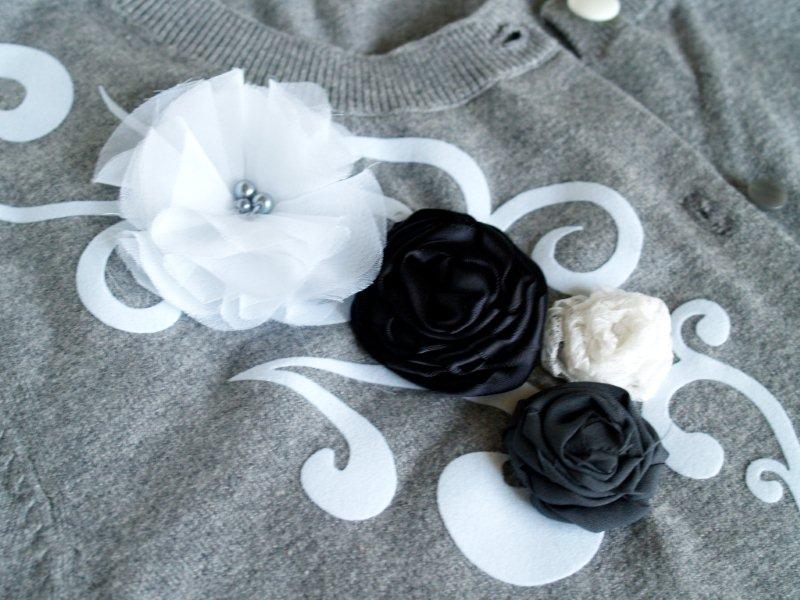 That's it!! Such an easy refashion but I love the way it turned out!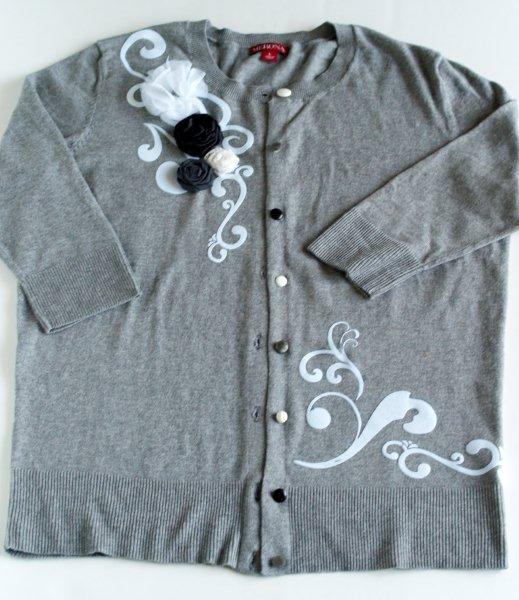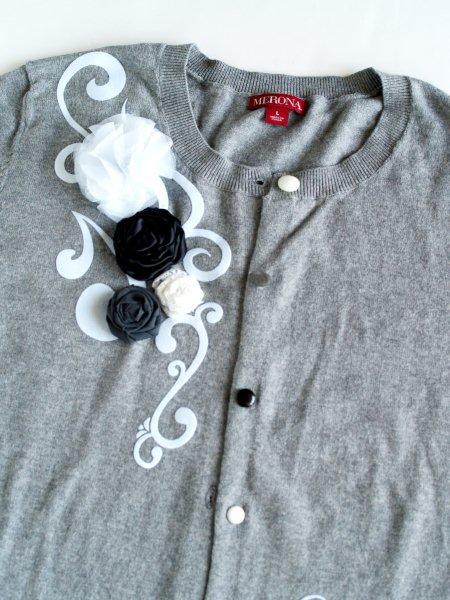 And a picture so you can see it on . . .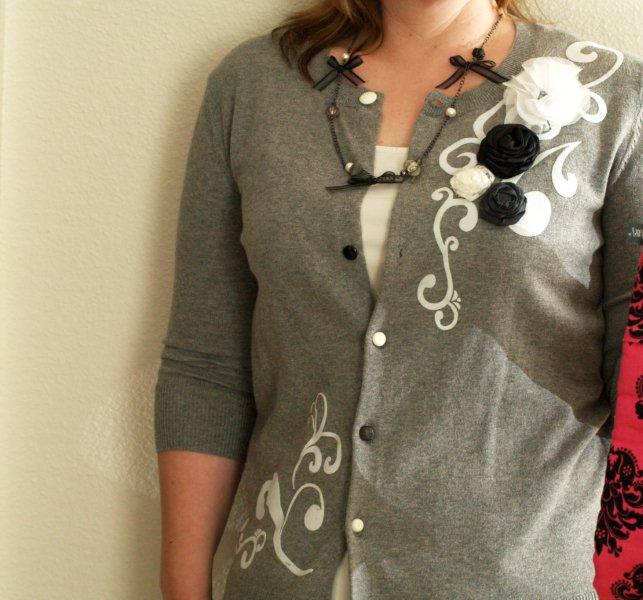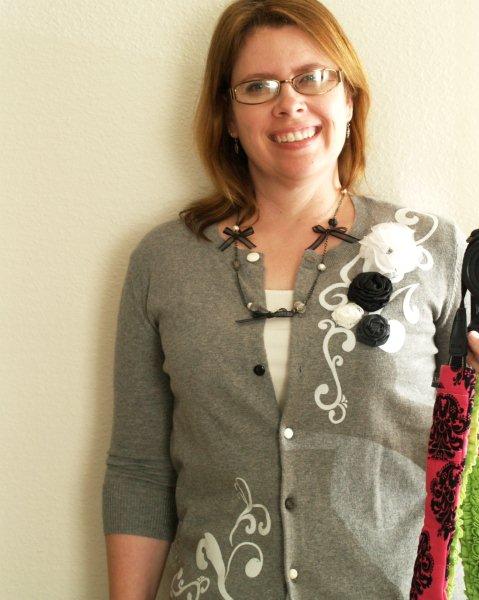 I hope you like it!!
Thanks so much for letting me come "visit" Jen!! 🙂 BEV. You are most WELCOME!!! love both yours and Ellis G's Sweater re-fashions, FABULOUS!  winks-jen