CraftOManiac Monday- and My homemade fudge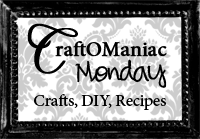 Welcome everyone to CraftOManiac Monday- {Christmas Edition}
1- Link up ONLY Christmas Crafts, Diy Projects, Recipes, or Decor
2- Please link back to CraftOManiac your Host.
3- Please link up only TWO PROJECTS!
4- Please visit some other party crafters.
JENS Silky chocolate peanut butter butterscotch fudge
Ingredients:
1 can sweetened condensed milk
1 bag of semi sweet chocolate chips
1 tsp. vanilla
4 tbsp. of creamy peanut butter
3/4 cup of Butter Scotch Chips
Pour all ingredients into a sauce pan on medium heat, keep stirring until creamy. Pour into GREASED round cake pan or square baking dish. Let chill in fridge for 25 min. Cut SERVE ENJOY!