Sponsor Spotlight~ Shadow Cases
my VERY OWN "Shadow Case!!!"
I would like to introduce you all to one of my LOVELY SPONSORS
"Shadow Cases"
CLICK RUTH AND ROSES button below, to visit their AWESOME
BLOG
full of crafts, shadow box features, recipes, giveaways and lots more!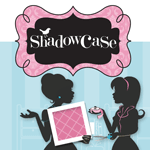 Ruth and Roses online shop is darling amazing and full of all kinds of different Shadow Cases. I still want to get three white ones to put my kids blessing outfits and pics in. YOU CAN visit their SITE
HERE
. YOU WILL LOVE IT!
So when I was asked if I would like to review and feature a Shadow Case, i was LIKE HECK YEAH! I got to visit their darling site and design my own shadow case, story board, and all. TO FUN!  
SO here is mY sHADow CaSe it arrived beautifully packaged and I WAS thrilled to see all of it in its glory!
Angle shot from above! WHEN my sis came to visit she SQUEALED over it. How fun to change out pics for the holidays~ Christmas pics. with some mini bulbs and a mini tree in it or a few hanging bulbs. The creativity is endless with these darling SHADOW CASES.
That front piece frames out the shadow box, BEAUTIFULLY!
this PRODUCT is very well made, each and every piece. lOOK AT HOW THICK IT IS!
look at the fun goodies that come with it. PLUS the board is reversible the other side is like a taupe color with one long ribbon strand stretching across the middle, so you can flip it over, HOW FAB.
Up close! Sorry for my reflection!
I love my SHADOW CASE on my entry table. DO you see my Loopty Lou Burlap wreath that I made?
WHAT ARE YOU WAITING FOR GO LOOK…….
THANK YOU  RUTH AND ROSE Of Shadow Cases! SMOOOOOOCH!