Instantly Transform Your Garden Storage Shed With These Top Ideas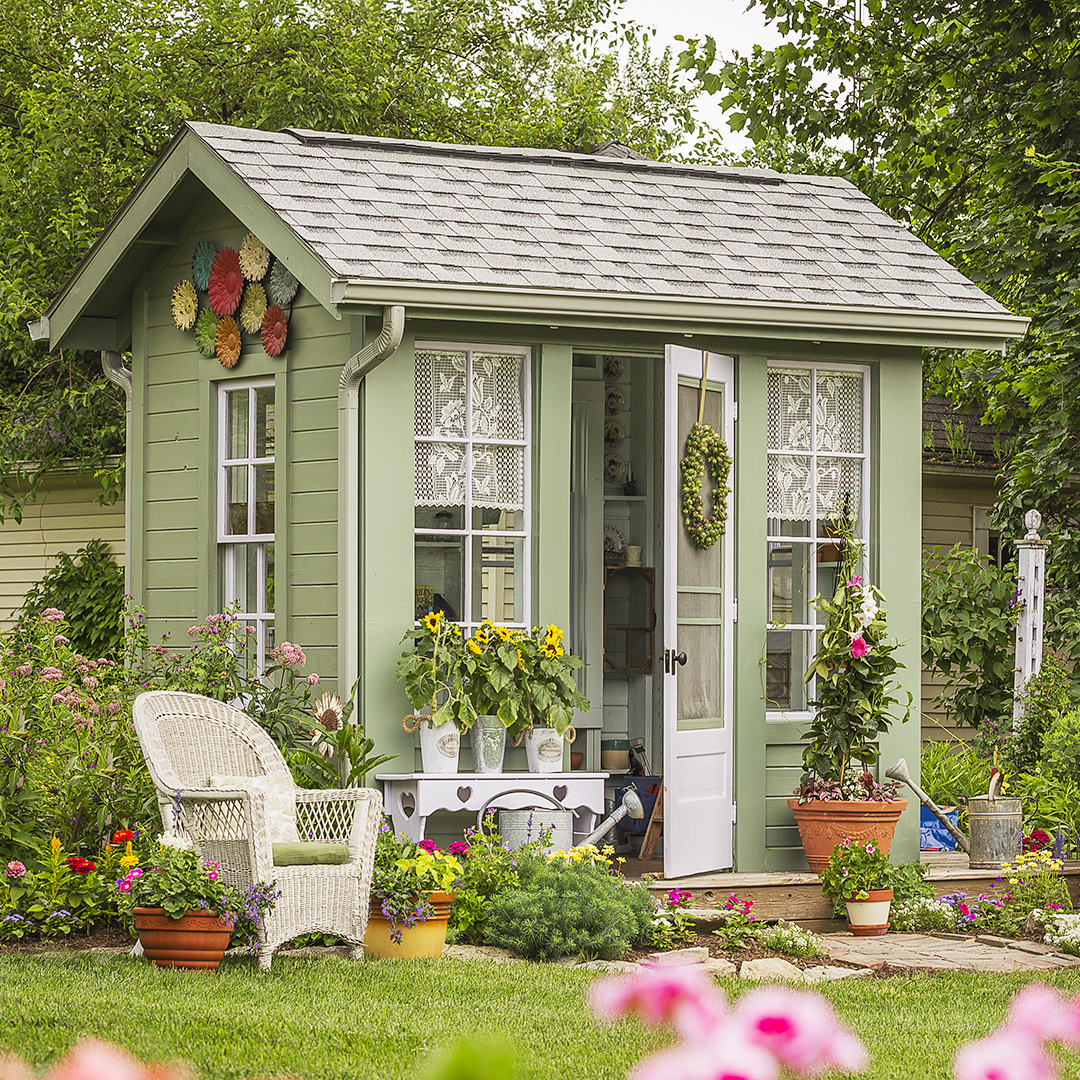 Garden sheds do a lot more than just providing outdoor storage. They provide a backdrop for your plants, create a comfortable workspace, and deliver a destination for you to relax and entertain your guests. Plus, they serve as a sweet focal spot amidst a whimsical garden.
Explore this gallery of backyard shed ideas that bring style and substance to outdoor landscapes.
Salvaged Style
Are you looking for a quick way to transform the look of your garden? Well, start by adding a little vintage character. Barb-board siding plus salvaged windows give your garden shed the visual appeal it deserves.
Thoughtful details, such as the outdoor window trim and the cupola hung on the roof, convert what could otherwise have been a basic storage shed into a luxurious garden-side retreat. You may also want to consider adding a little color.
Farmhouse Shed
This backyard shed design is practical and savvy. It features charming shake siding as well as an egg-shaped blue door. Most of the materials utilized to build the shed are unique and stylish.
What's more, the shade can be moved from point to point, as it's constructed on concrete piers instead of a permanent foundation. Are you working on a limited budget? Don't worry. You can always salvage materials from a home renovation and still end up with an elegant farmhouse shed.
Get an Angle
This shed typically comes with a streamlined design that nods to midcentury modern style. The bold white trim on both its doors and windows emphasize the angles. And the overhanging roof provides the effect of a covered porch. Plus, the metal flashings paired with a wood soffit add a finishing touch to the garden shed's design.
Choose the best landscaping design. In this garden style, a steeply pitched roofline echoes the angles featured in the triangular raised beds. And the picket fence carries the theme through with pointed peaks.
All- Glass
This all-glass garden also doubles up as a storage and greenhouse area during the colder months. If you want the surrounding landscape to shine really bright, then this light and airy design can be an excellent option for you. Adding window boxes plus gingerbread molding ensures that the design looks homey, not austere.
Home-Like Feel
This potting shed takes design elements from the main house, utilizing the same earthy green as well as white paint colors. Additional features such as a deck, cottage-style planting borders, and stone paths, make the garden shed feel more like home.
Creative decorating ideas, like outdoor art, lace curtains in the windows, as well as a quaint bench also add to its homey appeal. Plus, they introduce a sense of class and sophistication.
Downspouts are also included to ensure that rain doesn't damage the beautiful plants that surround the building. This large shed typically looks like a grand home miniature. It's truly a welcoming porch with a handsome colonnade. Potted plants make the shade a perfect extension of your home.
Go Green
It isn't all about building materials. This garden shed's roof is made of living succulents. And the mushroom gray siding recedes, making the sliding lime green barn doors as well as the sapphire blue roofline to sparkle.
Join the green roof trend by planting sedum as well as other succulents above your garden shed. This will go a long way in keeping the shed cooler and soaking up rainwater. Plus, the succulents brighten up your garden with their beautiful foliage and blooms. There are several garden storage options out there. So, make a wise decision.
Cottage Charm
This garden shed matches its exuberant surroundings. Architectural elements such as window boxes, scalloped fascia, weather vanes, and clapboard siding make it the perfect focal point for your backyard. Terra-cotta roof shingles plus a gray-blue outdoor fashion add the right color palette. To complete the cottage design, colorful flowers are also included.
A beautiful profusion of flowers and whimsical sculptures set the tone for a practical approach to gardening. An ample storage shed featuring a sun-drenched annex makes it easier to maintain the garden. Red window frames add a subtle dose of color to the shed, injecting a feel of freshness and sophistication into it.
Arching Antiquity
Here, a flagstone path leads through a potting shed, making it easier for you to access the tools kept on the interior wall. Classic table surfaces provide essential garden workspace. And finally, the weathered wood construction imparts rustic charm.
Gothic arched windows provide an antique feel while the stamped-metal roofing enhances the arched shape. A row of hanging plants plus boxwoods adds more definition to the entry of your garden.
Hillside Haven
With this style, your garden shed's porch and entry door face downhill, providing a remarkable view of the garden. Lattices surround the base of the porch offering an elegant backdrop for plantings. Plus, the inclusion of window boxes, as well as hanging baskets, enhances the shed's design.
Rustic Look
Incorporating a durable metal roof, peeled hemlock porch columns, as well as varied-width pine siding into your garden shed's design will give it the rustic look you want. The concrete block foundation is surrounded by stacks of stones, which instill a sense of permanence and provide a stylish way to level the shed.
Tudor Traditions
Paired with a king post porch gable, the steep faux-slate roof featured in this potting shed lends some Tudor style. Oversize door hinges plus a bench add a unique vibe to the front porch.
The Bottom-Line
Yearning to create a stylish garden shed? Well, there are lots of styles you may want to consider- it all depends on your personal preference. From the farmhouse design to the carefree cottage style, Tudor tradition, arching antiquity, hills haven, and rustic retreat, there are plenty of options to choose from.
So, what are you still waiting for? Create a whimsical look with these garden design tips and give your backyard an instant uplift. Don't forget to incorporate some colorful plants into the design. They are both functional and luxurious. Plus, they introduce a feel of calmness and sophistication.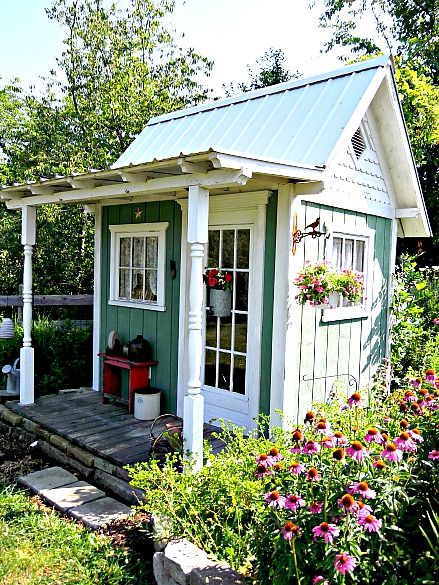 Image source here