DIY Easter Egg Coffee Stir Sticks
Hi friends, its been forever since I have shared an easy DIY and/or craft with you. GAH! I'm sorry, Instagram and YouTube have been my jam lately, as I have been working on growing the two. Today I am sharing these DIY Easter Egg Coffee Stick Sticks.
I have a Coffee/Warm Drink Station on a counter in my kitchen and I just love it. I also have recently added some of my Rae Dunn Easter mugs. I have not seen any Easter Coffee stir sticks in the Target Dollar spot so I took it upon myself and made my own. EASIEST craft ever. I have some images below and then a video tutorial for you to watch. I even saw some small Styrofoam eggs at Dollar Tree this past weekend. However, they were glittery and I don't know if the glitter has a lot of fall out, if so then I don't recommend glittered egg stir sticks, unless you don't mind glitter in your warm drink. Wink.
Anyway, I can't stress enough how easy these were to make. You could even find shamrock stickers and put them on some cake pop sticks and have shamrock stir sticks. The festive options for these are endless. Just find some small items and glue them to some cake pop sticks and you are done. I also am sharing a few images of a lazy Susan. If you have a mug rack from Hobby Lobby or World Market I strongly suggest a lazy Susan. I found mine at my local thrift store for $2.00 bucks. YEP! I simply used some chalk paint on it, and then sanded it here and there. It is perfect to spin your mug rack and see all your mugs. I adore it.
Here are some photos and be sure to watch the video below.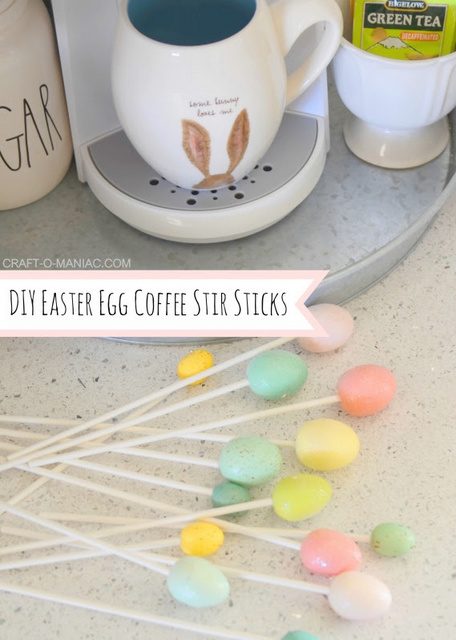 Thank you so much for visiting today. Hugs, jen