Home Tips for Maintaining your Electrical System
Today on COM it's all about "Home Tips for Maintaining your Electrical System."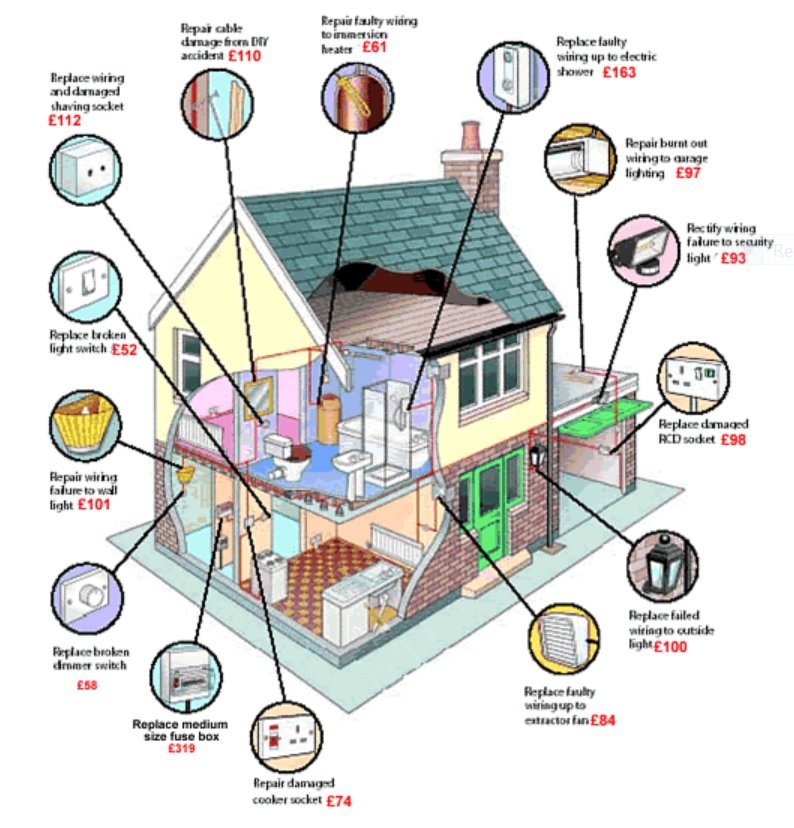 Image source here
A well-maintained home electrical system is imperative because it not only ensures that your system lasts longer but also gives you a peace of mind knowing that your home is safe. Electricity can be highly dangerous, and it is responsible for a majority of home fires that causes deaths and property damage that is worth billions each year. Knowing this, you cannot afford to be reckless and ignore even the most basic home tips for maintaining a safe home electrical system. It is true that as your home ages so does your electrical system, and this makes it prone to malfunctions that if not repaired early, they can lead costly repairs in the future or even damage your entire home. The following are home tips to help you maintain your electrical system in a good and safe working condition:
Whenever you identify any electrical malfunctions in your home especially those that are serious, never attempt to repair them on your own unless you have the experience to do so. Do you know that a majority of home fires are caused by wrongly installed or repaired electrical wiring? This can also happen if you use the services of a novice electrician, so it is better to pay more for a service well done than to regret later on.
Never mix water and electricity
This may look like common knowledge but still, you will find cases of electric shocks in many homes. This especially happens when you clean your appliances by washing or wiping with water without unplugging them. The bathroom is also a place where electric shocks happen when electrical appliances like hair dryers are placed around sinks and bathtubs.
Always use certified parts
It is common for people to be attracted to inexpensive products but when it comes to your replacement electrical parts, things can be quite risky. This is because certified parts undergo extensive testing to ensure that they pose no safety risks when they are used. So, for every replacement parts that are used ensure that they are certified for your safety reassurance.
Maintain everything
Your entire electrical system needs to be maintained well especially the outlets, cords, and bulbs. They should also be replaced any time that they show signs of malfunction. For bulbs, ensure that they have the correct wattage, are screwed tightly and switched off before any replacement is done. Outlets can be very hazardous, and this is why any unused outlet should be blocked, and the working ones encased such that all wiring is enclosed. Also, you should only place appropriate plugs of the right sizes and never overload any outlet but instead relocate them. Caution should always be taken with cords because they can be a cause of a fire hazard in your home. This is because people do funny things with codes like modifying then, nailing them in place, using them as cloth lines or skip ropes and placing them under carpets. It is always good to avoid doing these things with codes and instead use the right code for a particular purpose.
To maintain a good home electrical system, you need to have a regular maintenance schedule to be done by a certified electrician. It is not always that you get to realize electric faults in your home early enough to prevent any hazard that they may cause. The above home tips help you to know what to do and what not to do to ensure that your electrical system continues to run without costly damages or injuries that are avoidable in the first place.
—————————————————————————————————————————-
Author Bio
Wendy Dessler
Title: Super-Connector at OutreachMama
Wendy is a super-connector with OutreachMama who helps businesses find their audience online through outreach, partnerships, and networking. She frequently writes about the latest advancements in digital marketing and focuses her efforts on developing customized blogger outreach plans depending on the industry and competition.
Photo: http://www.outreachmama.com/wp-content/uploads/2016/07/Wendy-Dessler.jpg
Twitter Handle: @outreachmama
Twitter URL: https://twitter.com/outreachmama
Website URL: http://www.outreachmama.com/