Top Tips On Organizing Your Child's Wardrobe
Today its all about Top Tips On Organizing Your Child's Wardrobe.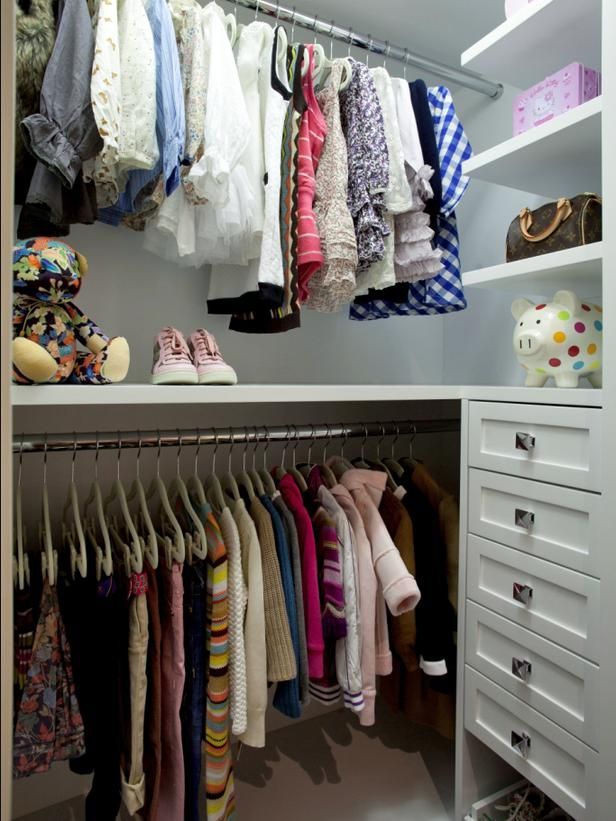 Image source Via
Even if you love keeping things organized, the thought of going through your child's wardrobe and getting it in order can be overwhelming. Keeping up with your kid the whole day hardly leaves you time or energy to get this extra chore done!
But if your child's wardrobe is ready to burst at the seams or if it always is in an untidy mess, it's time to organize things in there. What's more, teaching your child to keep things organized from a young age is sure to help him in many ways as he grows up!
If you're up for the challenge, here are some tips to help you get the job done. Get Everything Out Head to your kid's wardrobe and get every single thing out of the closet. This might seem unnecessary and might make you think that you're just creating too much work for yourself.
But getting everything out will help you sort through the pile easily. Sort the items into three separate piles as you pull them out; your child's wardrobe shouldn't have anything in it apart from clothes, toys, and bedding. If you find items that don't belong to any of these three categories, you should find an appropriate place for them.
Often kids' wardrobes serve as storage space for old household items that aren't needed any more. If you are one such parent, you need to stop! As your child grows, he will need all the space to himself, so avoid overcrowding his wardrobe with items he doesn't need.
Sort Some More
Now you have to dive into each of the piles you've created and sort them further. Just go through each pile one by one so you don't mix up everything. You'll need to divide your kid's belongings into three more piles each. So either grab three large bins or tubs, or make enough room on the bed or on the floor for the same.
Make a pile of items that your child currently uses. Ensure that the clothes are stain-free and don't need to be repaired or altered; the bedding is rip-free; and the toys are functioning and not broken. The second pile you make should include clothes that are too big for your kid. You can keep such clothes so that your child can wear them as he grows up. Also include toys that are not age appropriate for your kid in this pile.
You will also have a lot of clothes and toys that your child has outgrown. If you have a younger child or are planning to have more kids, you might want to store clothes, bedding, and toys that are as good as new or still have a lot of wear in them. Put away these items separately or store them with items from the second pile.
Then there'll be stuff that you don't have a use for any longer. Make a third pile of clothes and bedding that has worn out and toys that are broken. If you're not planning to have more kids,
you can also include stuff that your child has outgrown in this pile. Either donate these items or throw them away. When Getting Rid of Items Don't let emotions rule you! You might feel attached to a particular thing even if your child doesn't need it. Clearing clutter will make you feel liberated and create space for things that your child actually needs.
When going through the clothes, don't guess if an item fits your child; hold it against him or get him to wear it. This way, you'll get a clear idea of what items need to remain and what need to be discarded. Also, be sure to clear clothes that your child doesn't like or doesn't feel comfortable in. You don't want clothes that he won't be wearing to take up unnecessary space in his wardrobe!
Make the Wardrobe Accessible
If you have a wardrobe that has been designed for your child, you don't have to read this. But if you have a normal wardrobe, you'll have to make it accessible for your child.
– Install a rod at a lower level so that your child can reach clothes hung on hangers easily.
– Make use of children's hangers like the ones available on OnlyHangers instead of using
– hangers meant for adults. This will prevent your child's clothes from stretching out.
– Use bins or cubbies to store pajamas and other clothes, and items like socks and underwear. Items that are not needed frequently should be kept together in one bin. The bin in turn can be placed on the top so your child only needs to pull it out when needed.
– Ensure that bins placed higher up in the wardrobe aren't very heavy for your child to handle. Label bins in detail so that your child doesn't have to rummage through everything for a particular item.
– Place a step stool in the wardrobe, or in your child's room so he can reach items placed higher up.
Conclusion, Organizing your child's wardrobe is not all you need to do; you also need to maintain it. As your kid grows, his wardrobe will need to be replaced gradually. And if you don't want to go through all the trouble of organizing everything again, maintaining it regularly is the best thing to do.
While it seems like tough work, you now know that you can easily organize your child's wardrobe. Use the tips given here and you'll sail through!
Author Bio:
Eva Hines is a blogger who frequently writes on diverse niches like DIY, home organization, lifestyle and alike. She loves to spend time with her children. You can connect with her on @evaphines