Colorful Little Girls Bedroom
Today I am sharing a Colorful Little Girls Bedroom. I know I have showed you my daughters bedroom before, but her polka dot bedspread did not stay cute after 3 washes. It terribly faded and was a big disappointment. So before Christmas I ventured online to none other then the wonderful "Target .com." Online I searched and scoured through all kinds of little girl bedding. I was being pretty picky this time around on what I wanted, what would work in her room, and what she would love as well. When I came across this cute colorful quilted bedspread with matching pillow sham…. "I FREAKED!" like my mouth fell open… "THAT'S THE ONE!" The best part was that it was on clearance EEEP! I ordered it right away and the cute little doll too. Both the bedding and the doll were on clearance, so double EEEP! It would be one of her Christmas presents. It did arrive well before Christmas and I couldn't contain the excitement of a new bed set. So while she was at school one day I put together her bed and cleaned her room. When she got home from school that day, I took her to her bedroom door and said, what you are about to see is an early Christmas present. I opened her bedroom door, and lets just say she lite up like a Christmas tree, she squealed, jumped, and clapped. She was in love with her new bedding and her cute doll too! SCORE!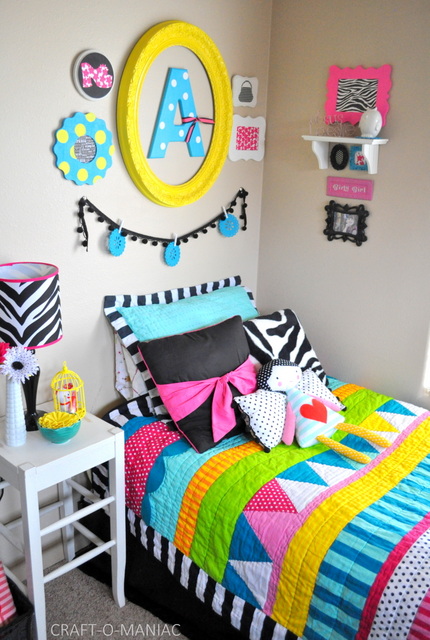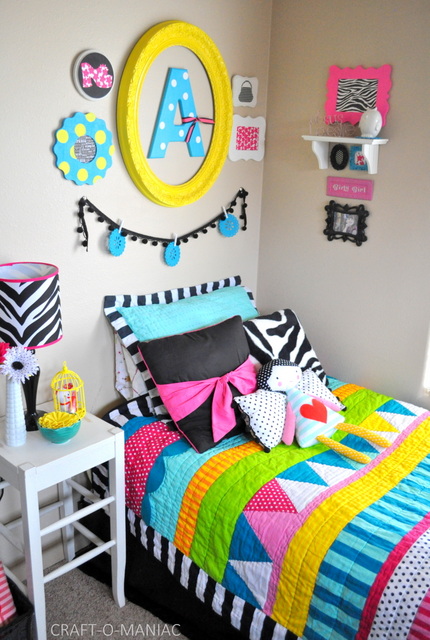 Its colorful, girly, playful, and fun, and perfect for my sweet hunny bun! wink.
Thanks for stopping by today.
xo jen
About some of the stuff:
Rug- Target
Lamp- Target
Bedding- Target "Online only!"
Polka Dot Pillow- I made
Other pillows- online (forgot the store)
Yellow birdcage- Hobby Lobby
Wire picture holder- Home Goods
Yellow Frame- Garage sale and painted
Wood frames from Michael's and crafted and painted.
Other stuff we had.