Veggie, Chicken and Stuffing Skillet
Hey There,
Today I am sharing a yummy pretty simple dinner.
My "Veggie Chicken and Stuffing Skillet"
This recipe is a family favorite, My mother made it growing up, and both my sister and I and our families LOVE IT! I have never been told the correct or proper name for this meal so Veggie Chicken &  Stuffing Skillet it is.
This feeds a family of 6 and it goes quick.. but everyone is satisfied and have gotten plenty.
I am pretty sure your family will love this recipe as much as mine.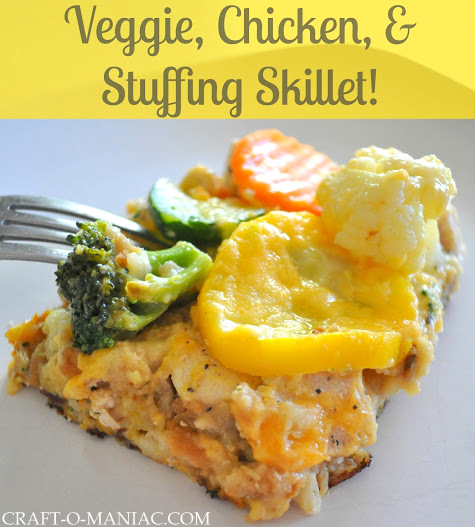 Ingredients and Directions
1 box low sodium chicken stove top stuffing
2 small cans of cream of chicken soup
1-2 cups of frozen veggies
1/2 cup of milk
4 cooked and cut up boneless skinless chicken breasts
3/4 cup graded cheese
1 tsp. of onion flake
1 tsp. of basil
salt and pepper
To Make:
Start by cooking your California blend or other mixed veggie blend in the microwave for approx 3-4 minutes. set aside
cookie your stove top stuffing/dressing as box indicates.
cut up and cook your chicken breasts.
mix your seasonings, cream of chicken and milk in a bowl, set aside.
Assemble in Skillet:
(I ONLY cook this in the skillet but you can assemble it and bake it I am sure. We love the stuffing a little toasty and crunchy on the bottom. However to bake do 350 15 mins.)
Start by spraying your 280-300 set skillet with cooking spray,
spread your stuffing all across the bottom of the skillet.
Drizzle about half of your cream of chicken mix over your stuffing.
Next add your veggies and chicken, spreading them evenly across the stuffing.
Add a little more cream of chicken mix over the top, and finally
top with graded cheese, cover and let cook for about 12-15 minutes. Toss
any left over cream of chicken mix.