Link Party CraftOManiac Monday
BEFORE we get started on the FUN LINK PARTY, YAY! I wanted to share with you my Jacket/Backpack board in my entry way. Some of you have seen it before. It had my kids initials and numbers 1-4 on it. However the stencil was a little small and therefore it made it hard to read/see. I was never super pleased with it the first time around. So it got a do-over, and I like it much better now. Plus it's bigger and straight to the point. HA! 
HERE IS AL LINK TO MY "ORIGINAL" BACKPACK JACKET BOARD POST. There are 8 hammered nails in the wood. Two nails per child, one for their backpack and one for their jacket. For now its just has some hoodies hung on it.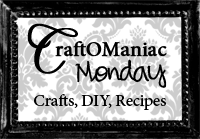 TO CRAFT-O-MANIAC MONDAY AND READY TO PARTY WITH US …. "YOU ROCK!"
*Please be courteous to your host and link back to
*Please link up only "3" cRaFts. DIY PROJECTS. or Recipes.
*PLEASE DO NOT link to giveaways, craft posts attached to your own link party, business's, or Etsy shops. Please share your work and not someone else's.
*Please visit some other links and show some comment love!
we are here to party and to support.