Halloween Trick or Treat Wreath
My Halloween Trick or Treat Wreath, I have been really excited about making this. I thought of this idea and have been stoked to make it, you can do any kind of candy you want. I got a big bag for about $3.89 at Walmart and a small bag of tidbit tootsie rolls for $1.97. Aside from the chewy tootsie rolls, I chose candy that would not tempt me while making it. Plus I wanted it to be a bit NOSTALGIC, old time gum and such we grew up with when Trick or Treating. 😉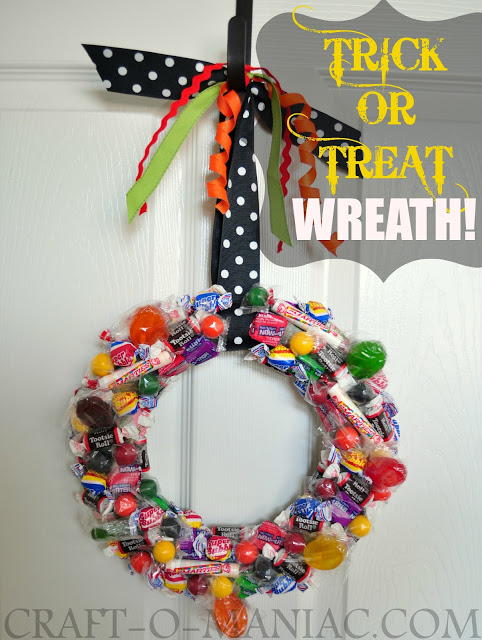 First thing you will want to do is to tuck your ribbon under and around the Styrofoam wreath and add a little hot glue.
Then I started with suckers, I trimmed the stems of the lollipops and stuck them into the wreath. Then I started with smarties and tootsie rolls next. Its BEST if you start with bigger pieces FIRST and smaller ones to fill in the wholes.
I filled in the sides VERY LAST, after the front and inner front were filled in. I also added extra fun ribbon I had too. I have to say that this would make for a cute Birthday Party Wreath as well.
NOTE TO SELF AND TO ALL OF YOU WHO decide to make one. DO NOT MAKE THIS while your children our awake, wait until they are in bed. YOU WILL BE NUTS AFTER THEY NAG YOU FOR LIKE 8-9 PIECES OF CANDY a piece! NOT to mention a couple of burns to boot! 😉
ALSO you may want to hang it or place it somewhere high…. so sneaky fingers can get at it.
thanks FOR STOPPING BY! jen
YUM YUM, make you one!